Taylor Wimpey West Scotland donates to four local foodbanks
As part of its ongoing commitment to working in partnership with local communities, Taylor Wimpey West Scotland has donated cash and essential food items worth over £800 to four local Trussell Trust foodbanks situated across its west of Scotland operating area.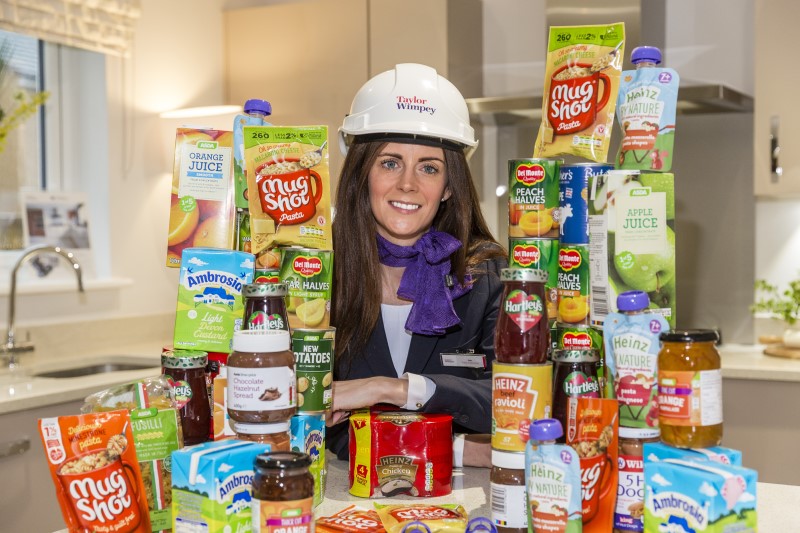 The Renfrewshire Foodbank received over £200 worth of groceries; while the Glasgow North East Foodbank, South Ayrshire Foodbank and the Rutherglen and Cambuslang Foodbank each received a cheque for £200 to buy the items they need on their shopping lists, as well as some kind donations from residents at these developments too.
Trussell Trust foodbanks provide three days of emergency food to local individuals and families in crisis. Frontline care professionals including health visitors, social workers and school liaison officers refer people who are facing hunger to the foodbank.
As well as receiving nutritionally balanced, non-perishable food parcels, people visiting the foodbank are welcomed with a cup of tea, listened to and signposted to agencies who are able to help resolve the underlying cause of the problem.
Kirsty McGill, head of sales at Taylor Wimpey West Scotland, said: "We are delighted to be able to show our support for four local Trussell Trust foodbanks in this way, and we hope that it will go a little way in helping those that need their services most.
"The work we do is a lot more than just building high-quality homes. Being able to work with local organisations that surround our developments means a great deal to us and it's great to know that we are helping to make a difference to the lives of people in local communities."
Taylor Wimpey's donation to these four Trussell Trust foodbanks is one of the many contributions being made by the housebuilder towards community facilities and infrastructure in the wider area.