Tenants enjoying new mid-market rent flats at Little Dovehill
Mid-market rent flats have been completed on a site at the junction of Little Dovehill and Bell Street in Glasgow city centre.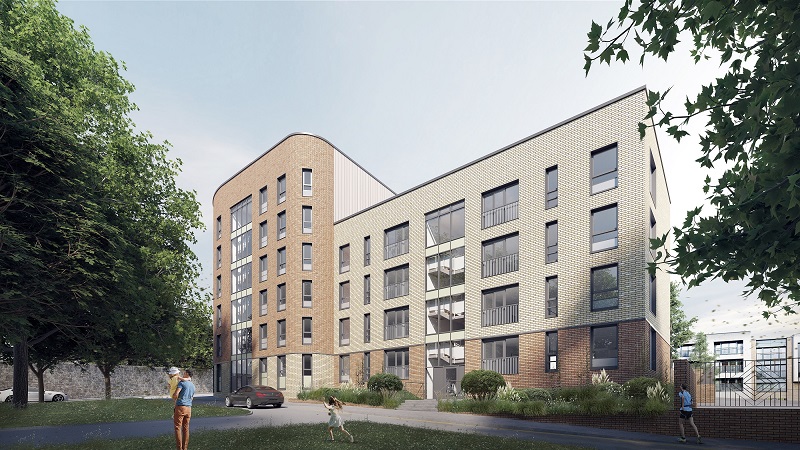 The 32 homes were built by GHA and are let and managed by Lowther, GHA's partners in Wheatley Group.
The project is supported by grant funding of £2.4 million from Glasgow City Council.
Lindsay Lauder, Wheatley Group director of development and regeneration, told Scottish Housing News: "I know our tenants are already enjoying living in these modern, energy-efficient homes.
"We always want to increase the supply of affordable housing across the city, and this is the second development in the Calton area to complete, after Bell Street. We're also on site building 42 homes at Watson Street and 123 at Calton Village.
"We're grateful for the support of our partners at Glasgow City Council and the Scottish Government."
Designed by John Gilbert Architects and delivered by contractor CCG (Scotland) Ltd, Dovehill has a mix of 29 two-bedroom flats and three one-bedroom properties specially designed for wheelchair users.
A private back court area with amenity space has also been provided alongside five parking spaces including three suitable for wheelchair users and two available for those using the Glasgow City Car Club, with all being compatible for electric charging.
The development meets the 'Glasgow Standard' of space and energy efficiency compliance.
The project is one of three development sites critical to realising the regeneration vision set out in the council's Calton Area Development Framework and Calton-Barras five-year Action Plan.