Tenants make move into new Rural Stirling affordable homes
The first ever affordable housing development in the village of Killearn has been handed over to tenants by Rural Stirling Housing Association.
Local MSP Bruce Crawford formally opened the twelve new homes for rent at the Aitken Street and Wilson Crescent development at a celebration ceremony.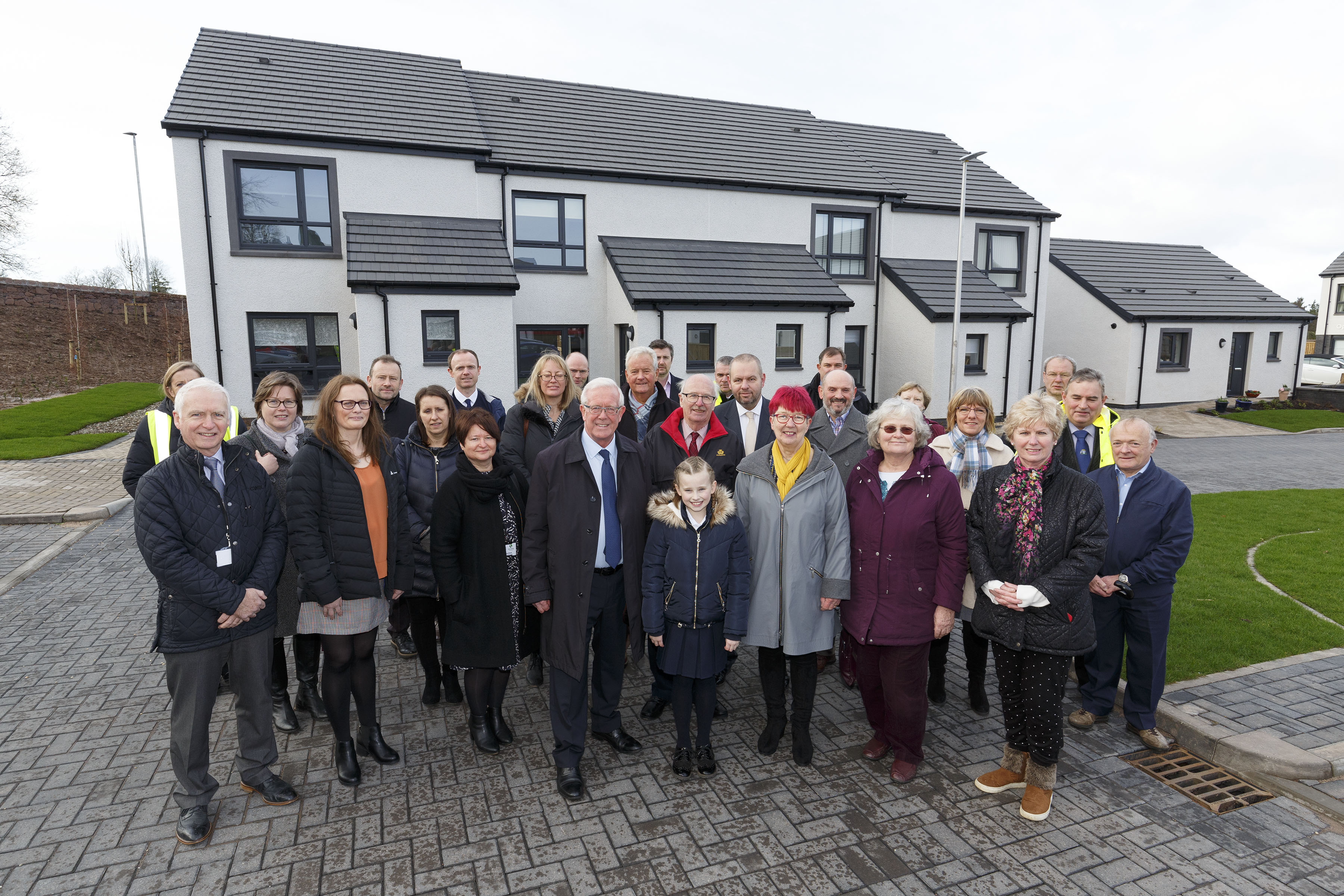 He said: "These are efficient and affordable homes that meet our modern standards of living needs. I have always been hugely impressed by the quality of homes that are built for RSHA tenants right across my constituency and there can be no doubt that in terms of quality these homes - for individuals and families to live in - are right up there with the best."
The £1.5 million Killearn development comprises a mix of one, two and three-bed homes and forms part of a larger private development. Planning conditions for the site included a requirement for one-third of all properties to be affordable homes for rent.
Welcoming the completion and handover, Association chairperson Margaret Vass said: "It is something very special to be able to provide much needed affordable homes. I am very pleased that our new tenants have strong local connections as it is very important to us that local people can access homes in their own area. Hidden homelessness is a particular problem in rural areas and these new homes will help alleviate this."
New tenant Elizabeth MacNeill added: "I'm delighted to have secured this home for myself and my daughter. As local people who found ourselves temporarily homeless, I was anxious that we could have ended up anywhere in the Stirling Council area. Being allocated this brand-new home in the village where we lived is fantastic as it means Chloe can remain in her school with the stability that brings, and we can remain close to our family and friends."
The Association has developed a strong partnership with Stirling Council to identify and secure sites for affordable housing development in its' rural communities.
Chief executive Donna Birrell said: "I'm delighted we have been able to provide these homes for rent in Killearn. It has been a challenge to find sites but our partnership with Stirling Council has helped us identify opportunities. We completed our first development in Strathblane just over two years ago and we hope to acquire sites in Fintry and Croftamie very soon so that we will have homes in every community in this very housing pressured area. They will go some way to help us tackle the increasing homelessness challenge."
The development was constructed by housebuilder Mactaggart and Mickel and the properties - finished in white render with grey tiled roofs - benefit from a modern, efficient and sustainable air source heat pump heating system.
Jamie McLean, head of contracts and timber systems at Mactaggart & Mickel, said: "This is the first new development in Killearn delivering much-needed quality affordable housing and our first partnership with Rural Stirling Housing Association. We are very sensitive to the local area and worked closely with the local community council. We have given careful consideration to make most of the beautiful setting, including using the stone from the site to create a traditional stone dyke wall to the entrance of the site and a boundary, very much in keeping with the area.
"We are looking forward to strengthening the relationship with Rural Stirling and hope to work with them in projects in future including other nearby areas like Drymen."
The £1.5m development was funded with a £1,026,144 Scottish Government Housing Grant and £544,063 from the housing association's private finance.