Think-tank calls for rent freeze and more affordable homes as part of a 'just and sustainable' recovery
Tenant protection and social housing must form a key part of Scotland's economic recovery from the coronavirus pandemic, according to a think-tank which has recommended policies which it believes can be introduced under the present devolved settlement to "democratise our economy, build community wealth, create decent jobs, and support the just transition for a sustainable future for all".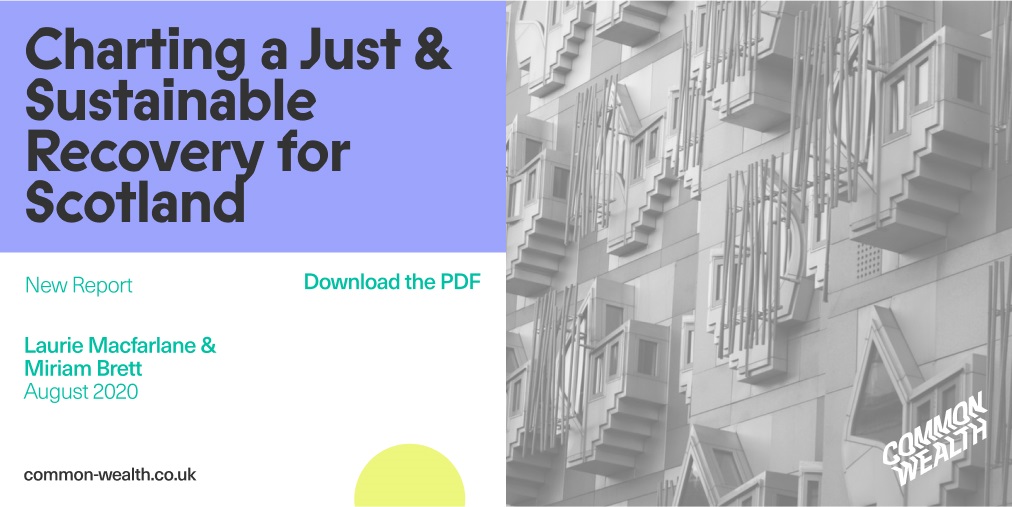 In Charting a Just and Sustainable Recovery for Scotland: A Plan for Scotland's Programme for Government, Common Wealth argues that while the Scottish Parliament has made "significant progress" towards enhancing security of tenure in the private rented sector (PRS), rents in Scotland remain high and continue to increase faster than many households can afford, constraining living standards.
The effects of high rents, it adds, are disproportionately felt amongst already disadvantaged groups – including women, young people, and migrant communities – who typically earn less than the average. High rents also have an enormous public cost; directly through housing benefit and discretionary housing payments; and indirectly through the costs associated with homelessness.
Report authors Laurie Macfarlane and Miriam Brett recommend that the Scottish Government introduces an immediate rent freeze to ensure that tenants will not face rent increases during a time of profound uncertainty and hardship; introduces a system of rent controls to commence after the rent freeze period ends; supports an increase in social house building to secure homes for all and create jobs; and encourages local authorities to explore opportunities to purchase properties made vacant by COVID-19 to repurpose them as part of the social housing stock.
The report states: "The COVID-19 pandemic has only served to increase the precarity and financial pressures faced by renters. While homeowners have benefitted from mortgage holidays and landlords have benefitted from the Scottish Government's Private Rent Sector Landlord COVID-19 Loan Scheme, we need bespoke financial support for tenants.
"According to the Joseph Rowntree Foundation, almost half of tenants (45%) in the private rented sector have seen a drop in their incomes since March 2020 and of those, seven in 10 (71%) have cut back on spending, and nearly six in 10 (58%) have had to borrow or use up savings, the highest proportion of any tenure.
"While the UK government has made some changes to Local Housing Allowance, these will inevitably still leave large shortfalls between actual rents and housing support for many low-income tenants. The Scottish Government has made it clear that rent must still be paid under the terms of the tenancy agreement, meaning that many tenants have fallen into arrears that they may never be able to pay back.
"There is therefore an urgent need for the Scottish Government to take further action on private rents. The Private Housing (Tenancies) (Scotland) Act 2016 granted the Scottish Government the power to introduce localised rent controls or rent pressure zones (RPZs) if local authorities could convince them that rents were too high in specific areas.
"The Act did not introduce rent controls — instead, it gave local authorities powers to request that specific RPZs. However, as Living Rent, Shelter Scotland, Edinburgh City Council and the Highland Council have noted, because there is currently no comprehensive survey of rent level data available in Scotland, it is currently impossible for local authorities to provide the evidence they are being asked for. The result is that despite the new legislation, rent controls are yet to be implemented anywhere in Scotland."
For Common Wealth, it is clear that the powers of the 2016 Act are insufficient to tackle the problem of unaffordable rents, therefore additional legislative measures are required. It recommends that the Scottish Government:
Freezes rents for 12 months, ensuring that tenants will not face rent increases during a time of profound uncertainty and hardship.
Introduces a points-based system of rent controls to commence after the rent freeze period ends, linked to the quality and amenities of the property, not simply market rates, as has been proposed by Living Rent.
The reports adds: "While reforming the private rented sector is essential, evidence from around the world indicates that the best way to deliver high quality affordable housing at scale is for the state to build and rent out homes directly. While social house building has increased in Scotland in recent years, this is relative to a low starting point.
"We therefore recommend that the Scottish Government commits to building 10,000 council homes each year between 2021 and 2026, with regular reviews based on need assessments. A large-scale public house building programme would also be a major source of job creation that could aid the post-COVID economic recovery. According to research by the housing charity Shelter Scotland, every £100 million invested in affordable housing supply can sustain up to 1,270 jobs.
"In addition to building new houses, local authorities should be encouraged to explore possible opportunities to purchase properties that have become vacant as a result of COVID-19, such as former short-term holiday lets and offices, and repurpose them as part of the social housing stock."
Other key policy areas identified by the report fall under the categories A Green and Just Recovery, Expanding Community Wealth Building, Banking for the Public Good: The Scottish National Investment Bank, Securing Democratic Public Ownership and Stewarding Land.