Unite protests at housing awards over Link Group pay dispute
Unite members working for Link Group held a protest last week outside the Hilton Hotel in Glasgow in advance of the CIH Scotland Housing Awards in a dispute over pay.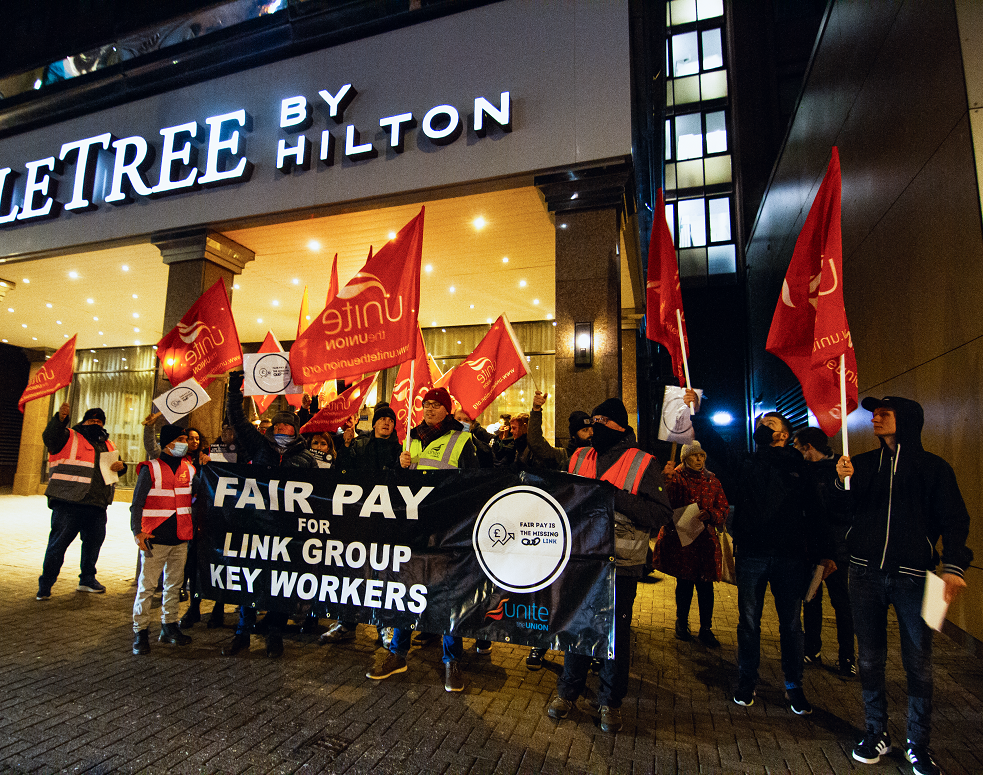 The protest was part of Unite's #FairPay4Link campaign which describes a 1% pay award given to Link Group workers this year as a reduction in real terms.
The trade union is highlighting what it claims is the "irony of Link Group winning 'Housing Provider of the Year', yet refusing to provide its own workforce with a fair pay rise".
Link Group covers around 15,000 social residents and the group provides a number of housing services including asset management, community regeneration and technical support. Unite is warning that the pay dispute could escalate during the winter period and potentially impact repairs unless Link Group comes back to the negotiating table.
Unite represents plumbers, joiners, electricians, labourers, cleaners, welfare rights officers, benefit advisors and assistants, and housing officers and advisors. The workforce is predominantly based across the Central belt including Edinburgh, Falkirk, and Paisley.
Speaking after the protest, Carrie Binnie, Unite industrial officer, said: "Unite's members are determined to show Link Group that the real terms pay cut is not acceptable. The workforce has continued to work throughout the pandemic providing essential services for tenants. Link Group should be embarrassed not only about the protest but how they are treating their workforce.
"The irony should be lost on no one that while they may have won 'Housing Provider of the Year' they will certainly be winning no awards from their workers. Unless Link Group come back to the negotiating table then this dispute could escalate over the coming weeks with ramifications for winter repairs."
A Link Group spokesperson told Scottish Housing News: "We were delighted to win the inaugural 'Housing Provider of the Year' award last week. It is a fantastic reflection on the quality of the services our teams provide to our customers across Scotland.
"Our staff worked hard throughout the pandemic and continue to make a vital contribution to improving lives in communities across Scotland, and, make no mistake, this is something Link values greatly.
"We are a business who supports and values our staff. This isn't something we just say; to be a great place to work is something we are always striving to achieve and recent external re-accreditations from Investors in People and Investors in Diversity validates Link as a leading employer.
"It is disappointing Unite continues its campaign against a salary increase which was set when inflation was less than the 1% we gave staff and which was above a significant number of Registered Social Landlords last year.
"Link has a responsibility to its staff, its customers and the communities we serve, this is something we take extremely seriously and it is right for us to balance all of these responsibilities when setting budgets for the year – we need to look at the whole picture and ensure we are financially sound so we can preserve jobs, wellbeing and services in increasingly challenging times.
"We recognise inflation has risen since this pay rise in April 2021 and this is something we will look to address in our annual pay increase for 2022 and despite early indications Unite will not enter into pay negotiations for 2022-23 we hope they will review their position on this matter.
"The nature of Unite's campaign is at odds with the long and positive history we have had with the union especially in the tone and language currently being used.
"Despite what Unite may say, we want to assure customers, our repairs service will not be adversely affected by Unite's campaign and keeping homes safe and secure remains a priority for Link alongside the wellbeing of staff."