West Dunbartonshire Council recognised for tenant involvement
West Dunbartonshire Council's work to engage with tenants has been recognised as among the best in the country.
The Tenant Participation Advisory Service Scotland (TPAS Scotland) awarded the Housing team a gold accreditation - the highest rating available for local authorities.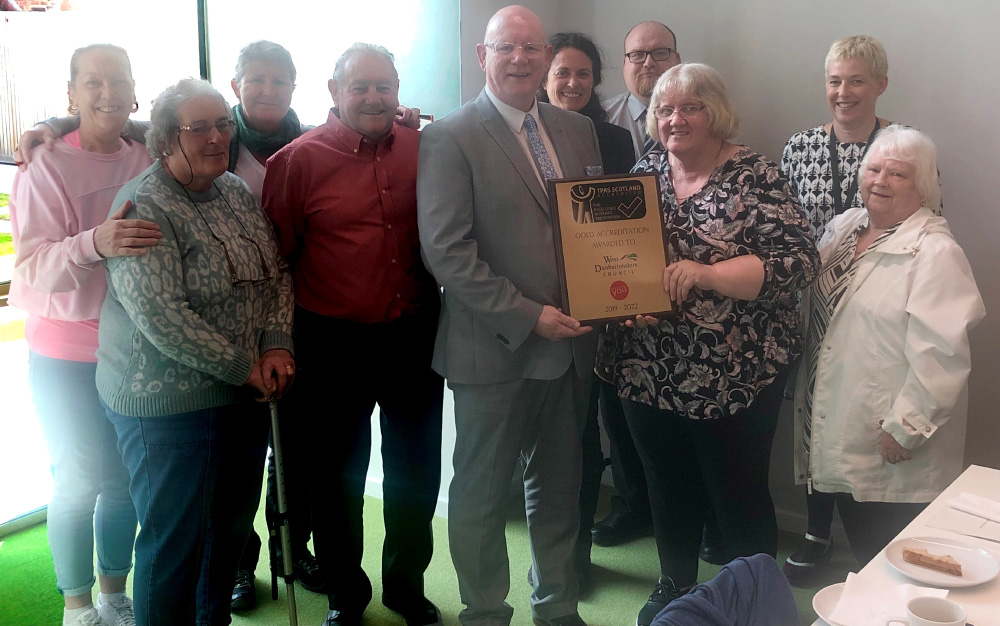 The service was awarded following an examination of practices as well as interviewing staff members and tenants.
They gave the council an overall grade of six meaning an excellent provision of tenant participation with outstanding sector leading strengths in the majority of standards.
TPAS credited the council's Tenant Participation Strategy as a useful reference tool for tenants and staff which gave an excellent overview of how tenants could get involved.
They also highlighted the council's regular liaison meetings with the West Dunbartonshire Tenants and Residents Organisation (WDTRO) and the Pre-Housing and Communities Committee Forum as demonstration of the willingness to increase tenants' ability to influence decision making.
A plaque was presented at a recent liaison meeting with WDTRO by Dougie Wilson from TPAS.
The WDTRO is an umbrella organisation for tenant and residents associations and they have joint responsibility for chairing the Liaison meetings and are able to put issues on the agenda.
Councillor Diane Docherty, convener of housing and communities, said: "Our tenants are at the heart of everything we do and so we are delighted that they have been recognised for their hard work.
"We want our services to reflect their needs and the only way to do this is by engaging with them and listening to their views and ideas.
"We are lucky to have a strong partnership with our tenants and residents association and particular thanks must go to the WDTRO group who meet with us regularly to discuss our next steps."
Councillor Caroline McAllister, vice convener of housing and communities, said: "We always encourage tenants to get involved and empower them to shape how our services are delivered.
"This Gold accreditation, alongside our Good Practice Awards for Communicating Performance Information to Tenants and Involving Tenants in Rents shows out commitment to ensuring our residents feel properly represented and know how to get involved.
"Congratulations to everyone involved, it is great to see commitment and hard work recognised."