Wheatley's Changing Lives programme offers 12-month work placement in environmental teams
Dunedin Canmore tenant Suayip Yel was unhappy in his job in a restaurant, working long hours for low pay and with few prospects.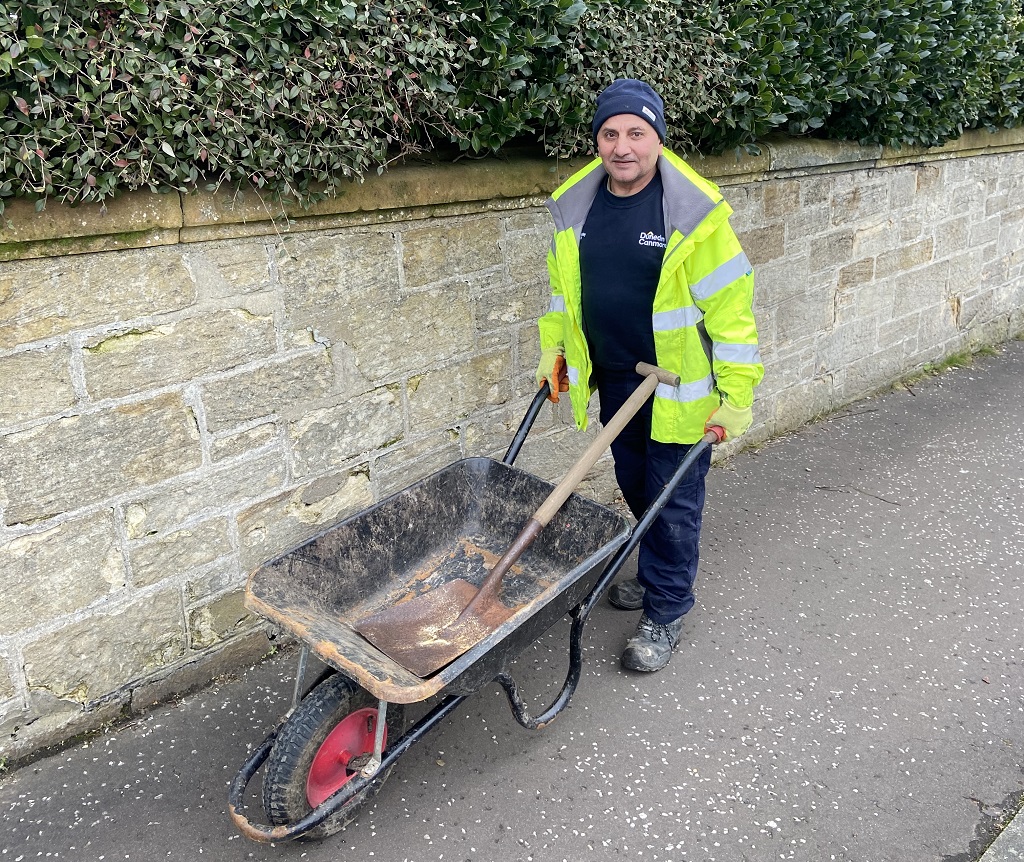 Then his housing officer told him about Wheatley Group's Changing Lives training programme – and Suayip hasn't looked back.
Now he has a secure job, a steady income and a promising career in Wheatley's environmental teams.
"It's great," said Suayip. "My life is so much better than it was."
Changing Lives offers a one-year environmental-based work placement in Wheatley communities cleaning closes, cutting grass and maintaining common areas.
The programme includes training, including a Chartered Institute of Housing level 2 qualification, and pays the Living Wage.
Since Changing Lives started in 2016, 230 people have taken up a place on the programme, with many going on to secure full time jobs with Wheatley and elsewhere.
Suayip, 55, from Edinburgh, is now working full-time with Dunedin Canmore after a year on the programme.
He said: "Changing Lives was a really good opportunity for me.
"I work with a really good team who all try to do their best for people. We cut grass, clean stairs, pick up litter in communities in Edinburgh and Fife.
"I work normal hours, Monday to Friday, and I have time for myself, time for a normal life.
"Changing Lives made a big difference to me. I'm very happy in my job."
Jordan Penny, from Glasgow, came through the programme and is now a team leader in the north east of the city.
Jordan, 24, said: "It's been great for my confidence. After nine months on the programme I was made full-time. That made me feel like I had something to offer, that I was capable.
"I got help to prepare for interviews and landed a team leader job in 2019. There's a career ladder at Wheatley. If you're willing to work, people will help you progress.
"The confidence I got through the programme has helped me outside work too. It's even made me a better father."
Changing Lives is run by Wheatley Foundation, Wheatley Group's charitable trust.
Foundation manager Lynne Mitchell said: "The difference the programme makes to people's lives comes through really strongly.
"Working outdoors is good for people's physical and mental health. It's also a career, not just a job.
"But the impact is often wider with real benefits for people's families and neighbours too.
"Others in the community see people progressing, developing their career, taking driving lessons, maybe going on family holidays for the first time in years.
"It's a powerful message – and it shows other people there are opportunities for them to progress too."
Changing Lives is available to tenants of Dunedin Canmore, West Lothian Housing Partnership, GHA, Cube and Loretto Housing.