Work begins on three sites for new Gold Standard Aberdeen council houses
Work has started on three new council housing developments as part of Aberdeen City Council's flagship 2,000 new council houses building programme.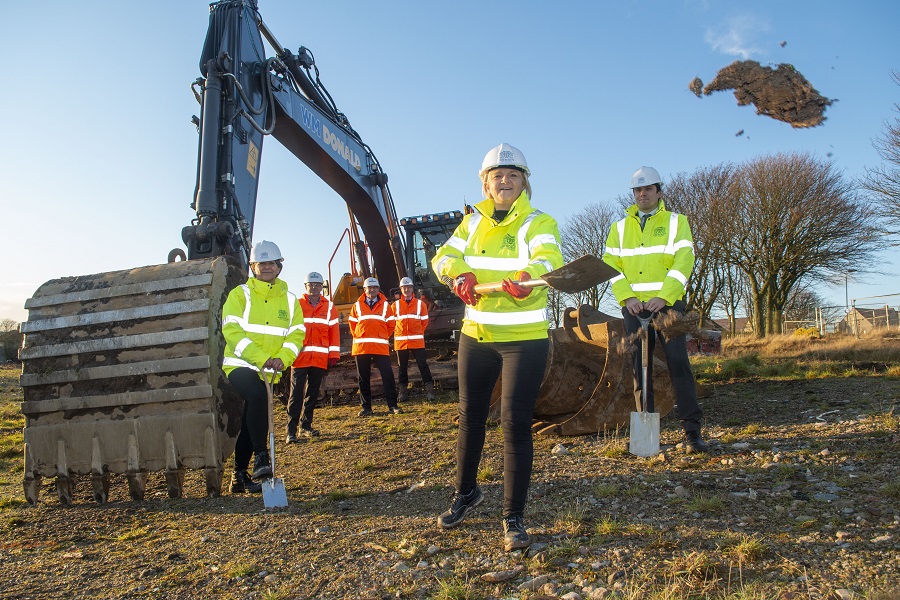 The preparatory work for the Craighill site in Kincorth – which will provide 99 homes– has started and is being followed by the 212-home site at the former Kincorth Academy and the 70-home site at Tillydrone. All three sites will provide a mixture of flats and houses all built to the Gold Standard for construction.
The design specification for Gold Standard requires energy efficient technologies that make homes greener and cheaper to run, enhanced space standards, and increased natural light.
The three areas are included in several sites across Aberdeen which form part of the wider Aberdeen City Council Housing Programme aiming to address a long-term shortage of affordable social rented housing in the city.
Aberdeen City Council leader Councillor Jenny Laing said: "It is fantastic to see the start of the work at these three sites as part of our plan to build 2,000 new council houses in Aberdeen.
"This is the biggest housing programme in Aberdeen for more than 50 years and is providing high quality homes of differing sizes suitable for a range of tenants in community settings around the city.
"We look forward to watching the build progress of the new 381 homes across the three new sites in the coming months."
Aberdeen City Council city growth and resources convener Councillor Ryan Houghton said: "I am delighted to see that work has started at these sites and it will be good to watch the build progress in the coming months.
"These new homes will not only be energy efficient but also low maintenance and built to an extremely high quality in the industry-recognised Gold Standard."
"I'm sure the residents in the local communities will enjoy watching the new homes being built and we look forward to when they are completed and tenants move in."
Convener of capital committee Councillor Marie Boulton said: "It's great to see work starting on these sites as we have invested in tens of millions of pounds in new homes in recent years as part of our commitment to build new council housing.
"The homes at these three sites will not only help to revitalise these local communities but will be an asset for years to come."
As part of the 2,000 houses project, council homes were built in Smithfield in 2017 and in Manor Walk in 2018. Construction is underway at units at Wellheads Road in Dyce with some of these complete, and at the former Summerhill Academy site, and homes at Auchmill near Bucksburn.
The vision of the Aberdeen City Council Housing Programme is to create sustainable integrated communities and places by delivering affordable homes designed for life which meet residents' current and changing needs, while supporting the wellbeing and resilience of tenants.
They will meet the most demand for council properties including flats for single people, flats for families, family homes, wheelchair-friendly properties, and a small number of bungalows. They are being designed for exacting standards including housing for various needs, dementia friendly, low carbon, low maintenance, and to meet the Gold Standard.
Robertson Construction is the main contractor at Craighill and the former Kincorth Academy, and CHAP Construction is the main contractor at Tillydrone, and Faithful and Gould are project managers on all these sites.
Gordon Milne, regional managing director, Robertson Construction, said: "As one of the main contractors delivering the new Gold Standard homes, we are pleased to welcome Councillors Laing, Houghton and Boulton to site to commence the works at Kincorth.
"The commitment from the council to build to this standard enforces its vision to create sustainable communities with resident wellbeing and comfort at the fore. We look froward to continuing our relationship with the council and to delivering the next generation of affordable social rent accommodation in the city."
Hugh Craigie, managing director of CHAP Group (Aberdeen), said: "CHAP is delighted to have been chosen to deliver another new homes project for the council. We look forward to further developing the good relationships forged on earlier projects and we are excited to continue playing a part in raising the standard of housing being built in the city."