Work steps up on 146 affordable homes for Queens Quay project
Almost 150 new affordable homes for social rent are taking shape as part of the Queens Quay regeneration project in Clydebank.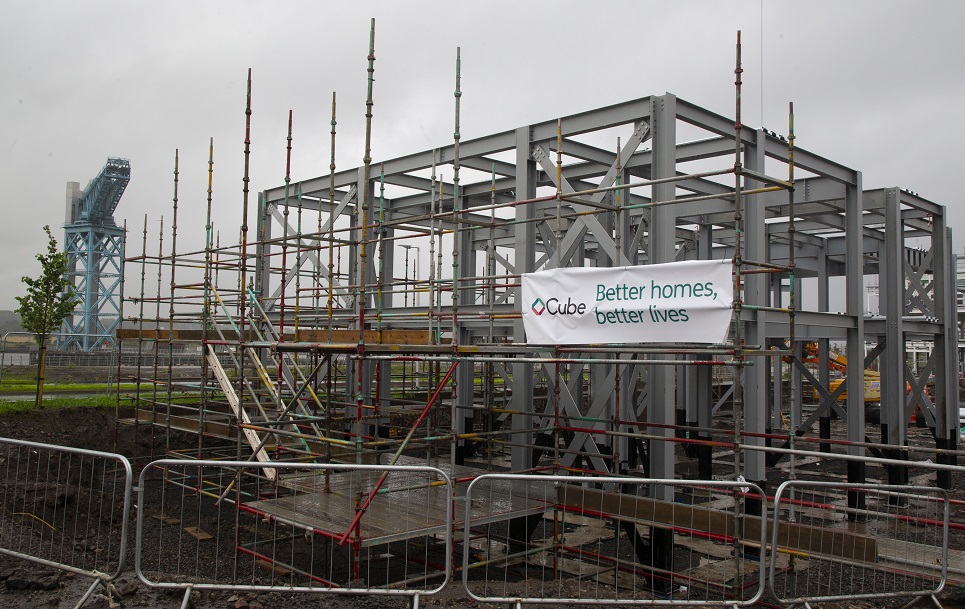 The £27 million development – which includes £15.6m in grant funding from the Scottish Government – will comprise a mix of one, two and three-bed flats, with fourteen flats adapted for wheelchair users.
The development is being delivered by Cube Housing Association, which is part of Wheatley Group.
Cube is working in partnership with West Dunbartonshire Council and Clydebank Housing Association. Once complete, 80 of the homes will be owned and let by Cube, 29 by the council and 37 by Clydebank Housing Association.
The homes, all for social rent, are being built as part of the £250 million Queens Quay regeneration project on the site of the former John Brown's shipbuilding yard. Work, which initially started before lockdown, was paused due to government restrictions but got back under way in June with additional health and safety measures in place.
Housing minister Kevin Stewart, said: "This new development will provide people with safe, warm, accessible homes, and also deliver a boost to the area with additional social and economic benefits for the local community.
"Good quality, affordable housing helps people to enjoy better health and achieve their full potential. That's why we remain committed to delivering more affordable and social homes across Scotland through our record investment of over £3.5 billion, and innovative projects like this will keep us on track to achieve that."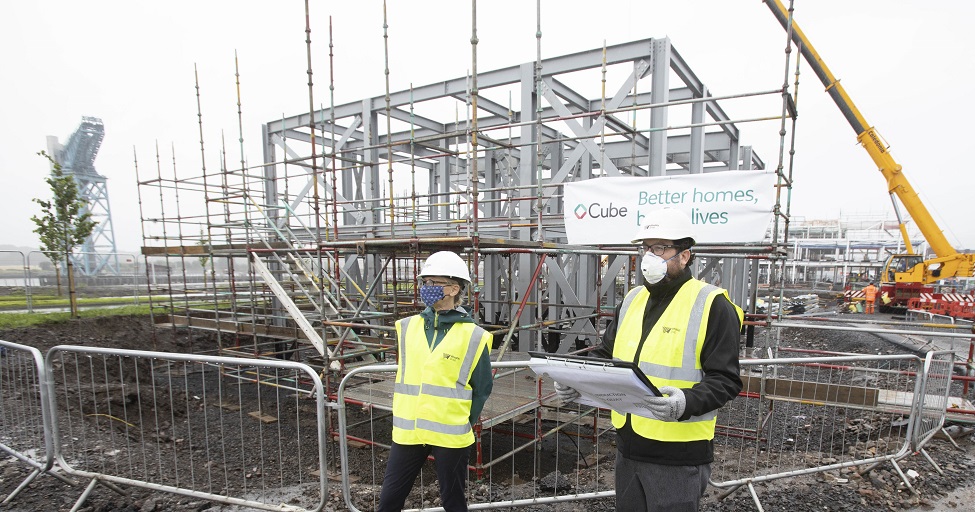 Cube chair Peter Kelly, added: "These 146 new homes are an important part of the transformation of the Queens Quay area. They will bring much-need affordable homes to the area, in a mix of sizes, for local people and families. They'll be modern, energy-efficient and spacious and they'll also be in a great location, close to the River Clyde and within walking distance of the town centre.
"We're delighted to be working with West Dunbartonshire Council and Clydebank Housing Association on delivering this fantastic development as part of the wider regeneration of the old John Brown's shipyard."
The development is Cube's largest new-build project to date and the homes for social rent are a key part of the overall £250m Queens Quay project which will also include a health centre and care home, leisure centre and retail and hospitality outlets.
The homes are being built by contractor CCG. Four commercial units are also being developed and will be managed by Clydeside Regeneration Limited, the council's partner in the wider delivery of the Queen's Quay project.
Councillor Diane Docherty, convener of housing and communities at West Dunbartonshire Council, said: "As a council, we are committed to working with our partners to deliver quality housing in West Dunbartonshire and I'm delighted to see the progress being made on these homes at Queens Quay.
"When complete, this development will offer affordable, energy efficient and stylish properties that our residents will be proud to call home.
"Regenerating Queens Quay with new housing and business is extremely important for Clydebank and West Dunbartonshire and our communities will see the benefits for years to come."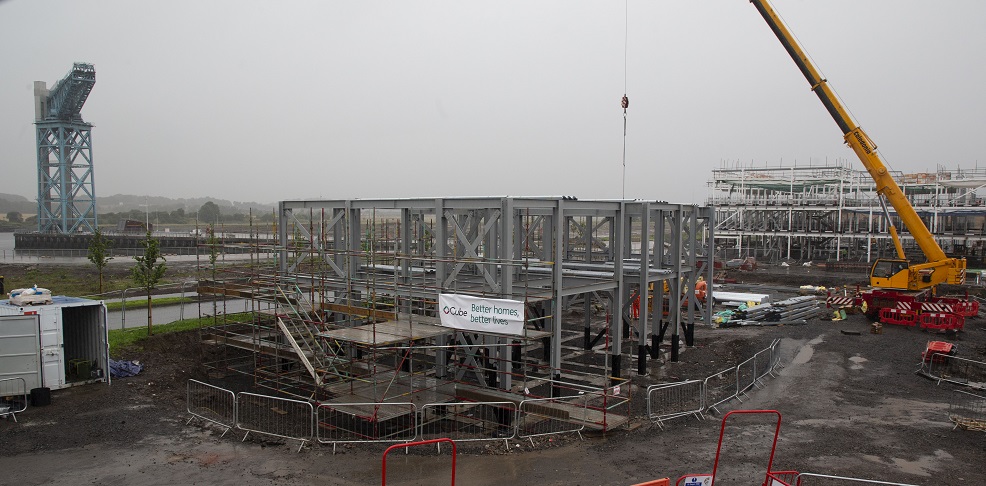 Clydebank Housing Association commented: "We are delighted to be working in partnership with both Cube Housing Association and West Dunbartonshire Council on this prestigious new build housing development in the heart of our town.
"We are thankful to both the Scottish Government and our lenders CAF Bank for their financial support to enable the provision of our 37 much needed homes for rent. With over 700 applicants currently on our waiting list, these homes will be a welcome addition to our affordable housing stock."
David Wylie, CCG managing director, added: "Having led the delivery of the Clydebank Care Home, also part of the Queens Quay regeneration, as well as being the Council's affordable housing partner for a range of developments across the local authority, we are delighted to help bring forward this landmark project.
"We look forward to working with Cube, Clydebank Housing Association and the Council as work progresses over the coming months."
The new homes will be serviced by Scotland's first major water-sourced district heating system. The project – with assistance from a £6m Scottish Government grant – will extract heat from the River Clyde and distribute it to Queens Quay residents and the wider Clydebank community, making it the greenest town in Scotland.