Flats plan at Aberdeen's Greyfriars House recommended for approval
---

---
Plans to demolish and transform a former office block in Aberdeen into 140 flats could receive the green light this week.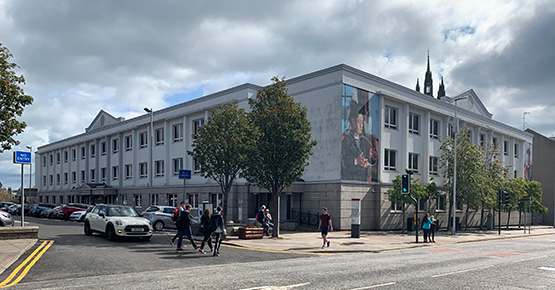 Telereal Trillium submitted plans to Aberdeen City Council to knock down Greyfriars House in Gallowgate to make way for three buildings between five and seven storeys tall, outlining two options for the number of flats to be included.
Council officers have recommended the planning committee approve the plans in principle, as long as the developer signs up to a legal agreement to meet its conditions.
An optimised illustrative scheme shows 115 apartments – 26 studios, 52 one-bedroom, 29 two-bedroom and eight three-bedroom flats. Under the maximised illustrative scheme, the project would consist of 140 units, dominated by 88 studio flats with 48 one-beds and four two-bedroom homes.
Council officers said plans showed the development would not have a detrimental impact on historic buildings nearby.
A report to go to members on Thursday states: "Although the new buildings would be visible within the same vistas as the Mitchell Tower to the rear of Marischal College and St Margaret's Episcopal Church, they would not block any key views of those buildings to the detriment of their setting.
"Furthermore, the views of those listed buildings in which the development would be visible are not the principal views associated with how those buildings or features are predominantly experienced and enjoyed."
Telereal Trillium has already agreed to pay the city nearly £290,000 to expand school, healthcare and transport services with the final total dependent on whether it pursues the 115-flat or 140-flat option.
The council will not seek a contribution towards Aberdeen's affordable housing stock, as the developer has taken advantage of the city centre waiver brought in to encourage development.
But the firm has agreed to carry out improvements planners claim would have "immediate tangible benefits" to surrounding public land, including the Seamount Steps, which lead down to West North Street.
If it is later ruled unfeasible for the developer to carry out the public realm work, the council would expect another £85,000 to be spent in the community.
According to The Press and Journal, the council said it was not feasible to retain or move two murals on the existing Greyfriars House but the developer had indicated that new public artwork could be created on the flats.