Hebridean Housing Partnership officially opens Corran Cismaol development
---

---
Jane Mackinnon, a former long-standing Hebridean Housing Partnership (HHP) board member, officially opened Corran Cismaol at Castlebay in Barra this week.
Calmax Construction Limited, which employed several local contractors, went on-site in June 2018, with housing minister Kevin Stewart in Castlebay to cut the turf.
With construction completed in April, the six homes are the first social rented properties built in Barra since 2010.
A total of £1.4 million has been invested in building the homes of which £841k was funded by Scottish Government, £100k by Comhairle Nan Eilean Siar and £418k funded by HHP.
Mr Stewart said: "Working together we can provide the right homes in the right places, supporting our rural areas, retaining families and strengthening our communities. I'm delighted that these six quality, affordable homes in Barra are now complete. These new houses are a result of the effective partnership between Hebridean Housing Partnership, the Comhairle and the Scottish Government.
"Making sure everyone has a safe, warm, affordable place to live is central to our vision for a fairer Scotland. Developments like this keep us on track to deliver our ambitious target of 50,000 affordable homes by 2021, backed by record investment of £3 billion."
HHP's chief executive, Dena Macleod, said: "I am delighted to see these new homes completed in Barra. They show HHP's continued commitment to affordable housing throughout the Outer Hebrides. It has also been good to see the main contractor support the local economy and give local contractors the opportunity to work with them."
Kenny John MacLeod, chair of communities and housing committee, added: "Once again, we are pleased to see strong partnership working at the heart of housing development in our communities. In line with our Local Housing Strategy, the Comhairle is committed to ensuring that new, affordable homes are built throughout the islands and it is very rewarding to see these six homes completed in Barra."
This week also saw Comhairle nan Eilean Siar welcome Kevin Stewart MSP to formally mark the commencement of the Goathill Farm care and housing development, with a turf cutting ceremony on the site.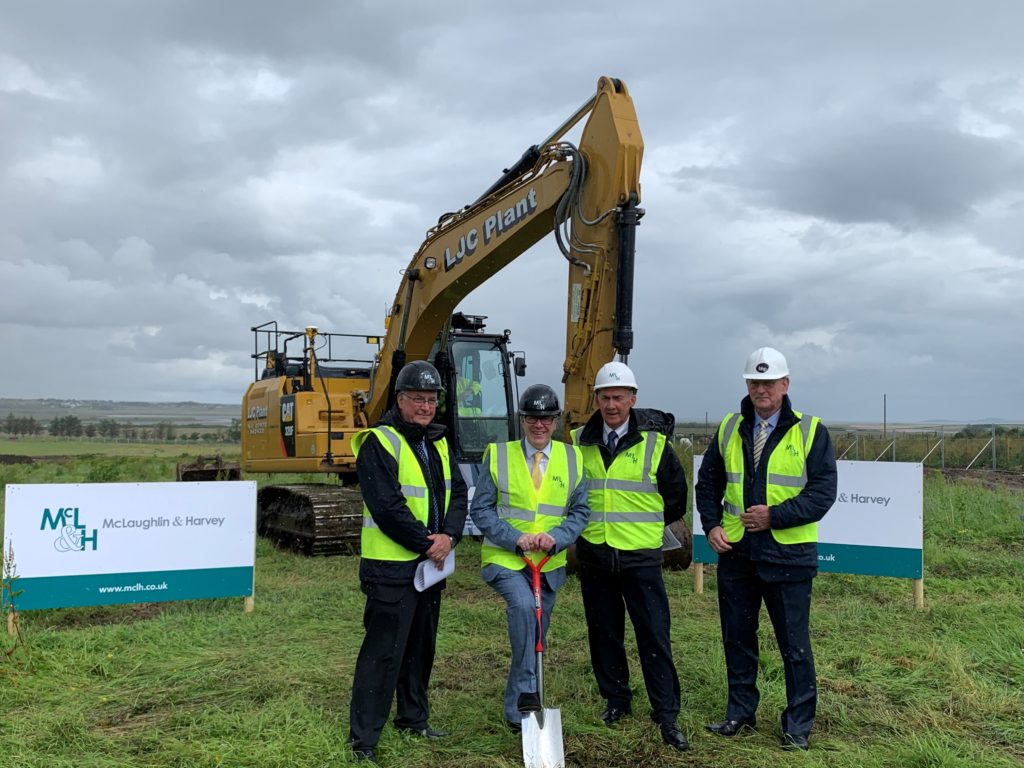 The development, on which work got under way earlier this month, will consist of a 52-bed care home, 50 extra-care units, and 74 houses (58 for rent and 16 for purchase through the shared equity scheme) and is due to be completed by autumn 2022.
Mr Stewart said: "I am delighted to mark the official start of this transformational development, supported by over £15m of Scottish Government funding. This project has been realised thanks to close partnership working with the Integration Joint Board, Hebridean Housing Partnership and Comhairle nan Eilean Siar.
"It will provide 124 safe, warm, affordable homes for people, and contribute towards a well-designed, sustainable community. It will also allow people to maintain their independence as they get older, and access appropriate support when they need it."
Over the last couple of years, and via a strong partnership between Comhairle nan Eilean Siar, Hebridean Housing Partnership (HHP), the Integration Joint Board (IJB), and with financial support from the Scottish Government, an approach was sought to remodel care and support provision locally.
Comhairle convenor, Cllr Norman A Macdonald, said: "Thanks to the commitment and hard work of all the partner agencies involved in this project, we are now at a stage where we can celebrate the cutting of the first turf. This marks the start of a process that will provide modern, state of the art facilities to support our older generation, along with new family homes to nurture our younger generation. With a contribution of almost £16m from the Comhairle's capital programme, this is a major investment.
"The whole development will create an attractive living and working environment, and will have a fantastic outlook on to Broad Bay."
In addition to the care and support element, the 74 affordable homes being developed on the site will reduce pressure on HHP's housing list, and provide an excellent opportunity for people to purchase a home via the New Supply Shared Equity Scheme, and take a first step on to the property ladder.
HHP's chairman, Norman M MacLeod, said: "Today is a landmark for our communities and it gives me immense pleasure to see all the hard work of the past couple of years finally come to fruition especially knowing that it will provide so many good quality homes for those who want to rent as well as for first time buyers through the Scottish Government's Shared Equity scheme."
The turf cutting marked the culmination of several years' work, and represents considerable progress against the aims of the Comhairle's Local Housing Strategy, to provide affordable housing and support the development of extra care housing and care home spaces.