2000th heating milestone achieved at DGHP
A Dumfries and Galloway Housing Partnership (DGHP) tenant is looking forward to benefitting from her new heating system which was installed this month.
Jean Anderson, known as Doris, lives in Eastriggs and welcomed representatives of DGHP and contractors in to her home to celebrate the successful installation of the 2000th boiler in the ongoing investment programme.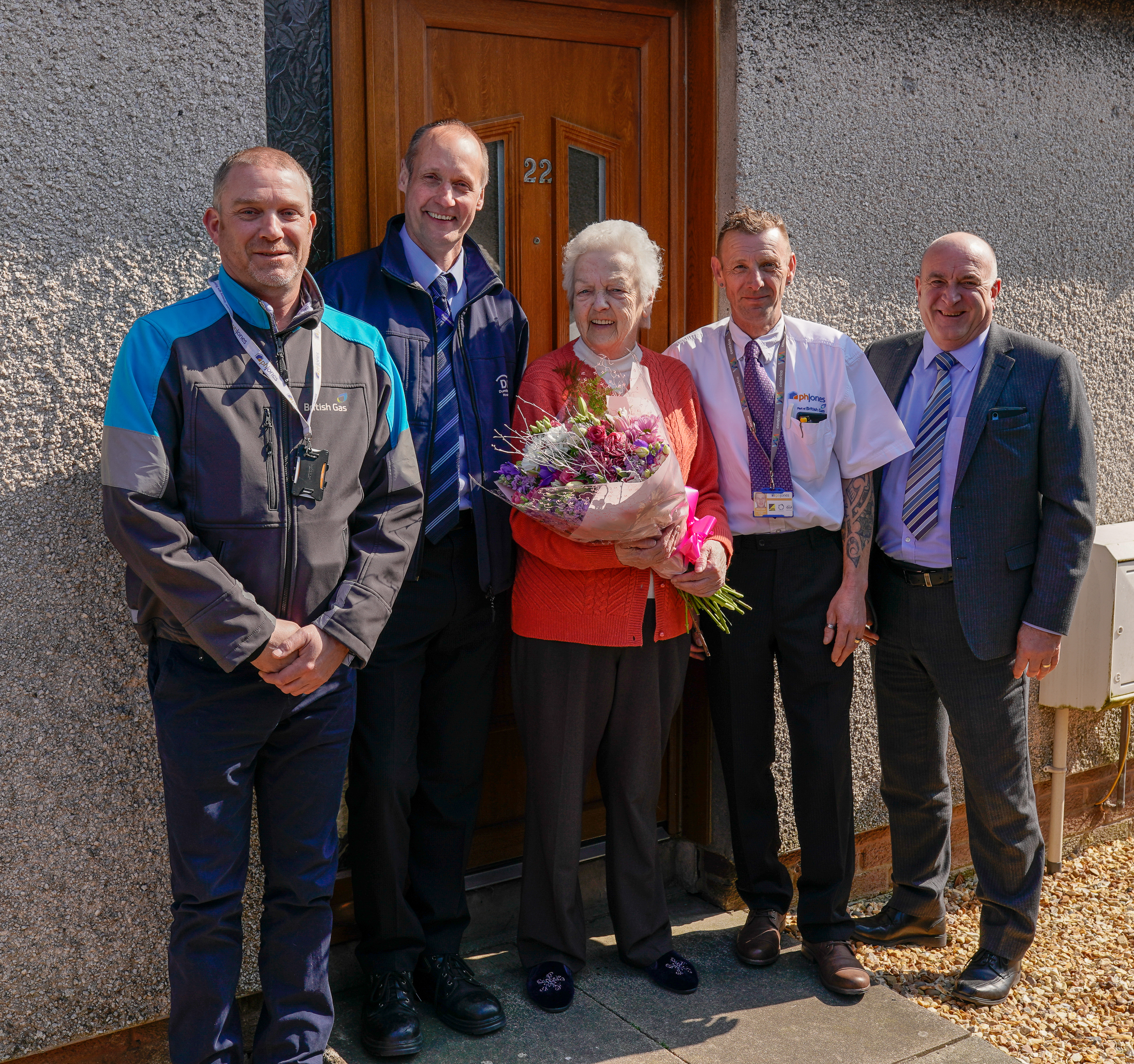 The new heating system was installed as part of DGHP's multi-million pound heating upgrade programme.
The new gas boiler heating system was installed as part of a four-year, £12.5 million heating upgrade programme to replace 2,845 older, less efficient back boilers with gas and air source heating pump systems. The programme started in 2016 with British Gas and its subcontractors.
Over the next year around £3.2m will be spent on upgrading the remaining 800 properties. Where possible, gas heating is installed as part of the programme, but if this is not available it is usually air source heating or electric wet heating.
The new gas combi-boiler central heating system was fitted following the removal of the old system – all in less than a day.
Speaking to representatives who came to visit, Mrs Anderson said: "The new system is really good – there was absolutely no mess or hassle and I can't wait to feel all the benefits.
"I can't believe how quick it all was – they were here by 8am and had the work all done and cleared up before 1pm."
Mrs Anderson, who has lived in her DGHP bungalow for around eight years, said she would encourage everyone to take advantage of the investment works.
She added: "I couldn't be happier with DGHP and all the works. I had to move house as I found my old place too difficult to manage with the stairs. The way I see it is I'm not having to pay out for the works and I will see all benefit from a better system. It also ensures anyone in the property after me will benefit. I'd encourage anyone to take this up."
Jim Preston, DGHP's interim director of investment and regeneration, said: "I was delighted to meet Mrs Anderson and hear how happy she was with her new heating. Making sure our tenants are benefitting from warmer, more efficient homes is what this programme is about and why we carry out the investment works.
"It sounds as though the experience has been very smooth and it's really good to hear Mrs Anderson encouraging others to take up the investment works to their homes. New heating systems are one of the many measures we are introducing to ensure tenants homes are brought up to the new 2020 standards for energy efficiency."
The programme has been designed by DGHP, in partnership with British Gas, to help tenants have warmer, more energy efficient homes. The new systems and measures being introduced are working towards all DGHP properties meeting the 2020 Energy Efficiency Standard for Social Housing (EESSH) guidelines. Tenants should see savings on their fuel bills annually as a result of the DGHP funded programme.
Stephen Liddle, contract delivery manager with PH Jones, a sub-group of British Gas, said: "We are pleased to be working on the contract with DGHP. It's been a pleasure carrying out the works for Mrs Anderson and we are always happy to work with tenants to make sure the process goes as smooth as possible. We will always go the extra mile to make sure they are happy with everything."