At Home In Edinburgh celebrates Residential Letting Team of the Year award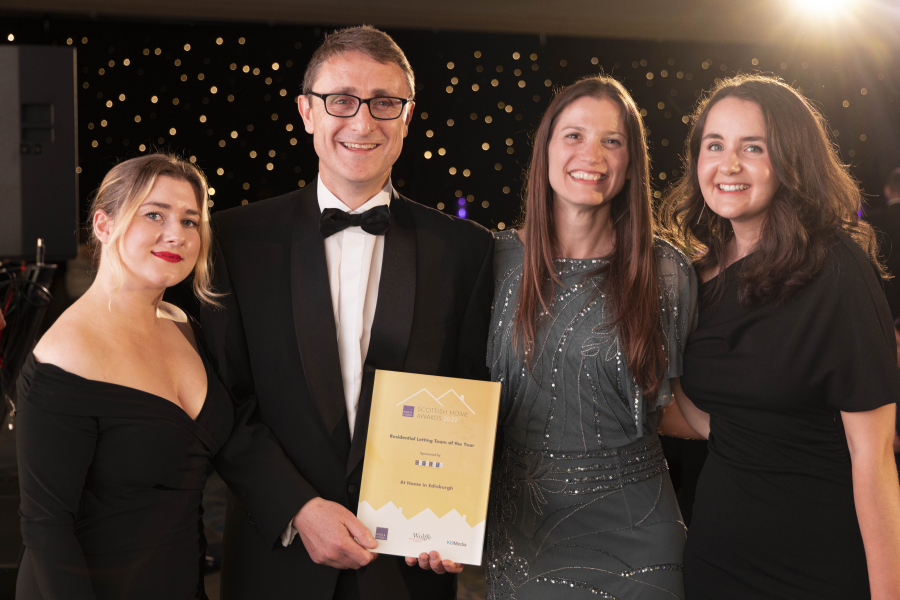 Edinburgh family business At Home In Edinburgh is celebrating after being named Residential Lettings Team of the Year at the Scottish Home Awards, which recognise excellence in the Scottish housing and house-building industry.
This is the first time that At Home in Edinburgh's small team of just four, including husband-and-wife directors Rick and Vicky McCann, have entered the prestigious independent award programme which included Residential Letting Team of the Year finalists Ballantynes, Clan Gordon, Cullen Property, PropOp and Rentlocally.
The Residential Letting Team of the Year category acknowledges the importance of the rental property sector. In announcing the award winner, judges noted At Home In Edinburgh's impressive insight and strategy during a year of financial strain on the residential lettings market.
At Home In Edinburgh's director Rick McCann said: "We are thrilled to win Residential Letting Team of the Year at this year's Scottish Home Awards and thank Citylets for sponsoring the award. We are delighted to receive such recognition, particularly in this competitive industry, and extend our congratulations to the other finalists.
"We are proud of the bold, innovative steps we've taken during these challenging times to grow our business sustainably while increasing the support we can offer landlords, tenants, and property investors, and demonstrating our drive to always exceed expectations."
The Scottish Home Awards honour follows At Home In Edinburgh's recognition by allAgents, the UK property industry's largest customer review website, which earlier this year ranked the family business second in a weekly UK Top 100 of letting agents.
Director Vicky McCann added: "We are incredibly proud of our small team and all that we have achieved. We don't aim to be Edinburgh's biggest letting agency, but instead, the friendliest and most efficient – loved by landlords and trusted by tenants. This award really reinforces our reputation within the competitive private rental sector."
Gillian Semmler, PR manager at Citylets, Scotland's certified leading portal for property to rent, said: "Huge congratulations to At Home in Edinburgh for a thoroughly well-deserved win at the 2022 Scottish Home Awards. They were amongst other great finalists in the category for Residential Letting Team of the Year which is sponsored by Citylets, and the judges stated that At Home in Edinburgh had shown an impressive amount of insight and strategy during a year of financial strain on the residential lettings market. We would also like to say well done to the other finalists for reaching this stage."
Colin Cumberland, chair of the Scottish Home Awards judging panel, and head of residential at Ediston Real Estate, added: "In my first year as chair of these important awards, I have been impressed by the quality of the entries and the effort made by organisations to win these highly regarded awards. Congratulations to all the finalists and winners and we look forward to the continued improvement of high quality, sustainable new build housing and excellent services to customers and tenants."