Black's Blog: Housing with Care… What does it mean?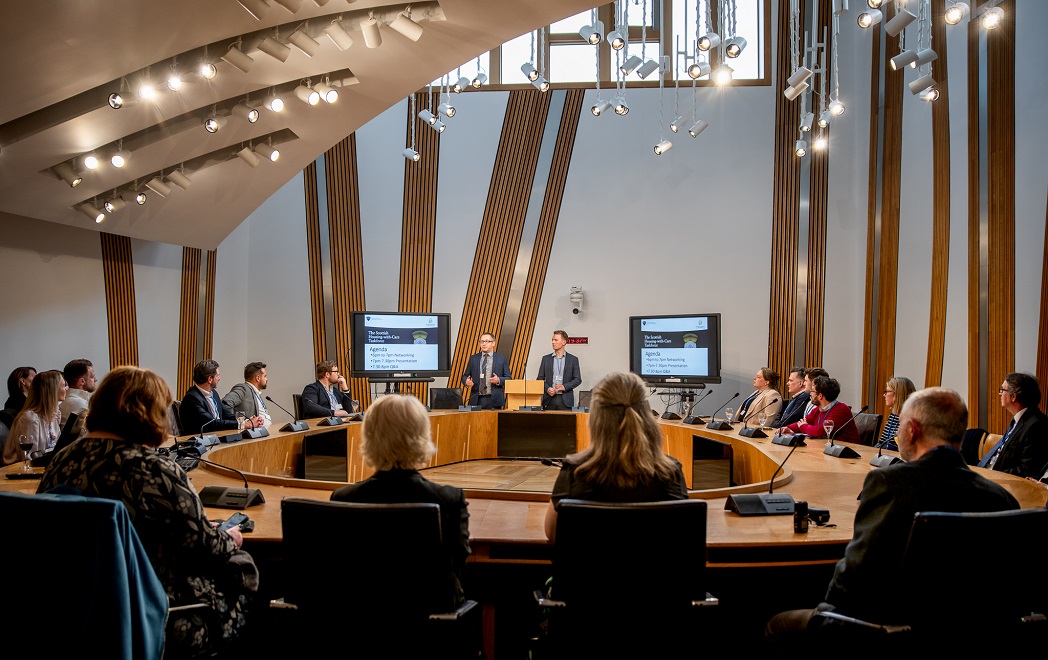 Jimmy Black reflects on the recent Holyrood launch of the Scottish Housing with Care Taskforce report.
The challenge of housing our older people was the main focus of a recent reception in Holyrood, sponsored by Paul McLennan MSP. Some at the event, however, took a broader view of the meaning of Housing with Care, including people with disabilities among others.
One person I spoke to objected to the word "care" in this context, preferring to use "support". Even "older" had different shades of meaning … for two of the guests older meant over 55, whereas others spotlighted the needs of people in their 70s.
None of this was contentious; it's just that human beings don't divide neatly into the kind of categories beloved by strategic planners. Also, a whole range of different solutions were under discussion.
ARCO (Associated Retirement Communities Operators) has a model where older people come together in a purpose-built, carefully designed community, enjoy leisure facilities and receive the care they individually need.
LoopLive plan to create rental houses for over 55s who may not need care yet, but who want to downsize into accommodation which will enable them to live independently when they do need support. Others at the event like the idea of homes for older people in intergenerational communities.
The assertion with which everyone seemed to agree was that Scotland does not have nearly enough housing which is adapted for the final decades of life. Norman Hutchison, professor of real estate at the University of Aberdeen, compares and contrasts Scotland with New Zealand, and says we are miles behind.
As usual, money is a factor here, but so is the law. People with money can make choices about where they live in their later years. There will be a private market for the various models supplied by ARCO's members, but certain aspects of the Scottish legal system can create challenges for developers and investors.
In England, the leasehold system of ownership enables homes within retirement communities to return to the operator, with an exit fee, when residents die or leave. In Scotland where property is owned outright, that's not possible for private operators. While no-one would be keen on importing the English leasehold system, there must be a way of allowing private investors to satisfy demand for specialist retirement housing.
Another issue is planning. One of the Holyrood guests, a planning consultant, said housing with care developments fall foul of our often inflexible planning rules.
People without money have to rely on local authorities and housing associations to make choices for them, whether that's sheltered housing, housing with care, new builds with no steps or a plug in lift installed in their semi. There must be ways of harnessing public and private funding to enable enough suitable homes to be provided for people who need care and support.
Ask any local housing allocations team and you will find they have many applications for "ground floor, all on one level housing" and very few suitable properties to answer that need. Shower rooms can be too small to allow a carer to assist with bathing. Bedrooms may be on a different floor to bathrooms. Heating can be impossibly expensive… storage heaters, for example.
In the end it's simple. As we become less able, we need to be able to get in and out of our houses, eat, bathe, use the toilet, receive guests, visit other people, communicate with family and friends, take part in our communities. If the houses we live in prevent these normal day-to-day activities, our lives are diminished.
Paul McLennan MSP is keen to take these issues up within Holyrood and with local government; there is a clear opportunity here to reach the decision makers and now is the time to shape this debate.
Find out more about the work of the Housing with Care Taskforce on the latest episode of the Scottish Housing News Podcast. You can read their report here.
All episodes of the Scottish Housing News Podcast are available here.