Cairn sets new standards in sustainability with EnerPHit retrofit in Wick
Cairn Housing Association has successfully retrofitted two properties in Wick to EnerPHit standard.
Both properties have achieved an extraordinary air permeability of below 1 m3/h/m2 @50Pa, which is a first for a Scottish social landlord.
EnerPHit, a rigorous standard developed by the Passive House Institute, focuses on retrofitting existing buildings to the high-performance standards expected of Passivhaus. The two properties in Wick are currently under review for Passivhaus certification.
The initiative, undertaken as a pilot study, aimed to explore the feasibility, costs and practicalities of implementing EnerPHit standards in social housing. The two retrofitted properties boast the highest levels of insulation, rendering traditional central heating unnecessary. This transformative retrofitting has elevated their Energy Performance Certificate rating from F to A.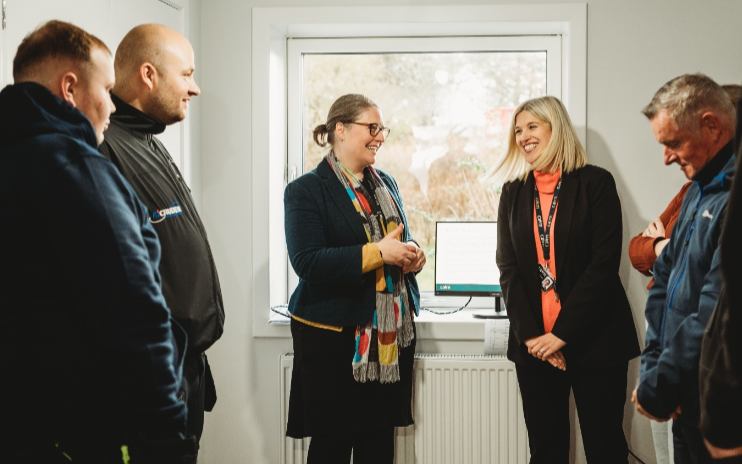 This one-of-a-kind project was enabled through the Scottish Government Net Zero Heat Fund and the support of John Gilbert Architects, Hardies Consultant, and Changeworks, as well as local contractor GMR Henderson and local and regional sub-contractors.
To celebrate this achievement, Cairn hosted a celebratory event attended by representatives from local councils, contractors, and other key stakeholders involved in the project. The event provided an opportunity to showcase the retrofitted properties, share insights from the pilot study, and foster collaboration among industry professionals.
Mathilde MacDonald, property investment officer at Cairn, said: "We can learn so much from this project, not only by focusing on the challenges but also learning about the capabilities of local contractors and promoting the supply chain in rural areas."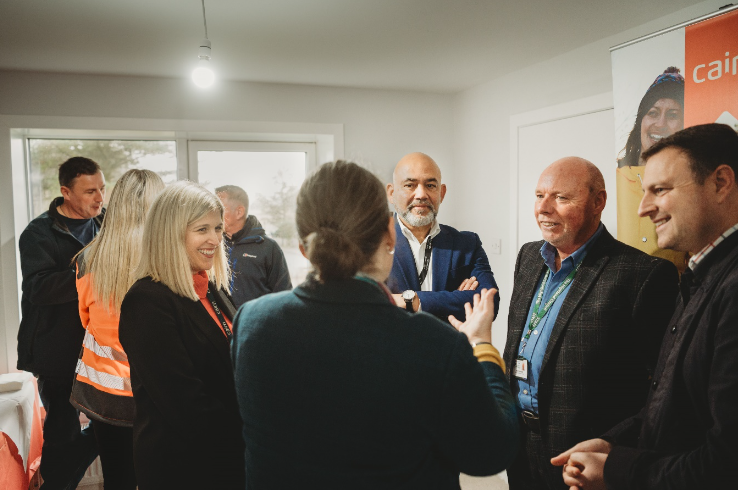 Roddy Hamilton, head of the Net Zero Programme Development at Changeworks, added: "Changeworks supported Cairn to develop the project and the application to the Scottish Government's Social Housing Net Zero Heat Fund. The results of this project will help inform Cairns wider net zero and EESSH retrofit strategy. Cairn and Changeworks have agreed a long-term delivery partnership where we work together to develop and deliver projects to help the organisation work towards net zero."
Scott Henderson, quantity surveyor at Hardies, commented: "We are delighted to be part of this important and innovative pilot scheme. The EnerPHit Standard is an essential step forward in achieving Scotland's Net Zero ambitions for existing housing stock."
Chris Morgan from John Gilbert Architects, added: "We are now firmly in the midst of two emergencies: a climate emergency and a cost of living emergency. Both will cause huge problems, and it can be hard to know where to turn, but there is a way of addressing both problems head-on.
"That solution is ultra-low energy housing, and one of the first examples in Scotland has just been completed in Wick, by Cairn Housing. Using very little energy means that the associated carbon emissions are low, which is good for tacking climate change, but for Cairn's tenants, it also means that their fuel bills are extremely low."
Cairn said it is optimistic about how this successful pilot project will lead it towards net zero and help fight fuel poverty for their tenants, as well as the opportunities available in collaborating with other housing associations that face the same challenges.