Cassiltoun welcomes funders to new homes in Castlemilk
Cassiltoun Housing Association was delighted to welcome Glasgow City Council officers to its new build development at Barlia Row, Castlemilk earlier this month.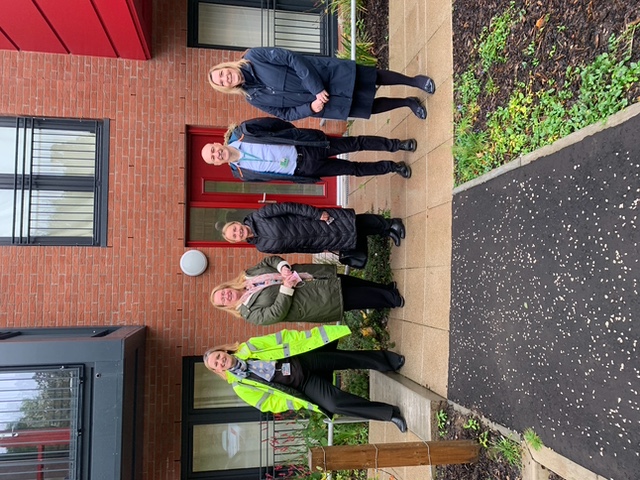 Although the development was completed almost a year ago, restrictions on on-site visits meant that there was a delay in presenting the finished units to the funders.
The delegation of officers visited one tenant who described the life-changing impact of being allocated a new home for her family. Having been living in a private let for many years, her new three-storey townhouse has allowed not only her seven-year-old son, who lives with dwarfism, to have his own bedroom and stairlift, it has also assisted her two teenage daughters to stay in full-time education.
Having been overcrowded with no suitable space to study, her twin 18-year-old daughters were planning to give up their university places. As a result of being re-housed by Cassiltoun, both are now happily continuing with their higher education studies.
Fiona McGowan, director of operations at Cassiltoun HA, said: "Cassiltoun are very proud of the high quality homes that we have delivered in partnership with Glasgow City Council and were delighted to be able to share this with the staff from Neighbourhood, Regeneration and Sustainability. These homes have made a difference to the lives of the people who have been allocated them and have changed vacant and derelict land sites into thriving neighbourhoods."
Councillor Kenny McLean, city convener for neighbourhoods, housing and public realm at Glasgow City Council, added: "It is pleasing to see that our partnership with Cassiltoun Housing Association has delivered homes that are once again making a real and positive difference to the lives of the people living in them, and contributing to the regeneration of Castlemilk."
The Barlia Row site comprises 22 units, including flats and townhouses and was part of a larger 3 -site/ 42 unit new build development designed by MAST Architects/ G3 Engineers and delivered by the Cruden Group.