Cordale Housing Association donates £400 to West Dunbartonshire Community Foodshare
Cordale Housing Association has presented West Dunbartonshire Community Foodshare with a donation of £400 to support the organisation's gallant efforts to provide food and support for those in need throughout the region.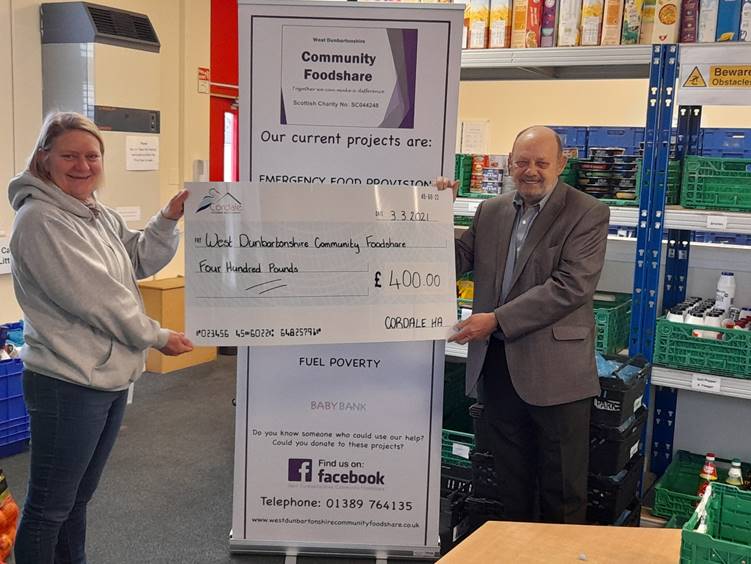 Throughout lockdown West Dunbartonshire Community Foodshare has had to close the doors of their distribution centre to the public, instead providing home deliveries of emergency food parcels for anyone in West Dunbartonshire experiencing poverty and food insecurity.
Martin Walker, chair of Cordale Housing Association's management committee, presented Clair Coyle, manager of West Dunbartonshire Community Foodshare with the cheque complementing Clair on the charity's dedication.
Mr Walker said: "This year has been exceptionally hard for so many; West Dunbartonshire Community Foodshare hasn't wavered and has continued to provide a vital lifeline and resource in our community throughout the restrictions. Cordale Housing Association are delighted to be able to support the Community Foodshare's admirable work with this donation."
Clair Coyle was elated with the donation thanking Cordale Housing Association. She added: "The pandemic has presented a number of challenges, especially on the finances of so many families in West Dunbartonshire. We have seen an increase in demand at a time when gathering donations is harder than ever. This donation from Cordale HA helps us to continue to provide emergency food parcels and support throughout West Dunbartonshire where it is most needed. "
West Dunbartonshire Community Foodshare are currently looking for donations of Easter Eggs to distribute to the children of the families they support.
Foodshare have donation drop off points throughout Clydebank, Dumbarton & Alexandria for donations of Easter eggs, food or money.
Follow them on Facebook @West-Dunbartonshire-Community-Foodshare or visit here for more information.