DGHP football academy helps girls have a ball this Easter
Dumfries and Galloway Housing Partnership (DGHP) helped girls have a ball this Easter by supporting a football academy in the north-west of Dumfries.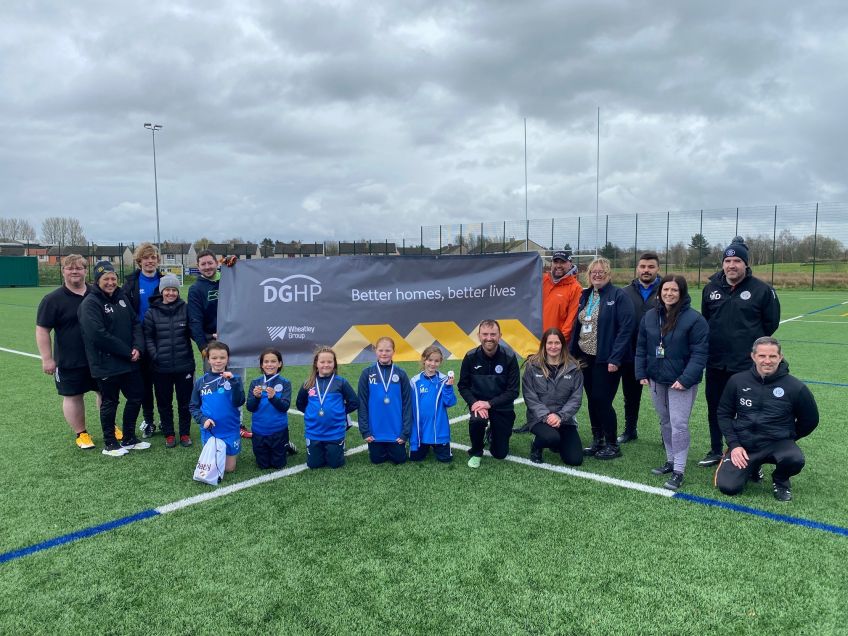 The event took place on 4-5 April at the North West Community Campus and was organised by Dumfries Community Policing team and Queen of the South Ladies and Girls Football Club.
The two-day event for youngsters aged 6-12 was part of a wider initiative aimed at tackling youth-related anti-social behaviour in the area.
It was supported and funded by DGHP and Wheatley Foundation, both part of Wheatley Group.
Alan Glasgow, managing director of DGHP, said: "This was a great opportunity for us to build on the progress already achieved in Lochside and Lincluden and help young people become positive role models in their communities.
"We are working hard with partners to create safe and peaceful communities where people are proud to live and, through supporting the football academy, we were able to promote a safe space for young people while also giving them the chance to develop their football skills."
Inspector Duncan Cameron from Police Scotland, added: "Dumfries Community Policing Team, in partnership with Queen of the South Ladies & Girls FC and Wheatley Group, hosted a 'Girls Only Football Academy' as part of Police Scotland's ongoing commitment to building safer communities.
"This bespoke initiative was designed to provide educational input, promote wellbeing, and empower our young people to be a positive influence in their communities while coming together to enjoy football in a fun and inclusive environment."
He added: "In all, 64 girls of primary school age attended the academy, developing their football skills and participating in presentations led by Community Police officers and NHS colleagues around internet safety, road safety, personal safety, and dental hygiene.
"It was clear that all the girls thoroughly enjoyed the event and I thank them, and our partners, who collectively made this a fantastic start to the school holiday period."
DGHP housing officers and Neighbourhood Environmental Teams, supported by Wheatley's Stronger Voices team and the Community Improvement Partnership, have been working side by side with the police and the Scottish Fire and Rescue Service since September last year to tackle antisocial behaviour.
The girls taking part in the academy also attended presentations on internet and personal safety, led by community police officers.