Energy bill rise will 'hammer' household budgets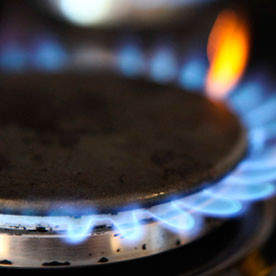 The energy price cap increase imposed today will "hammer" household budgets, Citizens Advice Scotland (CAS) has warned.
From today, the energy price cap will increase for millions of customers across Britain.
For a typical consumer paying by direct debit, the maximum price suppliers can charge their default tariff customers will increase by a GB average of £139, from £1,138 to £1277 per year.
A typical prepayment customer will see average GB prices increase by £153 per year, from £1,156 to £1309 per year.
The rise in energy bills is part of a 'perfect storm' consumers are facing this winter as:
Furlough ends
Universal Credit is cut by £20 per week
The cost of living rises as inflation increases
Consumers may also face a further 'triple threat' on bills due to the ongoing crisis in the energy market, as they may find themselves on a higher tariff if their provider goes bust and they are moved onto a new supplier, some may lose out on access to the Warm Home Discount if moved to a new supplier, and a further increase in bills next spring is likely.
Citizens Advice Scotland is running 'Our Advice Adds Up', a campaign encouraging people to get advice this autumn. Analysis published by the charity earlier this week suggested that almost 400,000 people missed a gas or electricity payment last year because they had run out of money.
This week the UK Government announced a £500 million package of support for households through the winter, including £41m for Scotland. CAS is encouraging people to claim the extra support when further details are available.
Kate Morrison, CAS fair markets spokesperson, said: "The price cap has afforded consumers a degree of protection in recent years, and it is welcome that the UK Government is committed to keeping it in place, however the reality is people are going to see big increases in their bills at a time when many are already struggling, and that could absolutely hammer household budgets.
"Almost 400,000 people in Scotland missed a gas or electricity payment during the pandemic because they had run out of money. These people and many others are facing perfect storm of higher bills, prices rising in the shops, reductions to Universal Credit and the end of furlough.
"There's also the triple threat in the future to people as a result of the ongoing energy market crisis, as people may face higher bills or lose out on the Warm Home Discount if their supplier goes bust and they are moved to a new provider, and we'll likely see further rises in bills next spring.
"The extra support announced for households this week is welcome. It is unlikely to reach everyone but it will help many who are struggling and we are keen to see further details as soon as possible.
"Help is out there for people from the Citizens Advice network. Our free, impartial and confidential advice adds up."
Conor Forbes, head of policy with Advice Direct Scotland, added: "Today's price cap rise will result in higher energy bills for households across Scotland. This will be a worrying time for many as we enter the winter months.
"Anyone in Scotland who is concerned about their energy bills can contact energyadvice.scot for free advice, including information on grants and assistance.
"Meanwhile, the problems facing suppliers due to rising gas prices are likely to continue – but households are reminded not to panic about their supply as Ofgem will move customers of collapsed firms to a new company and they will not lose any money owed to them."