Fantastic five complete apprenticeships with Waverley
The old adage that 'time flies when you're having fun' has never been truer than for an excellent crop of young apprentices who joined Waverley Housing in 2015 on the first step toward their chosen careers.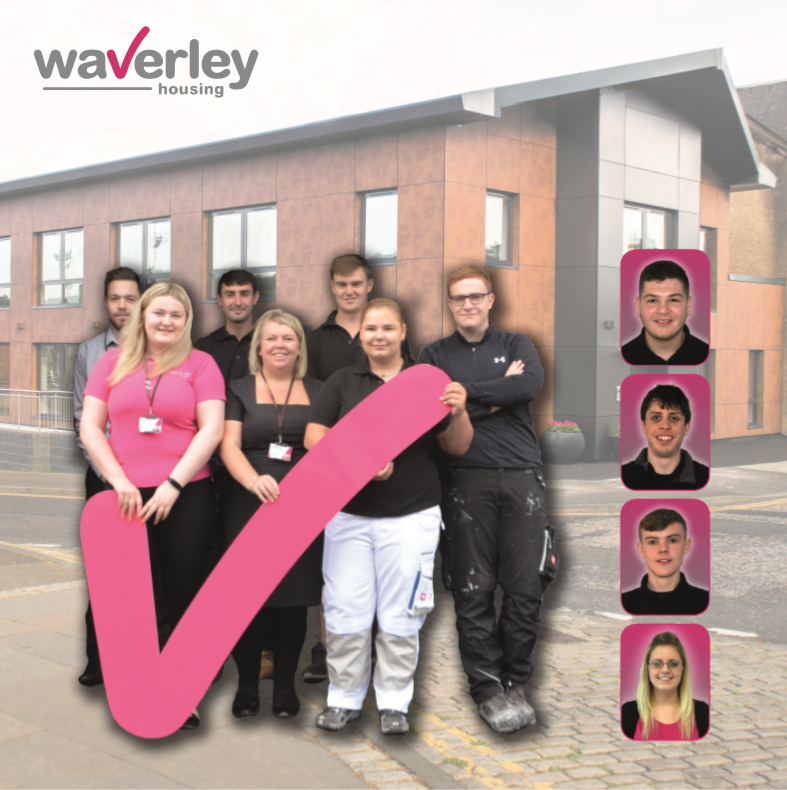 Four years on and we are delighted that Ruaridh MacLeod (joinery), Harris Campbell (roofing), Jack McDonald (painting and decorating) and Steven Drummond (joinery) have completed their apprenticeships.
Last year, Jenny Sharp also completed her business administration apprenticeship and joined the company in a permanent post and Monica Riddell is moving into the second year of her apprenticeship in painting and decorating.
A spokesperson for Waverley said: "This is a fantastic group of young people who have justified the approach Waverley Housing has taken to offering apprenticeships. Not only did we see Jenny, Ruaridh, Harris, Jack and Steven develop their technical skills and knowledge, but we saw their confidence and self-esteem flourish.
"We're delighted that Jack and Steven are also staying with Waverley, in permanent jobs, (we now have eight permanent employees who started their career with Waverley Housing on an apprenticeship) and that Ruaridh and Harris have both moved on to other local businesses. We wish them all every success in their future careers."
Fraser Kelly, Waverley Housing's chief executive, said: "Back in 2015 Waverley Housing received Scotland's Modern Apprenticeship Award in the small and medium-sized employers category. We were delighted to accept the award back then, but the effort, commitment and success of Jenny Ruaridh, Harris, Jack and Steven says so much more than a trophy or a plaque."
To apply for a business administration apprenticeship with Waverley, please email recruitment@waverley-housing.co.uk.