Far-right group accused of targeting homeless people in Glasgow
Homelessness charities have raised concerns that a nationalist far-right group is targeting some of Glasgow's most vulnerable people with their propaganda.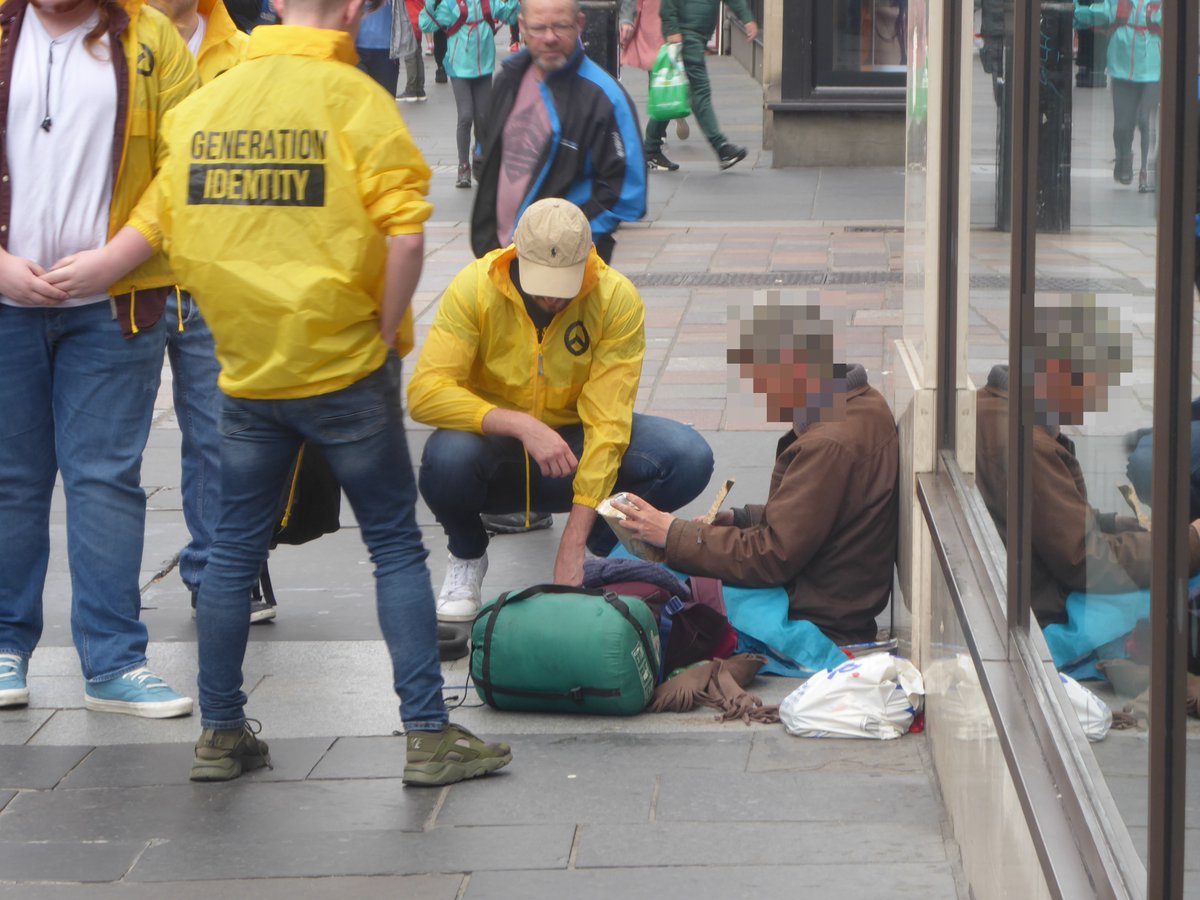 Members of the group called Generation Identity were pictured handing out food packages to the city's rough sleepers.
Sharing its work on social media, Generation Identity Scotland tweeted: "Scottish activists were in Glasgow this afternoon bringing food packages to the homeless. The Scottish government must decide where its priorities lie, Glasgow's homeless or bringing in more asylum seekers."
But the group's efforts to engage with Glasgow's rough sleepers have not been welcomed by campaigners.
Homelessness charity Simon Community Scotland said it was concerned the group was trying to recruit and influence people.
A tweet read: "So it seems that these guys 'Generation Identity' is distributing food to people on the streets in Glasgow. They are we believe a far-right racist organisation looking to recruit and influence vulnerable people. Not welcome guys! #SayNoToRacism."
Hugh Hill, a director at the Simon Community Scotland, said: "It's a strange group to target in terms of giving out flyers, so many were wondering if it was a publicity stunt.
"Their message is not a positive one and they seem to be targeting white-only people on the street."
Fiona King, campaigns and policy manager at homeless charity Shelter Scotland, added: "This is very concerning. We at Shelter Scotland are against any kind of hate speech or anti-immigration groups or rhetoric. Activity of this kind has no place in Scotland or the UK."
Glasgow North East MP Paul Sweeney said: "It is dismaying to see fascist propagandists openly walking on the streets of Glasgow preying on the vulnerable homeless. Generation Identity Scotland/Alba is part of a European-wide movement that opposes Islam, immigration and multi-culturalism.
"It has violent, fascist associations. This hateful cabal should get the message – they are not welcome in our city.
"The fact that they are preying on the most vulnerable people in society to peddle their politics of division shows that they are beneath contempt."
A spokesman for Glasgow City Council added: "If Generation Identity was targeting the most vulnerable in society to spread racist beliefs and there is truth in the allegation it was only giving food to white people, that is appalling."
Martin Sellner, the Austrian leader of Generation Identity, was recently denied entry to the UK amid counterterrorism concerns.
Last year Sellner was sent £1,350 by Brenton Tarrant, the man accused of killing 51 people at two mosques in New Zealand in March.