Fife Council's housing service celebrates traineeship completion
Katie Pentland has completed her traineeship with Fife Council's housing service.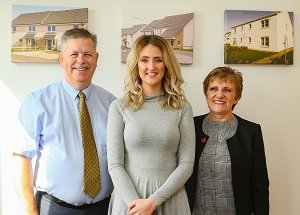 Originally from Freuchie, Katie has obtained full-time full-time employment with the council working as a housing professional specialising in fuel poverty.
Katie has a degree in Politics and International Relations from Aberdeen University. She was attracted to the Housing Professional Trainee post with Fife Council as she was looking to complete a post-graduate degree that combined her studies with strategic and operational experience in Housing.
She began her traineeship in August 2017 and was given the opportunity to work in a range of different functions within housing. She has enjoyed the varied opportunities this gave her and that she was given different responsibilities, which made her feel she was contributing to the work of the Housing Service.
Katie believes that the traineeship has benefitted her and enabled her to progress in her career in a Housing environment. She built up her skills and knowledge of the service, giving her the confidence and skills to apply for a permanent position.
She said: "My traineeship with Fife Council was a great experience that not only presented me with training opportunities but most importantly it provided me with responsibility for projects and tasks. My colleagues and managers have provided so much support and I have gained a variety of skills and experience that will continue to be invaluable to my career progression in the future. I was also offered the opportunity to complete my Masters in Housing Studies following my Post Graduate Degree which highlights how keen the service is to develop the skills of Fife Council employees. I would highly recommend starting your career in a traineeship with Fife Council."
Head of the council's housing service, John Mills, said: "Congratulations to Katie whose hard work has certainly paid off. We are delighted to have her on board and are working to create more opportunities for young people to work here through our new Housing Training Academy which will launch later this year."
Convener of the council's community and housing service committee Cllr Judy Hamilton, added: "I am very happy to congratulate Katie on her achievement. Katie demonstrates that young people will take opportunities and make the most of them, and I wish her every success in her new career. The council invests heavily in our Apprenticeships and Trainee Programmes, providing these opportunities for people – and to reinforce our commitment to jobs and a skilled workforce of the future."