Fife Housing Group donates £5,000 to support local charities at Christmas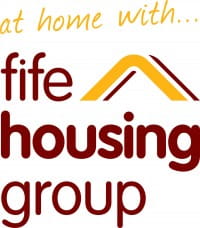 Recognising the additional pressures charities are facing during these uncertain times, Fife Housing Group has donated a further £5,000 to some of those providing assistance to the people most in need within their local communities.
As well as topping up the donations made to Kirkcaldy Foodbank, Levenmouth Foodbank and Dunfermline Foodbank (which also serves communities in Inverkeithing, Rosyth and Cowdenbeath) at the start of the pandemic, the group has made additional donations to the Dunfermline Children's Clothing Bank, Fife Gingerbread and the Cottage Family Centre, whose clients would usually have benefited from their 'Give a kid a coat' campaign – taking the total sum donated by the organisation this year to £9,000.
Chief executive, Nicki Donaldson, explained why they felt it was so important to provide additional financial support to local charities during the current crisis: "With the impact of Coronavirus continuing to reverberate around the world, a growing number of families throughout Fife are struggling to make ends meet and are being forced to turn to foodbanks and other charities for essential, everyday items.
"Having already donated £4,000 to local foodbanks at the start of the pandemic, we are acutely aware of the fantastic work they do supporting our tenants and others within their community and wanted to do our bit to try and ensure that no-one in our local area has to go without over the festive period.
"As we were unable to run our 'Give a kid a coat' campaign in its usual form this year, we also wanted to provide some assistance to other local charities who support the families of some of the 1,500 children who this initiative has helped to keep warm during previous winters."
The numbers quoted by project manager at Levenmouth Foodbank, Ruth Livingston, illustrates the size of the challenge foodbanks are facing: "In the last year, Levenmouth Foodbank Community Support Project fulfilled 1,873 requests for people in crisis in our community. 2020 has been a difficult year for everyone, and support from local businesses, community groups, schools and individuals is essential for us to continue this work. We are so thankful for the support that Fife Housing Group has given us, allowing us to continue our work with people experiencing crisis in the Levenmouth area."
Chair of Kirkcaldy Foodbank, Joyce Leggate, echoes this experience: "Kirkcaldy Foodbank is so grateful for the support we have received from Fife Housing Group during the pandemic. We have experienced an increase in demand for help over the past few months and that has resulted in increased costs to purchase food. Without the generous support of local businesses and individuals, we would not be able to meet this demand and for that, we continue to be very grateful."
Newly established Dunfermline Children's Clothing Bank trustee, Mary-Grace Smith, has already seen a similar demand for their services: "Since opening our doors in November we've provided clothing parcels to 80 children. We've been astonished at the level of support we've received from local services and organisations. This donation from Fife Housing Group is another amazing example of that support which will make a huge difference to local families referred to us who are struggling over the winter months.
"Any financial donations we receive go towards purchasing essential items which we can't provide as pre-loved items - such as underwear and certain bespoke requests. We also provide shoe vouchers and clothes vouchers for families depending on the age of the child, which obviously is an ongoing cost for us and donations such as this are crucial to allow us to provide this support."
These donations were made possible by the generosity of 17 of Fife Housing Group's contractors who have signed up to become part of a charitable framework, donating 2% of their invoiced costs to help deliver projects which benefit local communities, as part of the organisation's ongoing commitment to making a difference and 'Giving Something Back'.
The 17 contractors who contribute to this framework are MAC Roofing, Rogerson Plumbing, QAPM Ltd, Moffat Electrical Projects Ltd, Bell Decorating Group, Eurojet (Scotland) Ltd, Pankhurst Decorators, Saltire Facilities Mang Ltd, Kingdom Gas, City Technical, Shine Cleaning Services, Belac, Virtue Services Group, RB Grant Ltd, Forth Plasterers Ltd, Mitie Property Services and Metro Rod Ltd.