Financial support schemes 'having an impact' but third of Scots still concerned about incomes
A third of people in Scotland are concerned about their incomes during COVID-19 while a similar number have less money in their current accounts since the lockdown came into effect, two new pieces of research have revealed.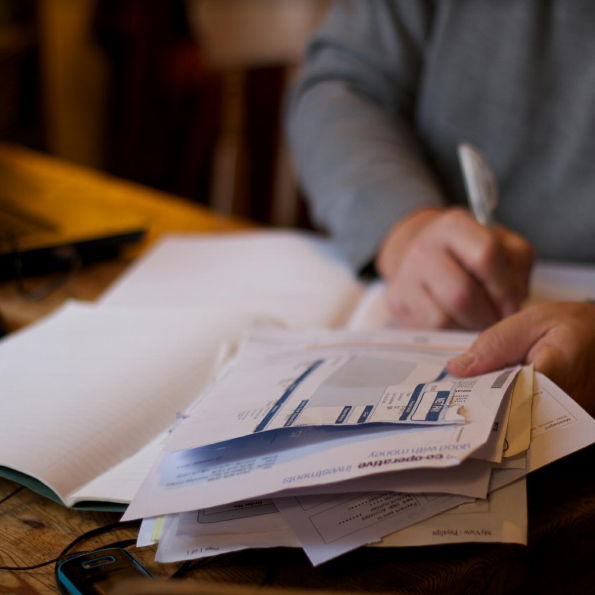 A ScotPulse survey carried out in May for Citizens Advice Scotland (CAS) found that 36% of people are concerned about their income amidst the coronavirus outbreak. The equivalent figure for April was 41%.
The third wave of polling to be carried out on behalf of the charity during the pandemic reveals that, while there has been a slight fall in concern around personal finances, there are still significant groups of people in the country worried about their finances.
The polling tracks people concerns about key bills including:
24% of people concerned about utility bills, down from 31% in April
26% concerned about rent, down from 31% in April
21% concerned about mortgage payments, down from 27%
27% concerned about debt repayments, down from 31%
23% concerned about paying for food and essentials, down from 27%
22% concerned about making council tax payments, down from 29% in April
CAS said the figures showed that the support schemes implemented by the UK and Scottish governments, such as the furlough scheme, increased Universal Credit and Council Tax Reduction have had an impact in addressing financial concerns for some, but it was important policymakers do not lose sight of the significant numbers of people still facing financial insecurity.
CAS chief executive Derek Mitchell said: "On a surface level this polling suggests that measures implemented by the UK and Scottish Governments have had some success in addressing the financial concerns of some people during the pandemic.
"This small decline must still be understood in the context of significant amounts of people facing financial insecurity.
"Over a third of people being concerned about their income should set alarm bells ringing, especially as we look ahead to lockdown being eased and certain support measures being tapered off.
"The issue of people facing financial insecurity has been a serious problem that our network has seen across the country for some time now. Coronavirus didn't introduce this issue but it certainly exacerbated it, and there is a real risk it is aggravated further in the months ahead.
"It's absolutely essential that policymakers put maximising incomes and minimising the cost of living at the heart of any economic response to coronavirus.
"For our part, the Citizens Advice network in Scotland remains here to help people during this crisis. Our bureaux have transitioned to remote working to help people over the phone or by email, and our online advice pages have seen unprecedented levels of demand during this time. We'll make sure people get the advice they need, when they need it."
Mark Diffley, founder and director of Mark Diffley Consultancy and Research, which undertook the polling, said: "The third wave in our time series of polls conducted since the pandemic started in Scotland allows us to take a longer-term view of the financial impact it is having across Scotland.
"It is certainly positive levels of concern around all the financial issues covered in the surveys have declined since lockdown began; for example concern about paying utility bills has fallen from 35% in late March to 24%, while concern for paying for food and essentials has fallen from 34% to 23% over the same period. However, as we have observed throughout, the financial concern is not spread evenly across the population and continues to fall disproportionately on those in the most financially disadvantaged situation.
"For example, 31% of those in the C2,D and E social grades are concerned about paying for utility bills compared to 21% in the A, B and C1 social grades; similarly with paying for food and essentials there is a significant gap with 30% of those in C2, D and E expressing concern compared to 19% of those in A, B and C1.
"It is also noticeable that there has been some uptick in the proportion of people applying for financial help, for example with Universal Credit, Council Tax Reductions and mortgage holidays and this may be contributing to the decline in levels of financial concern. Future polling will continue to measure how the country copes with the ongoing pandemic."
Meanwhile, new research by PwC has found that a third of Scots have less money in their current accounts since the COVID-19 lockdown came into effect, while one-quarter (24.3%) have more in their current accounts while 43% have the same.
PwC's latest UK Economic Outlook also reveals that almost two-thirds of Scots believe the economy will perform worse in the next 12 months, while one-third believe their own financial situation will deteriorate.
Asked as to their impression of how the overall economy of the UK would perform in the next 12 months, 61.4% said it would be worse than this year, compared to 68.8% across the UK. Further to this, 18.8% said it would stay the same (UK: 14.9%) and 10.2% believe it will be better than this year (UK: 11.1%)
Of those who said they had more money in their current accounts since lockdown, more than half cited no commuting costs, while eating out and socialising were also viewed as reasons for saving cash. The majority of respondents to the survey said they planned to save at least some of this additional money, before spending on home improvements, consumer electronics and new cars.
The survey found that across the UK more than a third (33%) of consumers expect their financial situation to worsen over the next 12 months, according to a new PwC survey. Poorer households have been hardest hit, with 38% of households with an income of below £20,000 having less money in the bank now than they did before the crisis. The findings highlight the disproportionate impact of the crisis on the jobs and incomes of lower-income households, which are often more exposed to sectors under lockdown such as hospitality and retail.
Higher-income households are faring slightly better - only 31% of those earning above £20,000 report a decrease in their finances. A quarter (25%) of households earning between £20,000 and £50,000 say they have seen an increase in their cash balances, compared with 22% of those earning above £50,000 and only 15% of those earning £20,000 or less.
Jing Teow, senior economist at PwC, said: "Increases in bank balances have likely been driven by less socialising, not having to commute, and savings from having meals at home. Households that have seen a boost to their bank balances could, therefore, have sizable amounts of unspent disposable incomes.
"Given that this could be about 12% of pre-COVID average weekly household spend, or around £70 per household per week, some 'pent up' consumer spending could be released once the lockdown is lifted.
"While this could take time to filter through, our survey shows that up to 36% of consumers are planning to spend some or all of the extra cash. The most popular categories of spend are for home improvements and household furnishings, arguably due to the increased amount of time spent at home due to the lockdown. Spending on holidays, cars and eating out are lower on the list of priorities, perhaps reflecting uncertainty as to when broader lockdown and travel restrictions are lifted."
For those who have seen an increase in cash balances, younger age groups say that they are more likely to spend some or all of their extra cash. This is highest for the 18-24 age group (57%) and the 25-34 age group (44%). This compares with only 24% of the 65+ age group. This could be explained by the fact that younger age groups are more likely to enjoy parental support for household and living costs, while older workers may choose to save more for retirement or may need to support other family members financially.
Read all of our articles relating to COVID-19 here.