Funding awarded for Maryhill Housing cycle storage project
Maryhill Housing has been awarded funding to purchase and install three new bike shelters at Glenavon Road and Shiskine Drive in Glasgow.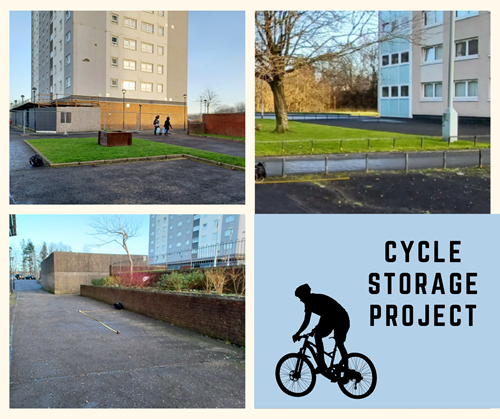 The Glasgow City Council High Rise Secure Cycle Parking Grant, which was funded by Transport Scotland, has granted the Association approximately £31,000. A panel consisting of members from Cycling Scotland felt the project was worthy of funding and it is hoped it will be delivered by March 2022.
A spokesperson for Maryhill Housing Association said: "We wish to say a huge thank you to everyone involved.
"The shelters are robust, with secure keycode padlocks, and will have space for 30 bikes. Often bike owners are forced to keep their bikes in stairwells and drying areas so this will ensure our buildings are now safe and free from hazards. We also hope it will encourage more people in the areas to take up cycling and enjoy the benefits – such as improved fitness.
"We have also been working alongside the Glenavon Residents Association to apply to the GCC Area Partnership. Funds have been awarded to refresh the mural at the playpark and also add artwork to the scaffolding boards around the bottom of the blocks."