Glasgow lawyers donate £3,000 to homeless charities
A law firm in Glasgow is donating a share of £3,000 to three local charities this Christmas, as part of the firm's commitment to relieving poverty and suffering among people who are homeless during the festive season.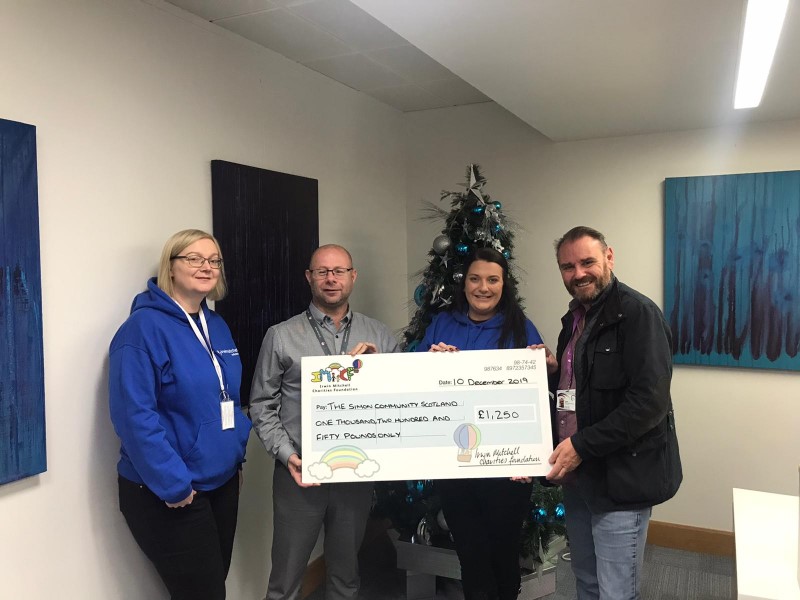 Irwin Mitchell is donating £1,250 to The Simon Community Scotland (SCS); £1,250 to Glasgow City Mission and £500 to the Glasgow NE Foodbank as part of £39,000 set aside for homeless charities across the UK by the Irwin Mitchell Charities Foundation (IMCF).
An independent registered charity, the IMCF has donated more than £2 million to good causes in the UK and £284,000 in 2018 alone since it was established in 1997. In 2018, the IMCF donated £13,000 to homeless charities at Christmas and the success of what has become an annual tradition, has seen the amount given to good causes tripled for 2019.
The Glasgow office has supported all three charities in the past, raising over £6,500 for SCS as part of the firm's Charity of the Year programme in 2018, helping the charity perform its vital work helping homeless people in the Glasgow area or those needing accommodation issues advice.
Part of the Trussell Trust network, the Glasgow NE Foodbank is working to tackle food poverty and hunger in the Glasgow community, including working with homeless charities and helping people in crisis. The famous Glasgow City Mission needs no introduction. The world's first city mission has been working with vulnerable and disadvantaged children and adults since 1826.
Linda Smart, project manager for the NE Foodbank, said: "We want to ensure no one in our community goes hungry and never is this more important than at Christmas. We want to thank Irwin Mitchell staff for nominating us for this donation, which will make a real difference."
Jack of The Glasgow City Mission, added: "I want to thank Irwin Mitchell for this fantastic donation, which will make a big difference at this time of year. This will be the tenth year we have run our Glasgow Winter Night Shelter and without financial support, projects such as this would be unable to function."
Hugh Hill, director of services & development of Simon Community Scotland, said: "We are hugely grateful to everyone at Irwin Mitchell's Glasgow office for this fantastic donation. Working with the firm is a pleasure and the money will help with everything from sleeping bags to survival kits for extreme weather – vital for so many experiencing a Scottish winter on the streets."
Mark Higgins, regional managing partner at Irwin Mitchell's Glasgow office, added: "Christmas is a time for giving and thinking of others in our community, so we are delighted to be able to support three of our local charities in this way. Working with SCS has made us passionate about helping the homeless and given the charities work together, we wanted to help each of them."
"This is a festive tradition well worth keeping and one we hope others will be encouraged to follow. No one should be alone cold and hungry at Christmas and these charities work hard to make sure that's the case for those people most in need in our community."