Govan organisations receive £100,000 to help local people through coronavirus issues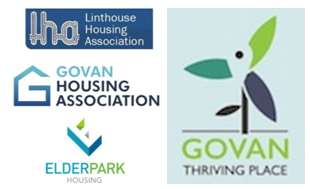 Organisations working hard to help the Govan community fight coronavirus have now received a total of £100,000 to turbo-charge their efforts to deliver assistance to local people.
The funding from the Scottish Government has handed out by the recently-set up COVID-19 Temporary Emergency Funding Group which is made up of Linthouse, Govan and Elderpark housing associations and Govan Thriving Place along with four elected representatives from the Govan ward on Glasgow City Council.
All in a matter of weeks, the group was created, successfully applied for the funding, and issued the cash to the relevant organisations.
The total amount of money to be distributed is £200,000 and work is under way by the funding group to determine where the remaining £100,000 should be spent.
Key highlights of the work which the money will help deliver are:
Providing hot meals and food packs to the most vulnerable members of the community
Ensuring domestic abuse – widely recognised as increasing during the health emergency – is tackled
Support for young people and their families facing financial hardship through issuing of food vouchers and help in paying energy bills
A significant focus on ensuring people are digitally connected and not digitally excluded
Online classes on arts, heritage and wellbeing including creative writing, music and craft production
Focusing on the impact of COVID-19 on employment by seeking to mitigate its effects and equip people for the workplace.
Councillor Richard Bell of Govan Thriving Place said: "We have moved quickly to ensure this very welcome funding reaches the people in our community most affected by the health emergency. We know it will go a long way to easing the pressure and difficulties so many people are facing on a daily basis."
Irene Campbell, chief executive of Linthouse Housing Association, said: "It is vitally important to get this money to the organisations on the ground who are doing such an incredible job. We applaud their efforts and know full well how committed they are to our fantastic communities."
Fiona McTaggart, chief executive of Govan Housing Association, said: "In determining where this money should go we have tried to strike a balance between what is needed now by local people in terms of day-to-day living and how we can help mitigate the lasting effects of the coronavirus emergency which has huge implications for people's employment."
Gary Dalziel, chief executive of Elderpark Housing, added: "We are delighted to be making available the first £100,000 to various organisations whose commitment to fighting the effects of coronavirus is inspirational. From hot food deliveries to fighting isolation and much more, it represents an unprecedented community-wide effort to make a real difference."
Case study
Located in the heart of Govan at Govan Road, Unlock Employment has been helping people find a pathway into work for over two years.
Now it is to receive £5,000 to support its often life-changing work from the funding secured by the COVID-19 Temporary Emergency Funding Group.
Unlock Employment receives strong support from Govan Housing Association. It delivers the 'Govan Jobs Match' initiative which is a partnership approach to reduce unemployment in Govan and is funded by Govan Thriving Place.
Like all organisations with a place of business, social distancing will be a challenge when restrictions are gradually eased – especially as people seeking employment often call into the premises.
There is also the issue of people being reluctant to call into Unlock Employment's office due to an understandable fear of the virus during the health emergency.
The money Unlock Employment is receiving will pay for the implementation of social distancing requirements in the office and an additional member of staff to work part-time – Samantha McDonald.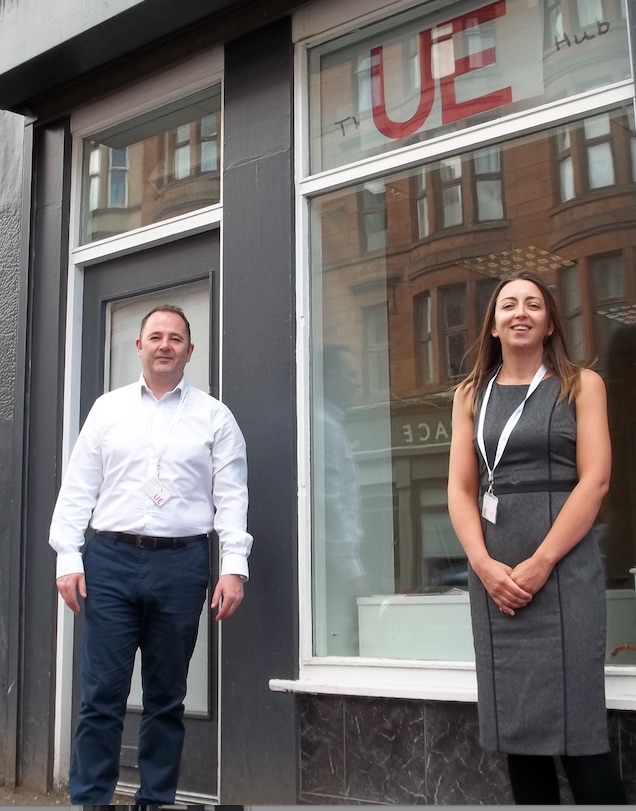 Importantly, computer tablets have also been purchased to help engage more fully with people. The tablets will help break down the digital poverty barrier - allowing Unlock Employment clients to access job searching and training opportunities.
Unlock Employment founder Gerry Keogh said: "We are delighted to receive this money which will go a long way to help us to continue the important work we do in Govan.
"The coronavirus pandemic has far-reaching implications for communities like Govan – not just currently but in the longer term. Jobs remain at risk and this, of course, has the potential to affect people's livelihoods. We are here to help the community overcome the challenges of the health emergency."
Currently, Unlock Employment has over 300 clients registered on the Govan Jobs Match programme and has helped over 100 find employment in the 12 months prior to the pandemic.
Gerry added: "At Unlock Employment, we know that looking for or getting back into work can be a difficult and confusing process, so we have a dedicated team of advisers who are there to provide help, advice and support to people. We can help individuals find a job, provide employment training, source learning and development courses and offer career advice."
Read all of our articles relating to COVID-19 here.