Hawthorn announces Young Co-operator Award winner
Hawthorn Housing Co-operative has unveiled Daniel Moodie as the winner of its Young Co-operator Award for 2021.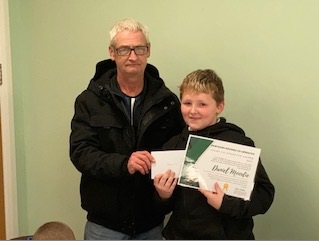 The award was presented by Kevin Wallace who is chair of Hawthorn Community Action Group and a member of Hawthorn Housing Co-operative.
The Co-op and Action Group are working with partners to provide better facilities and activities for the community. Daniel is a member of the group that works with Young People's Futures to transform a derelict site on Fruin site by helping build a small pond with Froglife, developing a growing area and is creating a memorial garden to commemorate loved ones.
All the young people got a selection box for their hard work at the site but Kevin told the group that the Co-op's Management Committee thought Daniel should receive the annual award from the Co-op because of all the help he has given over the year.
The project has received funding from the Lintel Trust, Glasgow City Council and the Scottish Government.