HHA develops outside of Hillhead for first time with 30 new homes
Hillhead Housing Association (HHA) has celebrated the opening of its latest new build development in Kirkintilloch.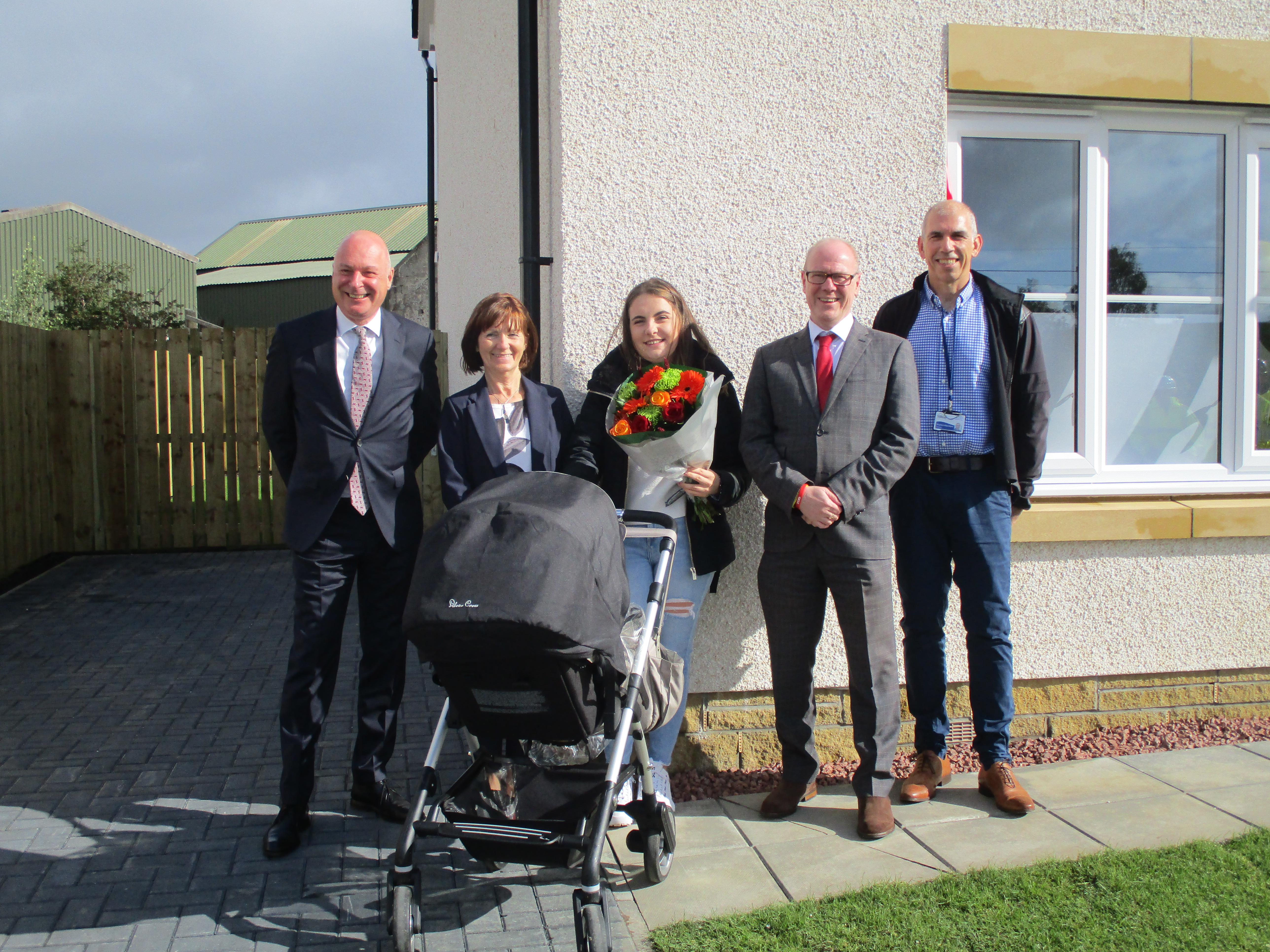 The Braes Of Yetts development with Barratt Homes (West of Scotland) is the Association's first partnership development with a major private housebuilder and is the first new build it has developed outwith Hillhead in Kirkintilloch.
To mark the event, housing minister Kevin Stewart MSP cut a ribbon across the door of one of new homes and flowers were presented to tenant Holly Muldoon.
Mr Stewart said: "We understand the importance of a home in providing a safe, warm, place to live, and offering people a sense of pride and belonging. That's why we're investing a record £3.3 billion to help us deliver 50,000 affordable homes by 2021, and 35,000 of those for social rent.
"The success of this new development in Kirkintilloch is a testament to the partnership working between Hillhead Housing Association and Barratt Homes, backed by £1.96 million Scottish Government investment. These quality affordable homes for rent and for sale will improve the lives of the new residents and will also help to contribute to a thriving community and local economy."
Claire Taylor, HHA chairperson, said: "I am very proud of what the Association has achieved to date over the last 20 years. This fantastic development continues our commitment to provide good quality affordable housing for our local community and from a housing association that is run by local people.
"I would like to personally thank everyone who has been involved in making this development happen."
David Scott, managing director of Barratt West Scotland, added: "We are delighted to have recently delivered thirty affordable housing units to Hillhead Housing Association at our new development in Kirkintilloch, Braes of Yetts. This was our first joint venture with the housing association and I'm proud to report that the project was delivered on time, resulting in quality, affordable homes for the local community. We will continue to partner with housing associations across all of our new build developments and we hope to continue our partnership with Hillhead Housing Association in the future."
The development also marks the first time that HHA has included shared equity housing as an alternative form of tenure, via the Scottish Government's New Supply for Shared Equity (NESSE) funding stream. The project includes 22 homes for social rent and eight for sale on a shared equity basis.
All but one of the homes have been sold at or around a 60% stake which indicates that these new homes are reaching the intended market for owners who would otherwise be unable to afford to buy a home outright with a standard mortgage.
The Association has funded the development with the support of £1.96 million housing association grant from the Scottish Government and a balance of £2.03m from the Association's own funder RBS and from sales income from the receipt of the shared equity sales.