Housing minister visits award-winning Hirsel Estate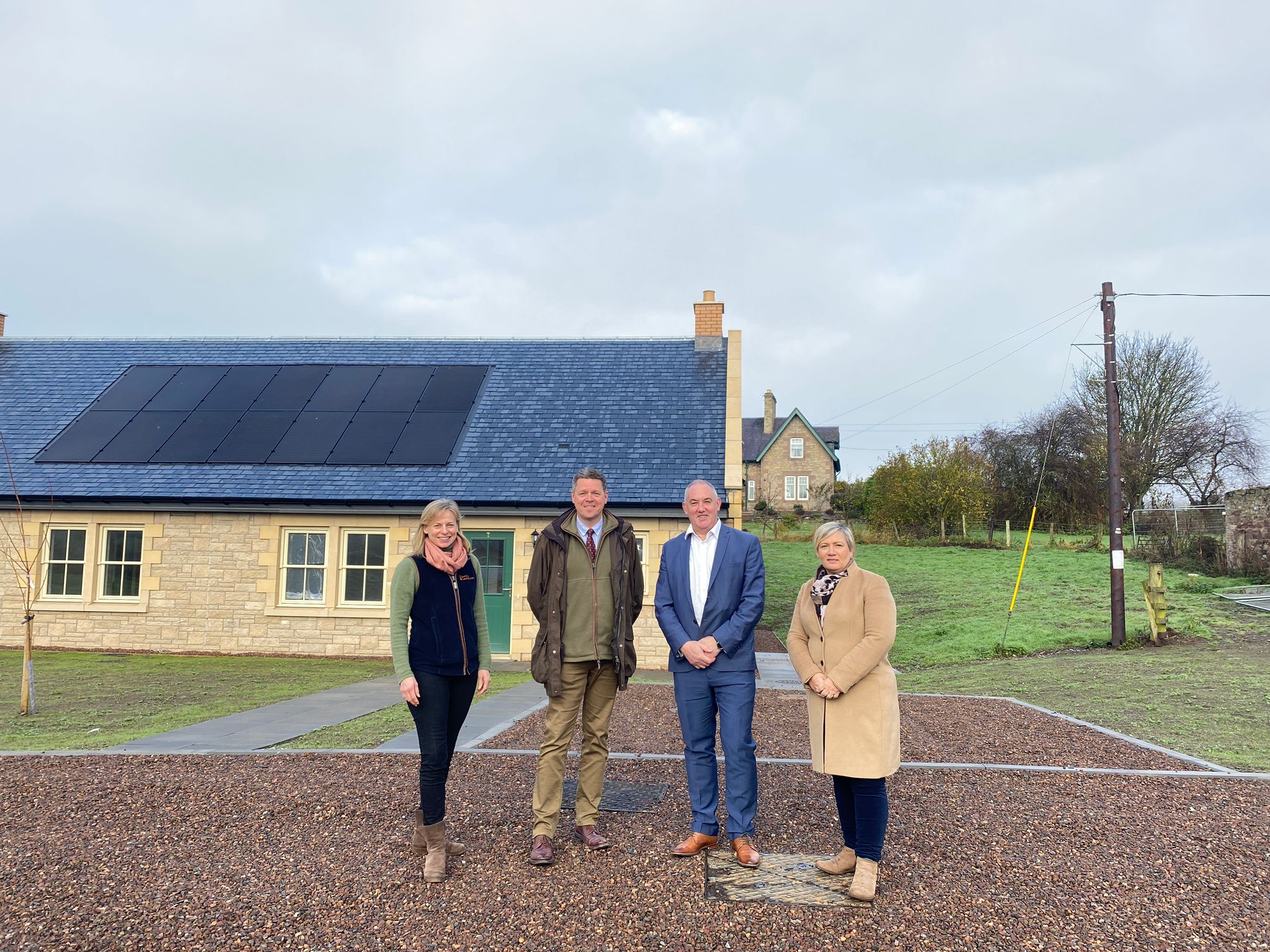 Opportunities to increase the supply of new housing in rural Scotland have been discussed during a visit to a pioneering development in the Scottish Borders by minister for housing Paul McLennan MSP.
Hirsel Estate, which is part of Douglas & Angus Estates and is located at Coldstream on the north side of River Tweed, has been undertaking a significant programme of housebuilding through its own development and building vehicle, Hudson Hirsel LLP.
At Crooks Farm on the Hirsel Estate, an affordable housing project is under development for nine new one and two-bedroom homes, five of which are nearing completion.
In a larger development at Leet Haugh, planning was ultimately obtained for 149 units across two phases, of which 100 units have already been completed. These include flats, terraced, semi-detached and detached houses with two, three and four bedrooms.
Mr McLennan visited the developments and met with Jamie Hudson, managing partner at Hudson Hirsel and representatives from rural business organisation, Scottish Land & Estates, to discuss the work undertaken by the estate and development company.
The challenges of the planning process, location and s.75 development contributions were among the key topics as part of wider discussion on methods of enabling rural housing development.
Cost and delivery challenges in rural Scotland - such as design, infrastructure and workforce – were also considered as was the advantage of scale for Hudson Hirsel being able to undertake what is a large housebuilding project for a rural area.
Since commencing trading 13 years ago, Hudson Hirsel and its team have won a number of awards including two SLE Helping it Happen Awards, a Scottish Borders Council Designing for Streets award, two Berwickshire Civic Trust Design Awards, two NHBE Pride in the Job awards and an NHBC Scottish Small Builder of the Year Award for Quality.
Housing minister Paul McLennan said: "I was pleased to visit the Hudson Hirsel development in Coldstream and to see progress with the delivery of more affordable homes in the area. Everyone should have access to a safe, warm and affordable home and have a choice about where they live, no matter what tenure they live in.
"Good quality housing is essential to attract and retain people in rural and island communities. Our recently published Rural and Islands Housing Action Plan will support the Scottish Government's commitment to deliver 110,000 affordable homes by 2032, with 10% in rural and island areas. It includes a range of commitments which will be taken forward with public and private sector partners to deliver the right homes in the right places, generate sustainable local economic growth and help rural and island communities to thrive."
Jamie Hudson from Hudson Hirsel added: "Developing more than 150 new homes in a rural area has been a huge undertaking and we are really pleased that Mr McLennan was able to take the time to visit and learn more about the challenges and successes we have experienced since our first planning permission was received back in 2011.
"From seeking inclusion in the Local Development Plan right through to the cost challenges of developer contributions and maintaining a workforce and contractors in a rural area, the process is extremely complex and requires both the will and financial backing to see the development through to fruition. There are aspects within planning that could undoubtedly be streamlined to encourage more rural homes to be built and we're grateful for the minister having that dialogue with us."
Anna Gardiner, policy adviser (Rural Property) at Scottish Land & Estates, added: "Landowners, housing developers and the Scottish Government all share the ambition of providing quality housing that can promote rural communities as places to live and work for decades to come.
"The work that Hudson Hirsel and Douglas & Angus Estates have undertaken is outstanding but in many respects, it is the exception rather than the rule. We need to do more to encourage the building of new homes on both a small and larger scale and recognising the planning and financial challenges that exist is a key part of addressing that conundrum.
"The Minister was very receptive to a collective effort to encourage more opportunities for rural homes to be built and we look forward to engagement on that in future."