hub South West completes 500th home
Infrastructure specialist hub South West has completed its 500th home since it diversified into house-building just over four years ago.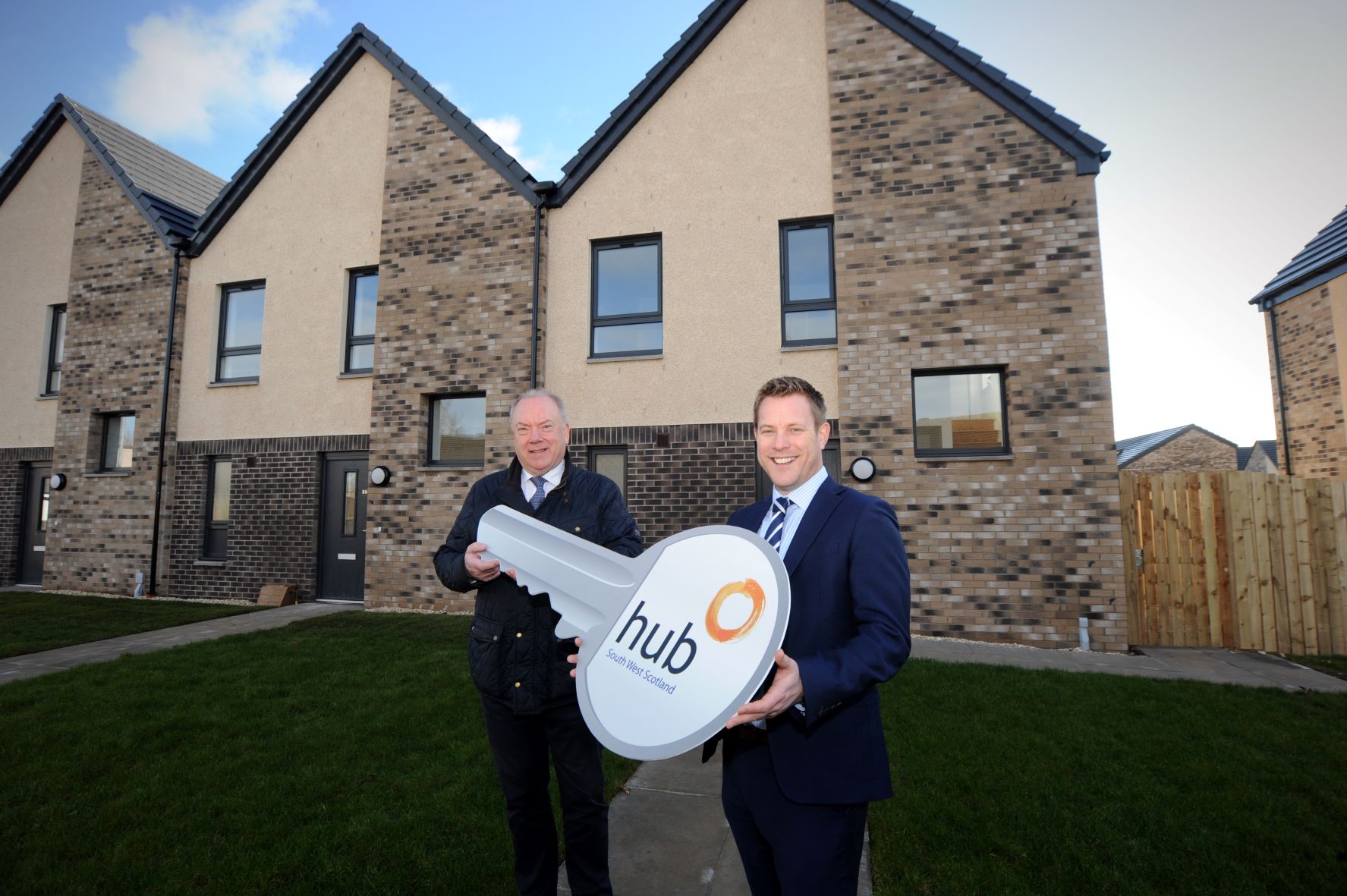 The achievement was marked by a gathering of the hub team, including chief executive officer Michael Ross and chairman Dr Willie Mackie, at the new terraced townhouse in Irvine, part of the major Towerlands project for North Ayrshire Council which is being built by Ashleigh Construction.
It is the seventh large scale social housing development for the council, which was the first local authority to come on board with hub South West in social housing provision, and is one of 21 sites now handed over, under construction or under development, worth more than £205 million.
The celebration was further enhanced by the revelation that the public-private partnership will also reach financial close on its 1000th house within the next few months.
Michael Ross said: "With this milestone, the hub's territory is seeing the results of its long-term and mutually beneficial partnerships, backed by trusting relationships, with local authority participants in south west Scotland.
"By focusing on our clients and offering a model which combines high quality, value for money and sustainability with community investment, social value, employability, our supply chain events such as Build Lanarkshire and Build Ayrshire and links to local colleges, we are able to drive forward a programme which is an important asset to the area.
"Scotland has an ongoing housing crisis and, as a development partner of local authorities, hub South West can create outputs – and get units built – to meet that crisis. As our participants provide pipelines of work, we can pass these down to businesses in the local supply chain who are keen to access future works to enable them also to grow and invest."
Spending locally is an important element of national and local policy-making and, by focusing on house-building, hub South West can involve many more smaller construction companies than would be feasible on larger-scale projects such as community education campuses and healthcare facilities.
hub South West is not tied to a limited number of construction partners. It has invested in forums and initiatives that has forged strong relationships with Kier Construction, Morrison Construction, BAM Construction, Robertson Construction and Morgan Sindall.
The residential housing projects range across the hub's territory of Ayrshire, Lanarkshire and Dumfries and Galloway and have been facilitated by heavy investment in developing a contractor base with the capability of delivering volume without any dilution of quality.
Its model of investing in forums and initiatives with house building construction partners has seen solid relationships formed with Ashleigh, CCG, Cruden and McTaggart's.
It also has also invested in and built a network of professional advisers focused on the social housing market.
hub South West is now looking to expand its social housing activities beyond its local authority participants towards Registered Social Landlords (RSLs) whom the hub plans to invite into its ongoing Housing Forums.
Dr Mackie said: "RSLs such as housing associations are a major element of social housing provision in Scotland and the way the hub creates community partnerships committed to improving public services and employment opportunities across South West Scotland would be particularly applicable to them.
"With the continuing progression and improvement of our partnership working, stakeholder consultation and sharing of design and build expertise, we can assist RSLs to meet Scottish Government criteria for the best value for money."
While focussing on quality, hub South West is also developing and delivering energy efficient homes and communities, as part of the transition to net zero. Already, it is challenging future developments with improvements in energy in use and carbon reduction.
Its housing procurement route offers local authorities a meaningful and structured social value platform, ensuring a lasting legacy is built beyond the homes.