International reaction as Housing First in Scotland passes 150 tenancy milestone
Scotland's Housing First Pathfinder has reached another milestone with the creation of more than 150 tenancies, a monitoring report released today has revealed.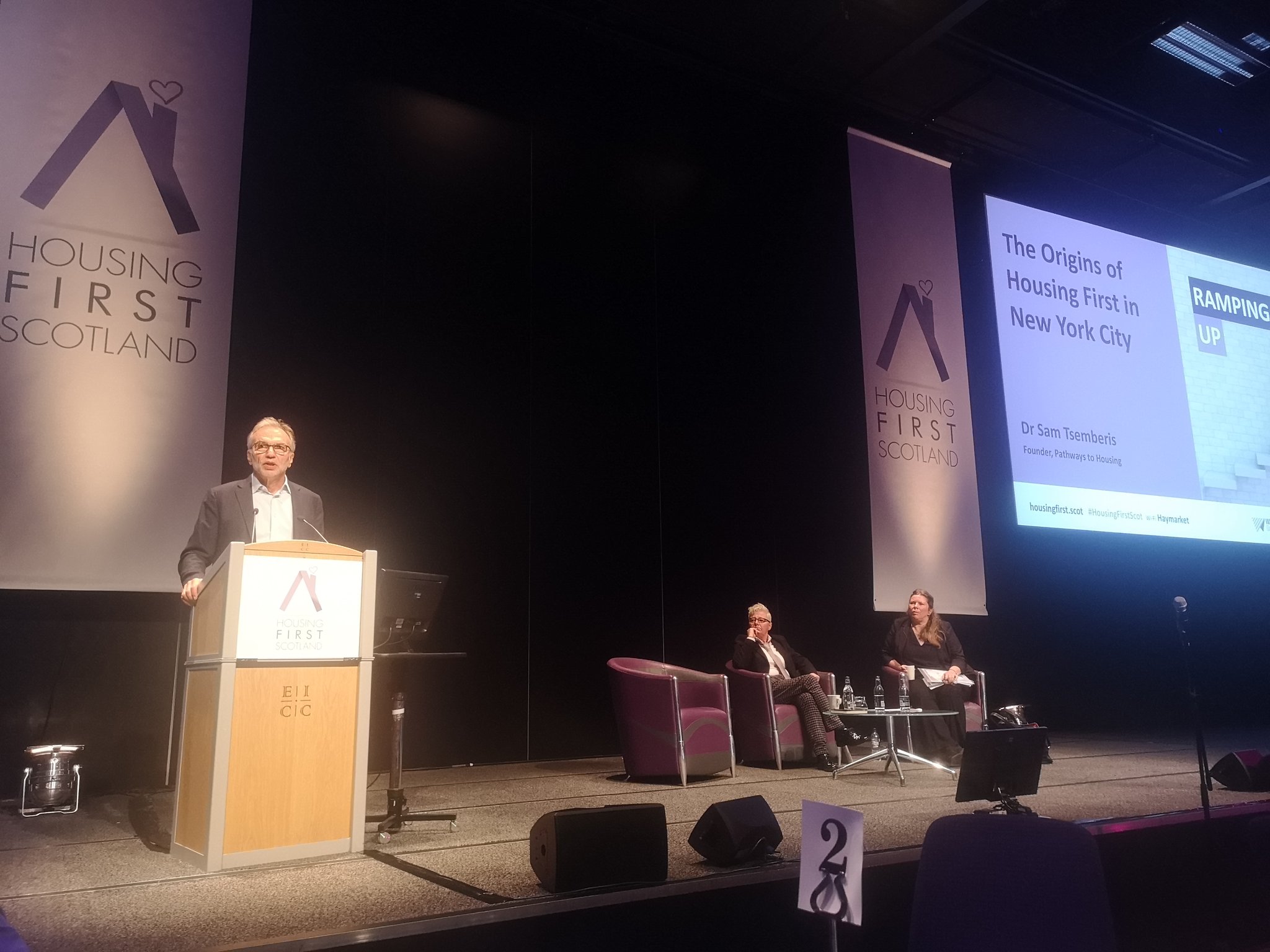 Housing First provides ordinary, settled housing as a first response for people whose homelessness is compounded by other disadvantages and experiences. Each of the tenancies represents an opportunity for someone to end their homelessness and receive support and encouragement to build and live their lives.
The largest of its kind in the UK, the Housing First Scotland Pathfinder is a three-year programme launched in April 2019 with the target of creating 830 tenancies. The programme managed by Homeless Network Scotland and Corra Foundation.
The latest 150-tenancy milestone has been praised by US psychologist, Dr Sam Tsemberis, who pioneered the approach in New York during the early 1990s.
Dr Sam Tsemberis, CEO of Pathways to Housing, said: "What's happening in Scotland should inspire everyone involved in Housing First projects across Europe. More than 150 people have received a home of their own and that speaks to the commitment of the Housing First Scotland initiative, now well on their way to establish Housing First as the best response for the most vulnerable.
"When I visited in May to participate in the Housing First conference in Edinburgh, I was very impressed by the determination of those I met to make sure this programme succeeds – go Scotland!"
The Pathfinder launched officially on 1 April 2019 supported by housing providers across the country with Wheatley Group leading, and with funding from the Scottish Government, Social Bite and Merchants House Glasgow.
A source of inspiration for many, Finland is the only European country where homelessness is falling.
Juha Kaakinen has been heavily involved in Finland's national Housing First programme, and said: "The Housing First model in Finland is based on understanding homelessness extensively and in detail. We learned that it should not only apply to sleeping rough but also sofa-surfing and hidden forms of homelessness.
"Nor can it be stopped by housing departments or charities alone – all parts of the system must be on board. Scotland has also recognised this, which is one reason why you are so far ahead so quickly. Stay focused on the goal and I know your programme will continue to report increasing participation and better outcomes for people with the most difficult experiences."
Samara Jones, who co-ordinates the Housing First Europe Hub, said: "What's happening in Scotland is a beacon of good practice that other European nations are watching with interest. The cross-party political support, stable funding and commitment from all those involved is a benchmark in collaborative working and partnership.
"Across Europe there are Housing First and rapid rehousing programmes placing people in their own home and ending their homelessness. There is still so much to learn, mistakes to make and solutions to find, but Housing First is the right response, in particular for people with the most complex experience of homelessness."
Kevin Stewart, minister for local government, housing and planning, said: "Compelling international evidence on the effectiveness of Housing First informed the Homelessness & Rough Sleeping Action Group recommendation. Now, almost nine months into the Pathfinder programme, it is very welcome to note the encouragement from Housing First leaders and pace-setters in other parts of the world.
"The government has made ending homelessness a priority and is determined that Housing First will be available for those with the hardest life experiences, within a broader rapid rehousing framework."
Social Bite committed £3 million from fundraising income generated by its Sleep in The Park events, which engaged 18,000 people in mass sleep outs across 2017 and 2018. A further £200K came from Merchants House of Glasgow.
Jane Bruce, chief executive of Social Bite Scotland, added: "We are so pleased to see significant numbers of people both in their own homes and also sustaining their tenancies. The programme is doing what we always hoped it would – genuinely breaking the cycle of homelessness by giving people the platform of a stable home alongside intensive support so they can start to build a life from a place of safety and security.
"No one said it was going to be easy, but progress so far shows that our determination to provide the right type of support to people in their own home is the right approach.
"We are determined to reach our goal of housing 830 people and can use the rich learning gained over the past six months to feed into the planning for the rest of the programme to ensure we hit that goal."
The unknown element at the start of the programme was how quickly people could be housed as the partners work collectively to shift the system from one way of doing things to another. Based on experience and learning over the past six months forecasting for 2020 will better reflect what has been learned about pace, with greater emphasis placed on outcomes and the emphasis on incremental targets will be relaxed.