LAR bolsters Glasgow presence with new plans for city centre development
Lar Housing Trust is set to increase its presence in the west after concluding missives on a site in the north side of Glasgow and also gaining planning permission for a city centre development.
The housing charity, which specialises in providing high quality mid-market rental homes across Scotland, has just concluded a deal to purchase a two and half acre site in the Ruchill area of Glasgow, close to a development of 24 flats which Lar already operates in the area.
Ann Leslie, LAR chief executive, said: "This is a really welcome addition to our Glasgow portfolio. The site sits directly on the canal and once completed will provide fabulous homes with stunning outlooks over the water to the west end. We are looking forward to working with Glasgow City Council to ensure that the high-quality homes which we will provide, meet the needs of the family groups and individuals who will benefit most from a home with Lar.
"We are committed to growing our footprint in Glasgow either through purchasing existing sites or by taking on design and build projects such as this one."
In a separate development for Lar it has been granted planning permission for its project to convert a burnt-out tenement on Glasgow Green into 40 new flats. The former Inn on the Green has been lying empty and derelict for over a decade and when complete will include an onsite gym, roof garden and office base for the organisation in Glasgow.
Mrs Leslie added: "This is a really exciting project for us. Will be keeping the original façade so our development fits seamlessly into the surrounding area. We are now in a position to start tendering and appointing contractors to start work on the site."
The development should be ready to welcome tenants by summer 2023.
Meanwhile, Ann Leslie has won a prestigious award for her work in Scotland's housing sector.
Ms Leslie has just scooped the award for 'Excellence in Leadership' at the CIH Scotland annual awards event last night.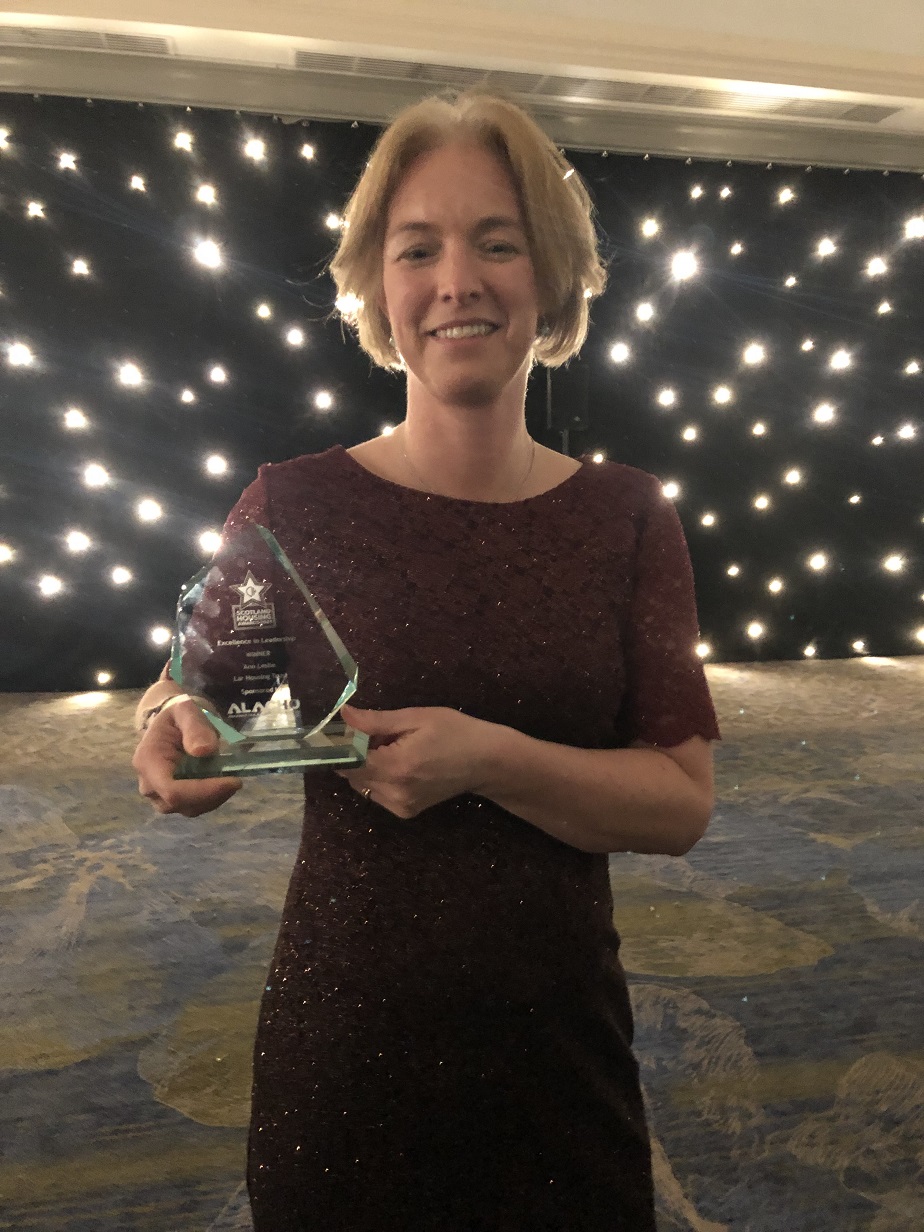 She said: "I'm truly honoured and flattered to have received this award, but it is really a reflection of the work and effort from the entire Lar team. From a standing start just six years ago we now have over 40 sites around the country and we are helping to tackle a severe shortage of quality affordable homes in Scotland."
Ms Leslie was nominated for the award by Lar chair, Philip Rodney.
He said: "Ann really is an inspirational leader and during her tenure at Lar she has delivered an outstanding track record of year-on-year growth as well as developing a very strong team around her. She's very modest about her achievements, but she is a powerhouse of a leader. She thoroughly deserves this recognition and accolade."
See the full list of winners at the Scotland Housing Awards here.