Linstone changes gear with eco-friendly car club to slash pollution
In another in our COP26SHN series of spotlights on how the housing sector is doing its bit to tackle climate change, Scottish Housing News examines the efforts of Linstone Housing with its hugely-popular eco-friendly Car Club. The aim is to free tenants of the burden of car ownership and hire vehicles as and when they like from Linstone's enhanced by the use of electric and hybrid cars. It has caught the public mood and judging by the take-up, it demonstrates how one housing association – and its tenants are doing their bit to cut our carbon footprint.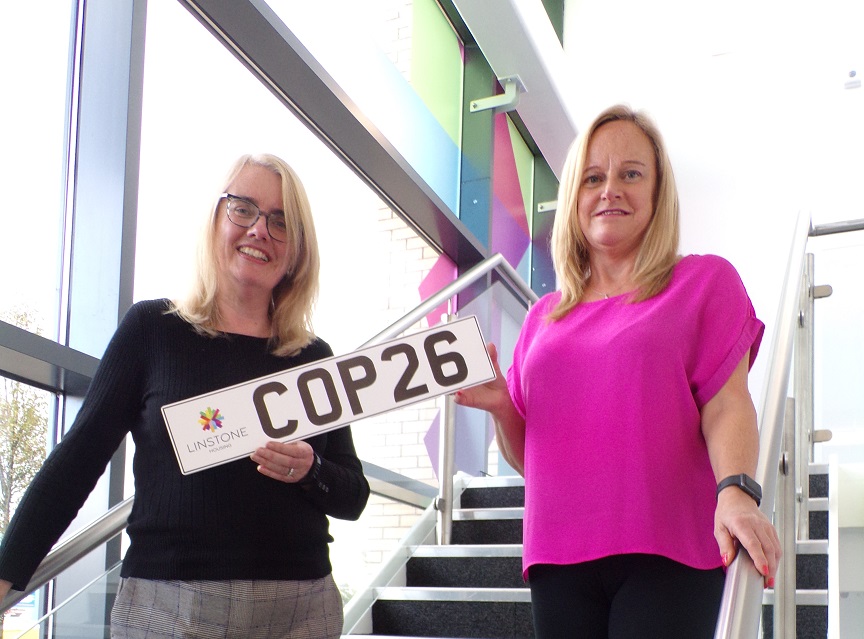 Everyone knows gasoline-guzzling cars are among the worst polluters of our environment.
There are a staggering 32.6 million vehicles on Britain's roads and that number rose by almost 5% between 2015 and 2020.
More cars mean more pollution – a fact graphically illustrated during the first pandemic lockdown in spring 2020 when air quality soared nationwide due to people staying at home and off the roads.
So an innovative idea by Linstone Housing in Renfrewshire literally proved a breath of fresh air when it launched its Car Club – challenging tenants and the wider community to embrace an innovative way of reducing emissions.
Today it is an important service offered by Linstone with three eco-friendly vehicles on the road in Linwood.
Judging by their constant use, the message has cut through to tenants who have jumped at the chance to dispense with their own cars and use a Car Club vehicle and contribute to a reduction in emissions.
The benefits are immense - notably in the vast reduction of costs as people hiring the vehicles don't pay for insurance, maintenance or car tax - freeing individuals from such ongoing financial burdens.
Linstone knows of tenants who have even sold their vehicles opting instead for the ease and convenience of the Car Club.
Adele Fraser, chief executive of Linstone, said the Car Club's success has far exceeded expectations.
Adele explained: "It is highly unusual for a housing association to offer a car club but we were sold on the benefits from the very start. We anticipated our tenants would embrace the idea and we have never looked back.
"It is yet another example of all that is best about the housing association movement – the principle that all of us endeavour to go beyond simply collecting the rent whether that is community regeneration or the unique offering of a car club.
"At a time when the onus is on all of us to do more to protect the environment, we are proud to be doing our bit – albeit in a small way – to reduce global warming. But it is our tenants who really deserve the most praise – they are the ones who are motoring to a greener future."
So how does Linstone's trail-blazing car club work?
Three vehicles are available for hire – a mix of hybrid and electric – two Toyotas and one Nissan leaf.
The cars can be hired on an hourly basis, booked online with the whole process being simplicity itself. A membership fee of £15 a year is payable upfront and then £5 a month but is currently free for all Linstone tenants. This can be cancelled at any time. A slightly cheaper one-off membership fee of £60 can be paid as an alternative. There is also the option of a temporary one-month membership for £10
Depending on the vehicle, Linstone tenants pay a hire charge of £1.50 per hour or between £4.69 and £4.99 for non-tenants plus a mileage charge of between 6p and 16p.
Drivers only pay for the time the car is used and don't pay for fuel, maintenance, insurance, breakdown or cleaning.
In the current ongoing health emergency, stringent sanitisation measures are implemented and take place after each hire to ensure drivers are kept safe.
Mike Callaghan of LEAP Car Club, which administers the initiative on behalf of Linstone, said: "We are very pleased indeed with how well the car club is used by motorists who want hassle-free motoring and they also know they are doing their bit for the environment. The benefits are clear for all to see."
All the COP26SHN articles will be available to view here. New contributions are still welcome and feel free to join in the conversation on social media using #COP26SHN.