Linstone Housing unveils latest recruits to estates team
Two new recruits to Linstone Housing's estates team are helping the effort to keep communities in Johnstone and Linwood looking good.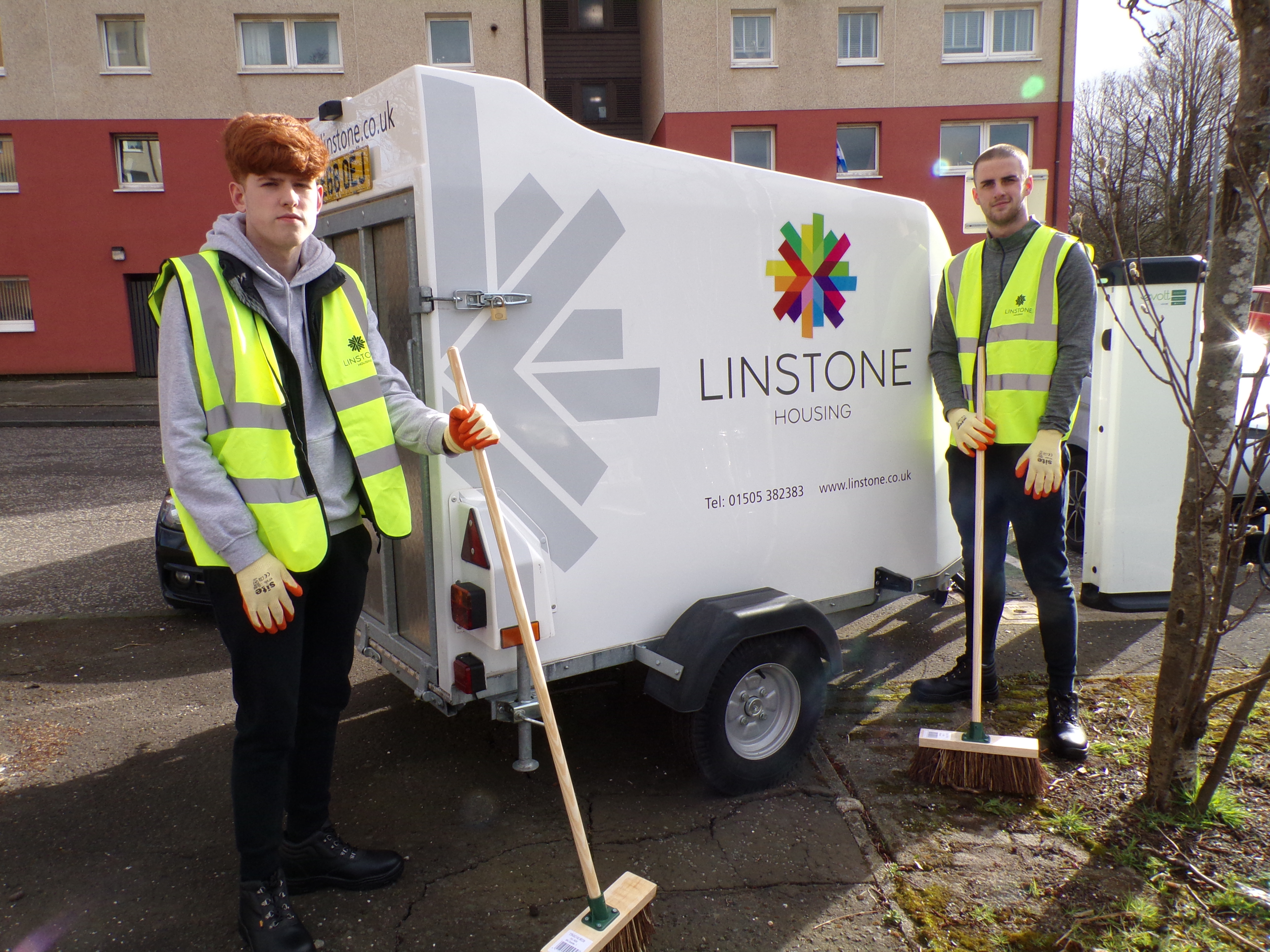 Linstone Housing has appointed two more estates staff in its ongoing drive to keep areas where it has its homes in tip-top condition.
Its tenants place great importance on sparklingly clean closes and areas surrounding their homes being kept neat and tidy with the environment near the top of their agenda.
Harry Devlin and Josh Henderson – both 19 and from Paisley – have been employed thanks to funding from the UK Government's "Kickstart" employment initiative.
It encourages organisations like Linstone to apply for money to pay the wages of young people aged 16 to 24 and give them a flying start to a working life.
Linstone's estates workers have been an essential component of its much-praised Covid-19 Response Team which saw staff swing into action quickly last March to help alleviate the crippling effects of the pandemic.
In fact, some of Harry and Josh's existing colleagues volunteered during the early part of the pandemic a year ago to carry on working to help tenants – many of whom were isolated and vulnerable as the "stay at home rule" was imposed.
Tenants praised the diligence and commitment of the Linstone estates team as it carried on with tasks such as close cleaning, sanitising door handles and bannisters while ensuring safe working practices with social distancing at all times.
Welcoming Josh and Harry to Linstone, chief executive Adele Fraser, said: "We are delighted to see Harry and Josh join the team. Their role is vital to ensuring our estates staff deliver on the understandably high expectations of our tenants.
"The estates team, to their great credit, have carried out working throughout the pandemic providing a highly visible and reassuring presence for our tenants. We hope Josh and Harry enjoy working with Linstone."