Living Rent launches charter to end Universal Credit evictions
Tenants' union Living Rent has continued its campaign for housing associations in Glasgow to commit to not carry out evictions stemming from debts caused by Universal Credit with the launch of a new charter.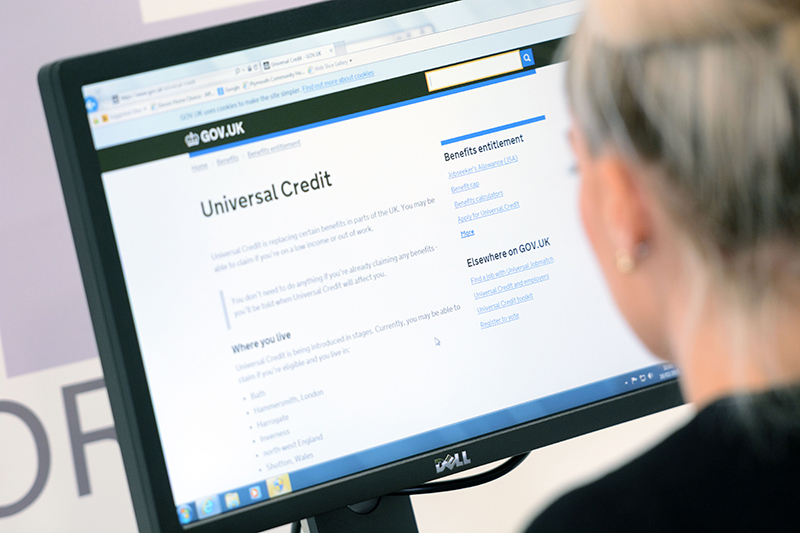 The union, which represents hundreds of tenants across Glasgow, said it views Universal Credit as a threat to people's right to decent and affordable housing and is calling on city-based associations to sign the charter.
According to Living Rent, the very design of Universal Credit means many tenants are pushed into debt and rent arrears while waiting for their first payment.
In Scotland, a survey from 2018 revealed that almost 65% of Universal Credit claimants were in arrears compared to only 32% of those not receiving the benefit. Likewise, a recent survey from Unite the Union has shown that as a result of Universal Credit, 69% of claimants had skipped meals and 42% had to use food banks.
Living Rent member and Universal Credit claimant, Rory John, said: "Universal Credit is meant to be a safety net, but what sort of net doesn't allow me to save for a rental deposit. I had to sleep on my friend's sofa for two weeks. It's no safety net when I don't have enough money to send my brother a birthday card.
"Although my job coach was as helpful as possible, he couldn't do anything to change the minuscule amount I got due to not having a tenancy agreement. Due to the stress of having so little money, I ate less, lost a considerable amount of weight and became unwell, both mentally and physically."
In November 2019, Living Rent launched its No Universal Credit Evictions Campaign, indicating to housing associations that they had a duty to protect their tenants from a flawed benefits system. In response to the launch, Glasgow Housing Association (GHA) responded that it "wouldn't evict people who are in arrears as a result of the design of Universal Credit".
Olga Clayton, director of housing and care at parent group Wheatley, told the Glasgow Times: "We do absolutely everything we possibly can to support our tenants from the moment they start the move to Universal Credit, including helping them through the delay until they receive their first payment."
David Bookbinder, director at Glasgow and West of Scotland Forum of Housing Associations (GWSF), told Scottish Housing News at the time that while GWSF shared Living Rent's concerns about how unfair Universal Credit is, "arrears caused by this initial delay will never, on their own, lead to a housing association even seeking repossession, let alone being granted it by a court".
Living Rent's campaign and charter have been endorsed by Chris Stephens MP, who has been highly vocal about the detrimental effects of Universal Credit and by Shelter Scotland, whose sister organisation in England released a comprehensive report thoroughly condemning the policy.
Chris Stephens MP said: "Our social security system is supposed to be a safety net, however too many of fellow Glaswegians are struggling to maintain the basics of a home due to the Universal Credit system. I am pleased to support the charter, and in parallel I have launched a Bill to enshrine a no evictions policy due to Universal Credit into law.
"For people to get into rent arrears due to waiting on their state entitlement is a disgrace and the government should have a duty placed on them to ensure no one is evicted due to Universal Credit."
Graeme Brown, director at Shelter Scotland, said: "Eviction is an ineffective, costly and time consuming way for social landlords to deal with rent arrears whatever the cause, but even harder to understand when transition to Universal Credit was the trigger.
"Shelter Scotland supports Living Rent's charter and urges social landlords to defend people's right to a home and stop evicting people let down by this flawed system. We also urge the UK Government to fix this broken aspect of our social security system."
Living Rent campaign lead, Jennifer Baird, added: "Living Rent is encouraged to have such important figures such as Chris Stephens and Shelter Scotland supporting the charter. It sets a precedent that meaningful public commitment is needed in order to stop the worst effects of Universal Credit.
"With eviction off the table, tenants will be able to breathe a little bit easier as they struggle to cope with a hostile benefits system. Housing associations are uniquely placed to help their tenants and by adding their signature to the charter, they can demonstrate their commitment to being responsible social landlords."