Local MP Alister Jack praises DGHP training programme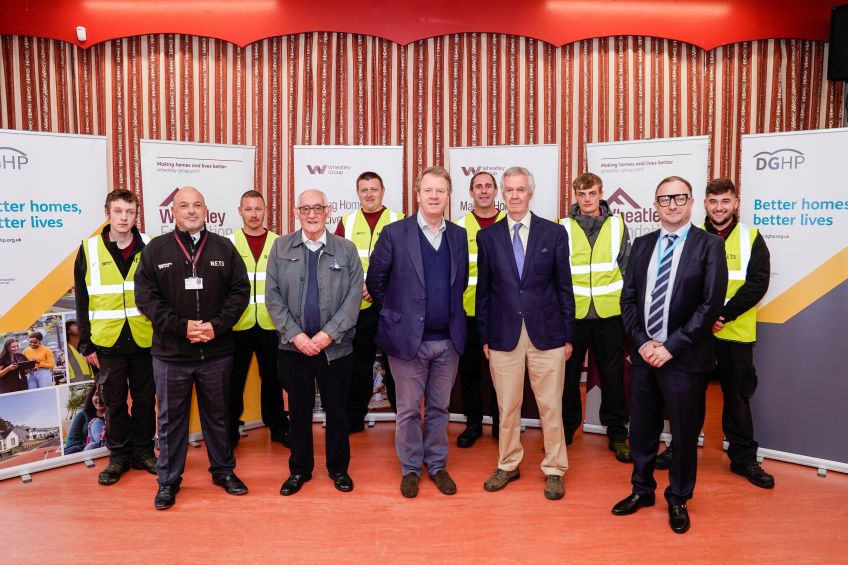 Tenants from a job and training programme at Dumfries and Galloway Housing Partnership (DGHP) have met with local constituency MP Alister Jack.
Trainees on the Changing Lives project spent time with Mr Jack, who is also Secretary of State for Scotland, and described to him how the programme has boosted their career prospects.
The Changing Lives initiative, run by Wheatley Foundation, is a 12-month paid work placement with DGHP's Neighbourhood Environmental Teams, which help keep communities neat and tidy. Wheatley Foundation is the charitable trust of Wheatley Group.
DGHP has more than 10,300 homes and serves dozens of communities across the region.
A total of nine Changing Lives trainees are currently taking part in the programme with six in Dumfries and three in Stranraer.
Mr Jack joined several trainees in the heart of Summerhill, Dumfries.
He said afterwards: "It has been a pleasure to meet tenants taking part in the Changing Lives initiative and learn about the positive impact participating is having on their lives and future employment prospects.
"The scheme acknowledges the fact that we all benefit from learning new skills at every stage of our working lives.
"It also illustrates Wheatley's ability to go beyond being purely a major provider of affordable homes through encouraging, and helping facilitate, strong and environmentally attractive communities."
William Henderson, 40, is a DGHP tenant who started on the programme last year. He has now secured full-time employment with DGHP's Neighbourhood Environmental Team and he says his life has been completely turned around.
William added: "My mental health was deteriorating with being unemployed. I'm a hard worker and very sociable – I wasn't used to not working and I found it really hard.
"I became aware of the programme through my DGHP Housing Officer and I was over the moon when I was given a place. It's been life changing for me. I secured a full-time post in February this year as a result of the Changing Lives programme and I am delighted."
William, whose role includes communal close cleaning, house clearances and keeping outdoor areas clean and tidy, says being given the opportunity really turned things around for him.
He continued: "I now believe in myself and my mental health is improved. This gave me the confidence I needed after being out of work.
"I love the job and being able to make a difference to people's lives. We've been getting some really good feedback from customers when we are out and about and that means the world."
John McCraw, Wheatley Foundation and DGHP tenant board member, said: "We know how hard it is for people to find the right job and training. This is why we're delighted the Secretary of State for Scotland could join us and hear for himself how we are doing everything we can to support tenants and give them the best chance in life."
John Henderson, DGHP's vice-chair, added: "The programme was designed to help support people into work and give them support with the aim to try and get them into full or part-time employment. William is a great example of that and has really shown that with hard work and the right opportunities he is now on the path to a great career."