McGill secures two new contracts with Govanhill Housing Association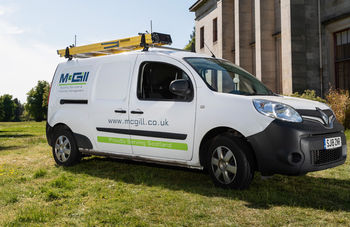 McGill has continued its relationship with Govanhill Housing Association and is working on two more projects as part of the area's residential improvement scheme.
Funded by the Scottish Government, Glasgow City Council and Govanhill Housing Association, these projects are the latest of four contracts awarded to McGill in the past year by the Association.
The first contract is part of a strip out programme worth an estimated £125,000. Old bathrooms, kitchens, plumbing and electrics will be removed from buildings prior to major improvement works being carried out.
This allows the team to identify any concealed rot and structural problems to be addressed before commencing major works.
The second contract is for the replacement of windows with high-performance, double-glazed timber windows at 29 of the properties. These will provide much greater comfort to residents once the overall improvements are complete, with a value of £181,799.
On top of this, McGill's third major repairs contract is currently being carried out onsite, having restarted in a COVID-compliant manner, following lockdown.
McGill operations director, Chris Ferriday, said: "We're delighted that our relationship with Govanhill Housing Association is set to continue. Having worked together for a number of years, both before and since going into administration, our teams work well together and it's great to see life being breathed back into these buildings."