Merchant Homes donates 200 fleeces to help Glasgow's homeless
Merchant Homes has donated 200 fleeces to The Marie Trust in Glasgow to help the city's most vulnerable people in the lead-up to Christmas.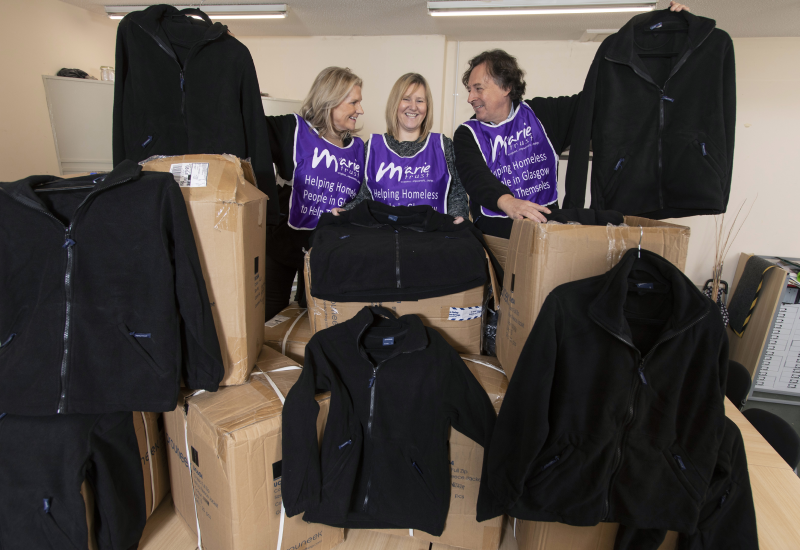 The family-owned housebuilder visited the local day centre with a supply of warm clothing to help those who are homeless and in need of extra support during the winter months.
Designed to meet the complex and changing needs of people in the Glasgow area affected by homelessness and social exclusion, The Marie Trust Day Centre will distribute the fleeces to those who visit the organisation in the coming months.
Linda McLuskie, sales and marketing director at Merchant Homes, said: "We're delighted to support such a worthy charity in the lead up to Christmas and throughout January.
"With temperatures plummeting and the festive season almost upon us, we wanted to do something that would make a difference to people in Glasgow who are most at risk from the cold weather.
"We hope the fleeces help bring a little comfort to those in need and we look forward to working with The Marie Trust in the future."
Frances McKinlay, chief officer at The Marie Trust Glasgow, added: "Receiving a mass contribution like the one we've been given from the Merchant Homes team is truly appreciated by everyone at The Marie Trust.
"We rely solely on charitable donations from members of the public to ensure Glasgow's most vulnerable people stay safe and warm over the coming months. The fleeces will go a long way in helping those who visit the centre – we're extremely grateful to the team at Merchant Homes."
The Marie Trust supports those who are seeking help and support as part of person-centred services including access to skills development, counselling and crisis intervention services.
In addition, The Marie Trust operates a non-profit making healthy eating café facility that offers affordable and nutritious meals and snacks as well as access to showers, clothing, laundry facilities, money management and other basic services.