Milnbank continues to achieve IIP Platinum and Gold accreditations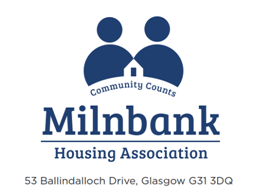 Milnbank Housing Association has continued to meet the standards required for Investors in People (IIP) Platinum and Investors in Young People Gold accreditations following a recent assessment.
The Association was first recognised as an IIP organisation in 2000 and was the first housing association in Scotland to achieve Investors in Young People at Gold Level.
Nicola Dillon, IIP assessor, said: "The Association prides itself in the great sense of pride and ownership that employees and committee members have.
"They are proud of their excellent reputation, proud of their wider role in the community and proud of the way they support and develop their people which creates a culture of openness and trust.
"Staff recognise that living the association's values and behaviours makes a positive difference to the lives of many residents from the community."