Name change reflects future direction for Homeless Network
The charity and membership body Homeless Network Scotland has today unveiled its new name and updated brand to reflect how it has evolved over the past decade.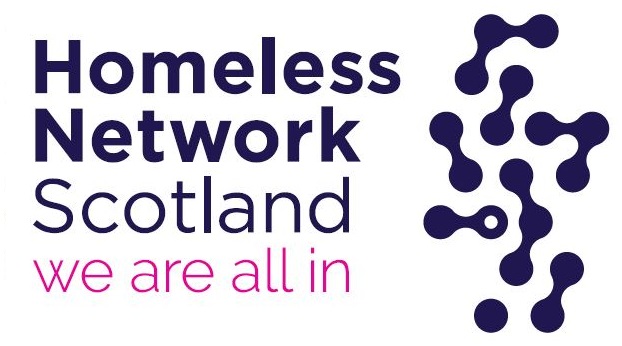 Formerly Glasgow Homelessness Network, it was founded in 1980 by a number of people whose names became significant in housing and wider social policy - including Hamish Allan, David Donnison and David Wiseman. It was set up as a 'council' to bring together the statutory and voluntary agencies to ensure that both housing and social care needs could be met.
Today it operates across Scotland with many partners on a range of work aimed at ending homelessness. In 2016 it set up Housing First Scotland and today looks after Scotland's Housing First Pathfinder. In 2018, it co-founded the Centre for Homelessness Impact, now a charity and part of the UK-wide What Works Network. It is leading on work to bring personal and frontline experience of homelessness to the heart of action and also hosts the two largest gatherings about homelessness in Scotland, with spring and autumn conferences.
The change was unanimously approved at the charity's AGM last week. Along with 60+ member organisations, Homeless Network Scotland currently works in active funded collaborations with more than 30 organisations including leading charities, social enterprises, housing associations, national and local government.
Maggie Brünjes, chief executive, said: "Partnership is at the very heart of what we do – and that means reaching openly across sectors, places, people and our different experiences. I've not met anyone yet who doesn't want an end to homelessness – so we wanted an identity that is just as optimistic and ambitious.
"Knowledge is important to us and to our partners, and it evolves. Across such a diverse network, homelessness is seen through many different lenses: person-centred, community-led, housing-led, health-led, rights-based, place-based, evidence-based – change that is structural, socio-economic, whole-systems and more.
"The truth is that each brings clarity and forward movement, so we need to keep making connections with each other to share our learning and views and to act on what works and what matters. Bringing an end to homelessness in Scotland could be in touching distance if we keep it together. Our role is to keep creating opportunities to connect, learn and act together."
A new-look website and social media feeds will be rolled out over the next week and the updated visual identity will be on display at the network's annual conference this Tuesday.
The charity said its straightforward logo will add clarity to ensure that Homeless Network Scotland is easily identifiable, and the accompanying strapline, 'We are all in', expresses the charity's commitment to prevention and its view that homelessness is an issue that needs solved together.
'All In' is also the name of Homeless Network Scotland's social enterprise, which delivers training and consultancy services across Scotland.
The updated brand was the subject of a three-way pitch in May 2019. Glasgow start-up, Hellbox Media, was selected to take the work forward, having impressed board members with an innovative and creative presentation and a proactive approach.
Patrick McKay, chair of the board at Homeless Network Scotland, said: "We were set up in 1980 and have a fascinating history, and more than a few stories, about bringing together sectors and services in Glasgow.
"For the last decade our role has increasingly been Scotland-wide, and so we've spent time examining that role in the context of where we came from and the future.
"This new brand reflects our current identity and future potential, as well as connecting us with a past that we can be proud of serving Glasgow – this local role will continue and in fact expand over the next phase as we take our seat alongside the new Glasgow Alliance to End Homelessness.
"The process has helped us to capture and articulate the values that have always underpinned the way we work and remain central to our identity – to learn from people who have experience of homelessness, connect people and organisations that can help and act to end homelessness for good."