New mural painted on Hillcrest-owned homeless hostel in Perth
A blank wall on a Perth homeless hostel, which is leased from Hillcrest Enterprises, has become the canvas for the city's latest mural.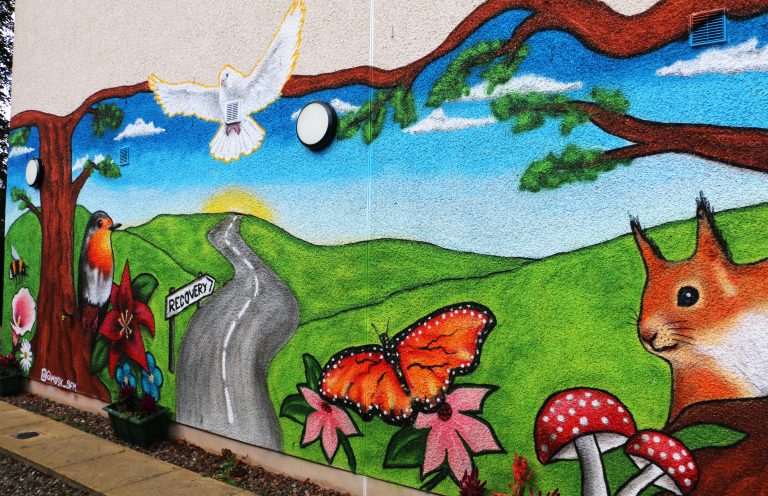 Churches Action for The Homeless (CATH) launched a social media appeal to artists to create the piece on the Shore Road hostel in Perth, and quickly received plenty of interest.
After an artist was selected and a concept agreed, work began on the mural on September 8 and was completed only a few days later.
The artist chosen to create the masterpiece wanted their identity to remain anonymous, giving the artwork an air of mystery.
With the premises operating as a supported staging point in preparing people who were previously homeless to make the transition to their own supported tenancies, the concept of 'the road to recovery' has been injected into the piece.
The mural occupies a wall overlooking an outdoor area within the hostel grounds, with the next project set to be a makeover of the open space to turn it into a recreational area for sunny days.
Stuart Dow, director of Hillcrest Enterprises, said: "When CATH contacted us with the idea of painting a mural, we were delighted to put our backing behind it. CATH do a fantastic job supporting those suffering homelessness and guiding them along a road to recovery, which will see them ultimately taking on their own tenancy and transforming their life.
"This is work that we at Hillcrest support and is similar to some of the services offered by Hillcrest Futures. Therefore, the concept of transformation is the perfect theme and the resulting artwork is something that can inspire and be admired for years to come."
Pamela Lindsay, accommodation projects coordinator, added: "A member of our support staff had the idea that a mural could brighten up our Tayview House hostel and make it look more homely and inviting. After running the idea past service users and getting a very positive response, we discussed the possibility of it being inside the building.
"However, we decided that if it was outside, all service users would benefit from it. The design perfectly encapsulates transformation, hope and the road to recovery which is all relevant to the work we provide at Tayview House."
She also said: "Earlier in the year a group of volunteers from Aviva tidied up our garden area and very generously donated some garden furniture. The mural has been a great finishing touch and made the area a fantastic and inviting place to sit. There has been very positive feedback from all service users."