North Lanarkshire Council's housing services wins hat-trick of awards at CIH Excellence Awards
North Lanarkshire Council's housing services is celebrating its hat-trick of awards for best practice and delivery of innovative projects at the CIH Scotland 2019 Excellence Awards.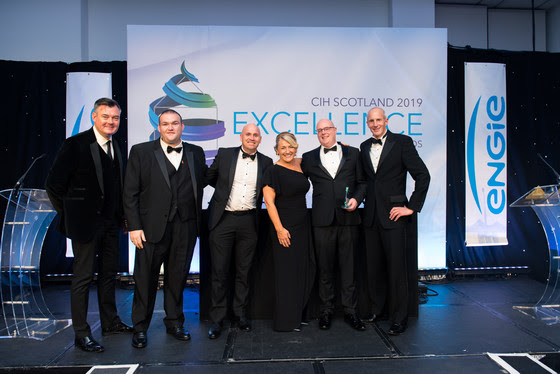 The three successful projects were: Access to Opportunities, which won the Excellence in Delivering Homelessness Services award; The Housing Team of the Year which was awarded to North Lanarkshire's Sheltered Housing Review team and Professional Service Provider of the Year for Community Safety, which was presented to CCTV Services to Housing. The service's project, Ageing Well in Place, was also highly commended.
Heather Brannan-McVey, councillor and convener of communities and housing, said: "I'm absolutely delighted that North Lanarkshire Council's housing services has been recognised not just once but with three awards. This clearly demonstrates the positive impact their work and projects is having across the area's local communities.
"I'd like to take this opportunity to thank the staff involved in delivering these vital services to some of the most vulnerable residents and tenants. It reaffirms the commitment and drive our housing service has in improving people's lives and making North Lanarkshire the place to live."
The innovative Access to Opportunities employability project, delivered in partnership with Barnardo's and Simon Community, has been crucial in contributing to our understanding on how to bridge the gap between mainstream employment and housing services. It's helped improve the lives and futures of people affected by homelessness or housing insecurity.
The Housing Team of the Year award was presented to the council's Sheltered Housing Review Team. This team managed the largest transformation of council sheltered housing services and carried out a broad range of engagement and involvement opportunities.
This allowed them to deliver a sustainable older people's housing support service fit for the future which meets the broad and diverse range of needs of older people in North Lanarkshire.
An award for Professional Services to Housing was presented to the council's CCTV service. Key housing areas benefited from increased CCTV provision to enhance community safety and public confidence.
In addition to public space CCTV, the focus expanded to support vulnerable adults, including helping residents with dementia remain in their homes. The CCTV service also captured incidents creating evidence to allow criminal proceedings and antisocial behaviour to progress to court and avoid residents having to appear as witnesses.
North Lanarkshire Council's Ageing Well in Place project was one of only two to be highly commended. This project achieved a wide-scale transformation of how older people are supported across older people's housing.