Partick Housing Association to build new affordable homes
Partick Housing Association (PHA) has begun a new project to build 24 new flats for social rent.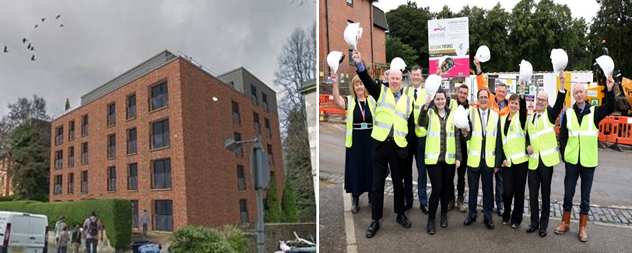 The Association is due to build the new affordable homes in the West End site, Laurel Street in Partick.
This £4.3 million project has been designed by architectural consultants Coltart Earley and Glasgow-based CCG (Scotland) Ltd have been appointed as the main contractor. Colleagues from Partick Housing Association, Glasgow City Council and CCG met on site recently to mark the start of the project.
Chief executive of Partick Housing Association, Stewart MacKenzie, said: "We are delighted that we've started on site delivering much-needed affordable new homes in Partick. There is a real shortage of good quality, affordable housing in the area. We expect these 24 new flats for social rent will be completed in autumn 2020 and would like to thank Glasgow City Council, the community and all of our other partners for their support."
Councillor and city convener for neighbourhoods, housing and public realm at Glasgow City Council, Kenny McLean, said: "It's great to see the start of work on these 24 new homes in Laurel Street, transforming a gap site in Partick and providing much-needed quality, affordable homes in this part of the city. We are pleased to work with Partick Housing Association on a project which will not only bring these new homes to the area but also provide community benefits for local people."
CCG director, Calum Murray, added: "Over the past five years, CCG has completed several, award-winning developments in the West End of the city and we are delighted to have returned with our partner Partick Housing Association at Laurel Street. Thanks to the use of 'offsite' methods of construction, these new homes will be delivered to the highest standards of quality and thermal performance, ensuring long-term energy savings for the future residents. Construction will also be undertaken at an enhanced speed, minimising impact on the adjacent properties."
He added: "A series of community benefit initiatives will also be delivered as a direct result of the project including the creation of jobs, the provision of work placements and donating toward locally-based projects."