Planning progress for 200-home vision at Govan waterfront
Govan Housing Association's proposal for a residential-led mixed-use regeneration of land at Water Row has been awarded planning permission in principle.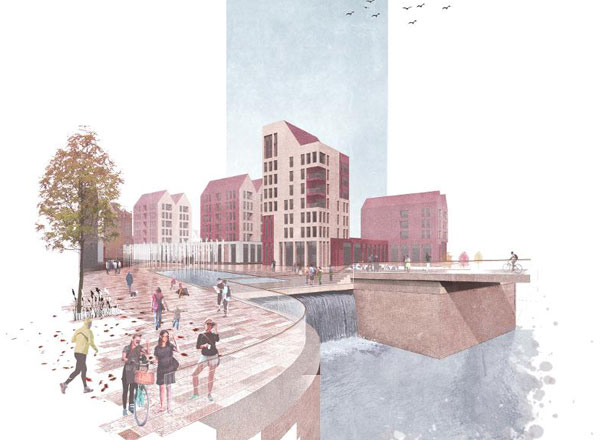 Developed in conjunction with Central Govan Action Plan (CGAP), Glasgow City Council, and Collective Architecture, a masterplan featuring around 200 new homes as well as 3,500 square metres of commercial space, set within high-quality public space gained approval last January.
The passing of the latest application will see three phases of development at land at Govan Cross Shopping Centre, Water Row and Govan Road.
Each phase will require a more detailed planning application and the number of houses has yet to be formally agreed.
Planners said Govan Housing Association's masterplan "promotes a vision of a vibrant neighbourhood taking advantage of the site's central location at the heart of Govan town centre, its link to the Clyde Waterfront and improved connectivity as a result of the planned Govan–Partick bridge".
Their report added: "An underlying design intention of the Water Row masterplan is to integrate the site and its new buildings within its surrounding context and strengthen the town centre's connection to the river by creating a vibrant and active development which can successfully contribute to its unique sense of place and, thereby, its continued cultural heritage.
"It is considered that the proposed development succeeds in this aim through its varied offer and its intended architectural response."
They added: "The incorporation of active ground floor active uses within this development, particularly along Water Row and at the riverfront, has always been seen as crucial to the creation of a distinctive, safe and pleasant place to reconnect Govan Town Centre with the river.
"However, since its original submission, the aspirational level and range of commercial floorspace has been reduced in response to funding constraints and further market analysis.
"The development was not intended to compete with the town centre but to support it through a complementary range of uses and the size of units and type of uses proposed should contribute positively to the retail function and vitality of Govan Town Centre."