Random Acts of Kindness Day inspires 25th Anniversary celebrations for Fife Housing Group
Fife Housing Group turned 25 this year and has chosen to mark the occasion by undertaking 25 acts of kindness that will benefit its tenants, communities, colleagues, local charities and the environment.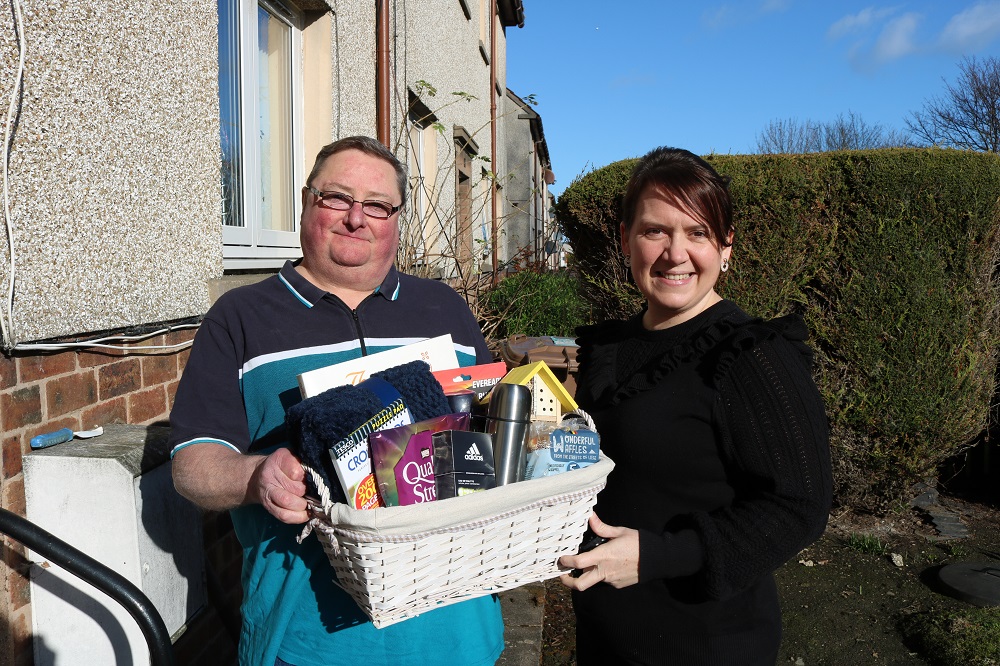 Inspired by the Random Acts of Kindness Day on February 17, when people are encouraged to put some goodness back into the world by doing something unexpectedly nice for someone else, the group chose this date to launch their programme of feel-good activities with visits to deliver gifts to two of their longest-standing tenants.
The first visit engagement officer, Helen Miller, made was to Mr Yule, who moved into his home in January 1997 as one of the newly established organisation's very first tenants. Mr Yule has enjoyed his time as a tenant and was delighted to receive his hamper.
He said: "This has been my home for many years and I hope to live here for the rest of my days. It's a good area, lovely and quiet, with good neighbours."
Next up was a visit to 93-year-old Mrs Koprek who is Fife Housing Group's longest-standing resident, having lived at the same address since well before the organisation took over management of her tenancy. Mrs Koprek's parents were tenants here before her and she has many good memories from almost 60 years in her home, enjoying telling Helen stories about the time she has spent here with her children, grandchildren and great-grandchildren.
"It's been lovely to be able to do something nice for Random Acts of Kindness Day and to celebrate 25 years of Fife Housing Group by visiting two of the tenants who have been with us since the very beginning. Being able to speak to Mr Yule and Mrs Koprek about their lives and what is been like being a tenant for so long is a wonderful part of my role and the fact that we could bring them a hamper full of goodies made it even better," said Helen.
Fife Housing Group will continue to pay it forward in the coming weeks with further acts of kindness planned including walking or cycling to work, donating food and toys to local animal shelters, befriending isolated tenants and volunteering with various community projects.