Report forecasts December peak for social housing arrears
Rent arrears for social landlords in Scotland are forecasted to peak in December 2020 at 42% higher than March with the end of the furlough scheme representing a "significant arrears risk" for landlords, a new report has found.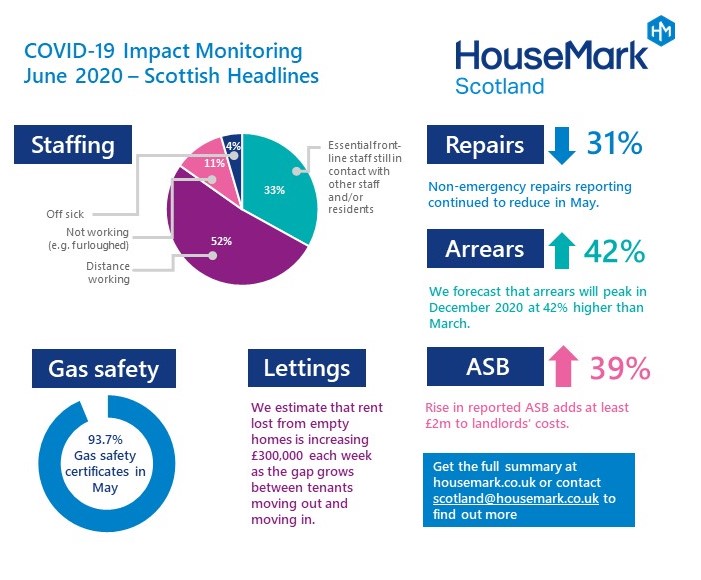 In the month three findings from its sector-wide COVID-19 impact analysis, HouseMark Scotland projected that arrears will reduce in the New Year as Universal Credit payments start – ending March 2021 31% higher than the previous year.
HouseMark's analysis assesses the impact of the pandemic on the social housing sector and evidences the impact of 10 weeks of lockdown measures.
While UK-wide data shows that performance appears to be stabilising, the report said mitigation is needed from landlords given the current backlogs and potential future uncertainty.
The continuation of lockdown measures in Scotland is reflected in non-emergency repairs reporting which continued to reduce in May, down 31%. By contrast, in England there was a 28% month-on-month rise. With lockdown measures continuing in Scotland, HouseMark estimates that social housing repairs backlogs doubled in May to over 200,000 outstanding jobs. Around two-thirds of landlords expect to restart full repairs and maintenance services before September.
With reports of anti-social behaviour (ASB) increasing by 39% since March, much higher than the normal rise of 10-15% brought on by the better weather in spring and summer, HouseMark estimates that landlords will need to spend an additional £2 million tackling ASB by the end of the financial year.
Meanwhile rent lost from empty homes is estimated to be increasing £300,000 each week as the gap grows between tenants moving out and moving in. In March 2019, around 4,500 lettable social homes were empty. By May 2020, SHR data show this had grown to 8,559 – a rise of 88%.
Talking about the latest report, HouseMark chief executive, Laurice Ponting, said: "We have seen data play a vital role across so many elements of tackling the coronavirus crisis, both in how it has helped our understanding of the pandemic and how it has shaped the response of policymakers.
"It is no surprise that we are seeing landlords look more closely at data to assess impact and plan for the future. This is why we have responded by providing a monthly assessment of the ongoing impact of the pandemic across the sector. Understanding the UK-wide differences in performance based on how lockdown is being eased will be key to understanding how recovery action can be prioritised.
"The three-month picture suggests that performance is stabilising across key indicators such as arrears and lettings activity, and that the sector has entered a period of recovery, but there is still uncertainty ahead from the end of the government's job retention scheme, Brexit and an unpredictable prognosis for ongoing control of the virus.
"As executives and boards revisit business plans to make strategic trade off decisions for recovery and mitigate this uncertainty, external, unbiased evidence to support decision making is crucial. Our COVID-19 solutions will continue to equip our members with the insights they need to make the best possible business decisions at this critical time."
The full report, including detailed analysis and best practice from landlords across the UK, is exclusively available to participating organisations. The executive summary is available to view at HouseMark's website.