Rise in homelessness reflects government choices say Shelter Scotland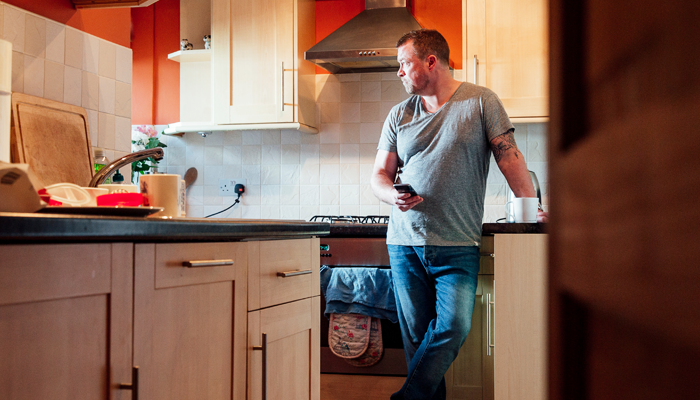 Shelter Scotland has blamed the Scottish Government's choice to "deprioritise the fight against homelessness" for new figures which revealed that homelessness in the country is at an all-time high.
An update covering 1 April to 30 September 2022 shows record numbers for open homelessness cases as well as the number of households and children living in temporary accommodation.
On 30 September 2022, the number of open cases increased to 28,944 - an increase of 11% compared with 25,990 on 30 September 2021, and the highest since data collection began in 2002.
There were also 14,458 households and 9,130 children in temporary accommodation. This is a 1% increase compared with 14,251 households and a 10% increase compared with 8,285 children on 30 September 2021.
Over the six-month period, there were 19,066 applications for homelessness assistance, up 6% from 1,074 compared with the same six-month period in 2021 and higher than the 2019 pre-pandemic figure of 18,913. There were also 15,414 households assessed as homeless or threatened with homelessness. This is an increase of 6% (828) on the same six-month period in 2021, and slightly below 15,877 in 2019.
Homelessness from a private rented tenancy accounted for 19% of homeless households. This has increased from 10% in 2020 and 14% in 2021 and is now higher than the 17% in 2019.
There were 1,184 applications that reported a household member experiencing rough sleeping in the three months before the application was made, and 733 the night before. This an increase compared to the same period in 2021, however as a percentage of all applications these are the same as in 2021.
The proportion of households who secured settled accommodation having been assessed as unintentionally homeless was 83%, the same as 2021.
Shelter Scotland said the rise in the number of households and children in temporary accommodation is being driven by the consistent underfunding of local homelessness services and failure to meet social housing delivery targets.
The housing and homelessness charity also called for the Scottish Government to reverse "swinging cuts to the social housing budget", warning that they will inevitably lead to a long-term increase in homelessness.
Shelter Scotland director, Alison Watson, said: "The figures published today must act up as a wakeup call for Nicola Sturgeon and her ministers.
"The Scottish Government knows how to fix homelessness and the wider housing emergency in Scotland.
"Over the years they have been presented with endless evidence and testimony that investing in social housing ends homelessness, tackles child poverty and is vital in tackling the housing emergency.
"We must be clear; the Scottish Government have made a choice not to act on that evidence.
"They have chosen to deprioritise social housing in their spending plans by disproportionately slashing that budget.
"They know that this will mean more people in Scotland will become homeless, that the thousands of children currently trapped in temporary accommodation will have an even harder time finding somewhere permanent to call home.
"It is not too late to recognise that these choices will have disastrous consequences for the fight against homelessness and reverse these cuts."
Citizens Advice Scotland spokesperson Aoife Deery said the record numbers are "the horrifying impact of the cost of living crisis and the housing emergency".
She added: "There is a serious risk these figures are the tip of the iceberg, as people can't keep up with essential spending.
"Across the Citizens Advice network, we have seen that advice on actual homelessness has been growing as a proportion of housing advice for the past few months. In fact, homelessness advice in December 2022 was up 34% from December 2021 as a proportion of all homelessness advice.
"We have also seen growing demand for online advice about rent increases, despite rent freeze legislation, and huge demand for online advice around mortgages."
Scottish Labour's housing spokesperson Mark Griffin said: "These shameful figures lay bare the reality of Scotland's growing housing crisis.
"More and more Scots are facing homelessness and thousands of children are stranded in temporary accommodation – this is a national emergency.
"The SNP-Green government have ignored one warning after another about this looming disaster, and now we are seeing the consequences.
"Next year's budget risks making this grim picture worse, as funding for affordable housing and local government get slashed.
"We need a real plan to make sure every person in Scotland has the safe, secure home they deserve."