Social enterprise consultancy launches to support homelessness and housing sectors
An informed and connected social enterprise dedicated to supporting the homelessness, housing and related sectors in Scotland is open for business, with a targeted range of specialist consultancy and learning opportunities informed by lived experience.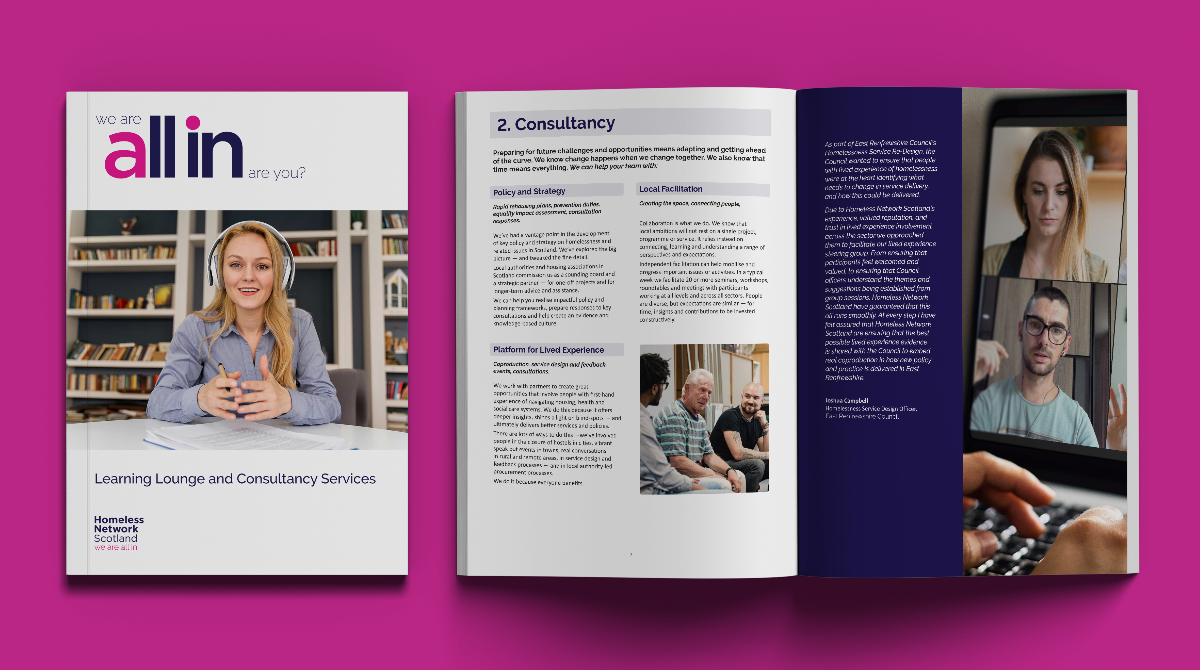 We Are All In is represented by an experienced team of consultants and trainers available to provide a sounding board or assistance to housing associations, councils and third sector partners preparing for future challenges and opportunities. The team, hosted by Homeless Network Scotland, has vast experience in research, evaluation and systems analysis. And leading expertise in housing and homelessness policy and in creating diverse platforms for lived experience.
The team's Learning Lounge is also now open with a new menu for 2022, reflecting the dynamic and rapidly evolving policy and practice environment. From the latest policy developments and legislation in homelessness to rapid rehousing and supporting people in their home, all can be designed around an organisation's needs and local requirements.
Maggie Brunjes, chief executive of Homeless Network Scotland, said: "Learning from each other, understanding different perspectives and supporting others to make an impact is what we do. So we are delighted to consolidate this in the launch of the We Are All in programme for 2022. This enables the team to offer more direct capacity, a sounding board or support to create a culture where everyone in your organisation is all in."
As part of the training offer, the new 'Rough Guide to Homelessness Policy and Legislation in Scotland' captures key aspects in a rough guide format along with a useful timeline among the resources for colleagues to take away.
A previous participant commented: "I particularly valued the structure of the course and how it both unpacked the big policy areas individually - yet also brought them together into a coherent vision of what's around and happening at the moment. Given just how much is going on at the moment this was absolutely invaluable."