Transport minister visits unique e-bike project at Cloch
A unique project where customers of Cloch Housing Association can hire electric bikes free of charge was visited by cabinet secretary for transport, infrastructure and connectivity, Michael Mathieson, this week.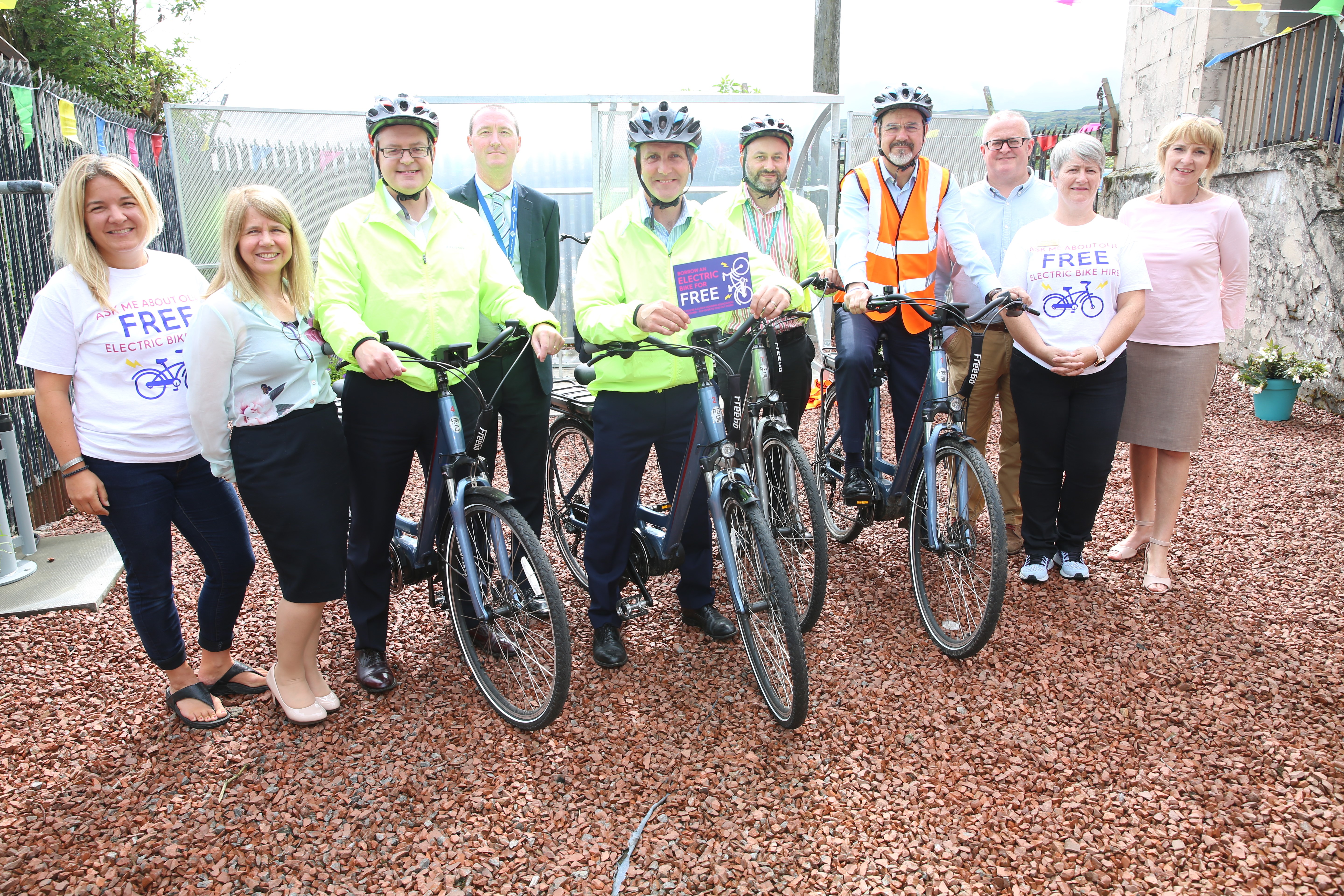 The Inverclyde Ebike Sharing Project is a collaboration between Community Tracks Inverclyde and Cloch Housing Association and is funded by the Scottish Government in partnership with Nesta Sharelab. Approached by Community Tracks to be a partner in the project in late 2018, Cloch's headquarters is now the Ebike hub in central Greenock where its customers and staff can hire an Ebike for up to a day, free of charge and explore the outdoor spaces in and around Greenock and beyond with the help of a battery-powered bike.
Cloch staff work with staff from Community Tracks Inverclyde to book out bikes, ensure customers know how to use the bikes and to make sure the bikes are safe to use. This month, four staff are attending a course on how to lead a guided ride.
Customers book online for a half-day or full-day using a website/mobile app. The funding from the app came through Community Tracks Inverclyde after they received a grant from Nesta ShareLab.
In its early stages, the partners in the project hope that, through time, riding an Ebike will be as normal as any other form of transport in Inverclyde.
Accompanied by local representatives Ronnie Cowan MP and Stewart McMillan MSP during his visit, the minister was able to book out a bike and meet the various staff and consultants involved in the project. He was delighted the project ties in with the government's drive to stop social exclusion in accessing this type of transport.
Mr Mathieson said: "The Scottish Government believes that there is huge potential for the collaborative sharing economy to contribute to a fairer, more socially and environmentally responsible economy in Scotland. That is why we have invested £238,000 to deliver the ShareLab Scotland programme. Concluding this November, we will share key lessons and challenges in delivering collaborative economy initiatives at a local level, in order to support future innovation in this sector.
"In May this year, we also announced £1.14 million for the eBike Grant Fund, delivered by Energy Saving Trust, to provide grants to community organisations, local authorities, public sector agencies, colleges and universities. This fund will allow people across Scotland to access the benefits of e-bikes in an affordable way."
Liz Bowden, corporate services manager at Cloch and project lead for Cloch, said: "A visit from Mr Mathieson has put a spotlight on an innovative project that promotes health and wellbeing as well as promoting sustainable transport. And this is just the start of what we hope will be a permanent service for customers and the wider community in the months and years to come."
Stewart Philips, project coordinator, Community Tracks Inverclyde, said: "This is a really exciting pilot project and we were delighted to receive funding for it through the Scottish Government and Nesta. The Webapp we have created is very flexible and will allow the addition of new partners and eBike locations as the project develops. We are especially grateful to the whole team at Cloch Housing Association for being so enthusiastic about the project from the outset."